It's Not Just About How Much the Rings Cost
For far too long we've allowed toxic masculinity to persist at the expense of women and members of the queer community. The symbol of power that these rings hold and the pervasiveness of that power continues to go unchecked.
By Cameron Kroetsch
Published June 06, 2017
Hamilton's City Council is in the process of voting on whether or not they should give their alumni (i.e. retired councillors) a ring to show their appreciation for completing a term on Council.
The rings could cost taxpayers as much as $5,000 per term of council (four years). There has already been what I would call a "preliminary" vote on the subject in favour of the rings, which took place at a Governance Review Sub-Committee meeting that got a little bit of attention from local and social media.
I agree with what's already been said. Sure, the rings cost a lot of money and I'm bothered that Council continues to be happy to spend our money on things like this. But, I'm not really surprised.
The city is comfortable spending much more on staff time and food for councillors at marathon meetings so that they can grandstand and campaign.
The $5,000 for these rings pales in comparison to the already-neglectful spending practices of the city.
I'm more concerned about the message these "class rings" send about how our councillors see themselves and how they represent their constituents.
But before I get to that, let me set the scene as well as I can with the limited information available on the city's website and in coverage by the CBC and the Hamilton Spectator.
Who Said What and How People Voted
Not surprisingly, councillors Maria Pearson (Ward 10) and Lloyd Ferguson (Ward 12) "voted for the ring policy" (according to the CBC coverage of the meeting) and according to the Spectator article, councillor Tom Jackson (Ward 6) "felt bad" that former colleagues weren't "[acknowledged] for their years of sacrifice".
There was a bright spot when, in addition to his tweets on the subject, councillor Matthew Green (Ward 3) said that he was "challenged to support this given what it symbolizes" (according to a Hamilton Spectator article).
He went on to say that he would have a hard time supporting it given the monetary implications and that councillors should purchase these rings for themselves if they wanted them. Good, but a little bit beside the point in my opinion.
As an aside, and to the point I made in another article, the vote looks like it was recorded as 2-1 in favour of the rings. The two councillors who voted in favour, Ferguson and Pearson, appear to have outvoted councillor Green who was in opposition.
My question: Where were Judi Partridge (Ward 15) and Arlene VanderBeek (Ward 13)? Not in attendance? Did they just abstain from voting? According to the City's website they're both on this committee.
So, What's the Big Deal?
Monetary implications and hurt feelings aside, I think it's more important for us to talk about some of the other large, loud, elephants in this room as an example of why Hamilton continues to disappoint its residents and distance itself from many other municipalities who seem to have a more nuanced understanding of citizen engagement and good decision making.
My tweet out about this was one word: "Gross". At the moment, it was hard for me to come up with another way to encompass the problems with the idea of giving out a class ring to city councillors.
After a few more moments to think about it, this article is my attempt at unpacking what I think continues to be a problem for all Hamiltonians: the city's decisions make all of us look bad. The city keeps making bad decisions that demonstrate that it is firmly committed to a vision with its sights set on our disastrous municipal past.
One Ring to Rule Us All
I don't know what these rings will eventually look like but if the example pictured in the CBC article is any indication, I'm pretty troubled by the message that they're going to send about Hamilton when our "retired" councillors leave their esteemed positions and go out in the world brandishing them.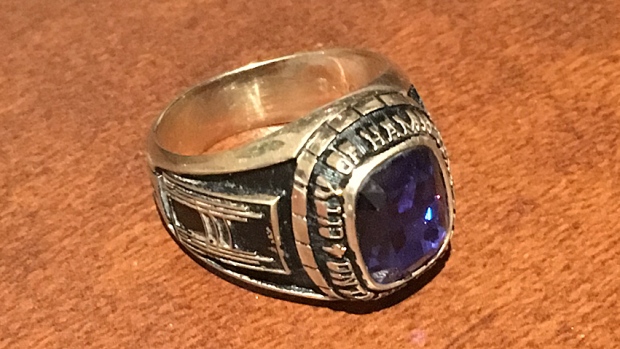 Civic ring the city gives to outgoing Councillors (Image Credit: CBC Hamilton)
As a member of the queer community, but also of the community community, all I think about when I see that gross high school football ring is: gender and power. Men wear those rings and they're made for men.
Like others on Twitter have already said, the second thing that immediately came to mind was: I wonder when the city will be ordering "letterman jackets" for councillors?
Back to my point, and more specifically, these rings are made for men who win at sports and they're given to mark those men out from other men as more important, more special, and more masculine.
There are probably people willing to make arguments that these symbols can and have been subverted or how these are only "class rings" and thus benign.
And I can hear the counterarguments now about "reading too much into it" and it being about "how you interpret it" - but I challenge anyone who has seen the picture of the ring in the CBC article to tell me that my interpretation is vastly different from how they understand that these symbols are making meaning in the world.
When I see them I immediately think of "high school football" and "Super Bowl champions" which I instantly connect, visually or otherwise, to men in masculinity-enhancing padding trying to best each other at who can touch, throw, kick, and spike the animal-skin-ball the best.
It doesn't get much more overtly masculine and powerful than that.
This Isn't About Gender and Power
This is definitely about gender and power.
For far too long we've allowed toxic masculinity to persist at the expense of women and members of the queer community. The symbol of power that these rings hold and the pervasiveness of that power continues to go unchecked.
Reinforcing these symbols is a bad idea and making these rings available to city councillors just reinforces how Council continues to perceive itself.
I say all of that to emphasize how awful the symbol of the "class ring" is in this context. In a time when women are marching on nation's capitals and trans folks are fighting for access to public life, we need to be even more thoughtful about why that work is necessary and important.
Hamilton has a variety of reputations but one that's not talked about enough is its reputation that the city isn't safe for women and queer folks. I'm not going to qualify that reputation but I think it's important that the people who are purported to lead this city make decisions with that in mind.
But People Don't Have to Wear Them, Right?
This ring is a symbol of an accomplishment and it's a metaphorical keycode to the door to the alumni club of councillor privilege. If you get this ring it means you deserve it, you earned it, and you did your job.
The implication is always that you won, that you were successful, and that you were appreciated. In this case, though, it's given out not as a result of winning a contest, completing a milestone that involves years of passing tests, or any other even semi-objective criteria.
In its best application, this ring would be given to a councillor for physically existing in a space for a period of time and for nothing more.
I'll leave you with some questions about what this could even mean in the current political context in Hamilton. What are the measures of success for a Hamilton City Councillor to be given this ring "because they deserve it"? Incumbency? Giving out recycling bins? An inability to govern?
These are the things I think of when I reflect on the current Council.
If these are truly not just rhetorical signposts inserted by me to get a reaction, but the genuine reasons for rewarding councillors with these rings, then I say order them a ring for every finger.
Otherwise, I ask the General Issues Committee (scheduled to vote on this at some point) to shake their respective heads and tell councillors Ferguson and Pearson that their voices don't represent the rest of Council or their constituents.
Post a Comment
You must be logged in to comment.