Petition to Name New Claremont Multi-Use Trail after Jay Keddy
The Province and City have fully funded a new protected Cycle Track on the Claremont Access. This petition seeks to honour the memory of Jay Keddy by naming it after him.
By Mark Rejhon
Published May 04, 2018
Less than 24 hours ago, shortly after this Hamilton Spectator article, I created this petition after checking with Keddy's surviving family. I first suggested this back in 2015 in an RTH comment.
The new petition received 500 signatures in its first 24 hours and has already surpassed 1,000 signatures.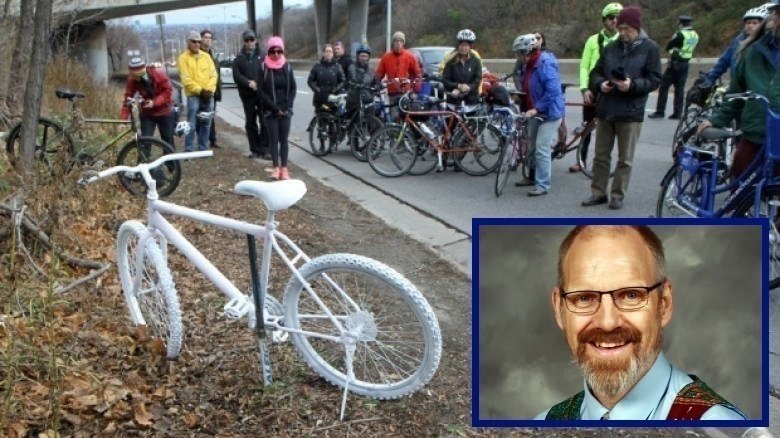 Ghost bike commemorating Jay Keddy
The Petition
Name New Trail in Honour of Kindergarten Teacher Jay Keddy
We want to name the new protected cycle track on the Claremont Accesss the Keddy Access Trail (KAT) or another similar name (Keddy Trail, Keddy Route) in memory of school teacher Jay Keddy.
Jay Keddy, 53, was killed in December 2015 while legally riding his bicycle up the Claremont Access in Hamilton, Ontario, Canada.
New Multi-Use Trail Begins Construction 2019
The province and city have fully funded the cost of the new Claremont Multi-Use Trail that begins construction in 2019. This is a new safe walking & biking route between Hamilton Mountain and Lower City.
The Claremont Trail planning drawings [PDF] include concrete barrier protection to protect pedestrians and cyclists from motor traffic.
It has many midpoint connections to Southam Park, Escarpment Rail Trail, Arkledun Avenue, John Street, St. Joseph, and extension to Mohawk College.
Permission granted by Keddy's Family
On May 1, 2018, Allastair, the son of departed Jay Keddy, tweeted his family's blessing for this initiative, to dedicate the trail in honour of Jay Keddy.
Please sign this petition to let City of Hamilton we want to name the new Multi-Use Trail after Jay Keddy.
Positive Notes Of Support
A partial excerpt from the Reasons for Signing page:
"Jay Keddy is my big brother and it would keep his legacy alive and help other cyclist to be safer and get home alive !"
— Lori-Ann Keddy
"Jay Keddy was such an example of loving people of every race and ethnicity. He wasn't a giant in the eyes of the famous as we know it but he was a giant in his gracious and gentle spirit. He influenced so many people, young and old. It would be such a tribute to honour Jay in this way"
— Bonnie
"Mr Keddy was my son's kindergarten teacher. The accident happened the second year of being in his class. We enjoyed our time with him and miss him dearly. My son always thinks of him when we go up the Clairemont. Points to where the ghost bike use to be and then talks about him. He was a very involved teacher and very nice. Would be truly amazing to have the trail named after him."
— Holly
"Jay dedicated himself to making life better for all who came in contact with him; he was loved, respected, and admired by people from all walks of life. Naming the trail after him would be a great way to honour his memory."
— Daniela
"I remember going up and down that access in Grade 13, and it was pretty scary"
— Jun
"Jay meant a lot to a lot of people and having his name live on with this trail would be beautiful ❤"
— Brianna
Inclusive Infrastructure That Honours Jay Keddy's Legacy
The new Multi-Use Trail represents inclusive infrastructure that safely accommodates pedestrians and cyclists, and includes both Mountain and Lower City.
If Hamilton strives to be a good place to raise a child — including those who were in Keddy's classes — this is an important year to let all our representatives know we want safe infrastructure for our children.
Jay Keddy's legacy is a very honourable way of communicating this.
Please Sign and Share
Sign the petition now - it takes only five seconds - and share too.
Jay Keddy's son, Allastair, is currenty sharing our petition on Facebook and on Twitter.
Post a Comment
You must be logged in to comment.