Aerotropolis Secrecy Leaves Citizens and Councillors in the Dark
If our governments don't tell us what the debate is about, how can we reasonably be expected even to know what questions to ask?
By Don McLean
Published July 07, 2008
A bombshell letter from the provincial government landed on councillors' desks on the afternoon of June 23, just as they were about to debate staff recommendations on the size of the aerotropolis employment growth district.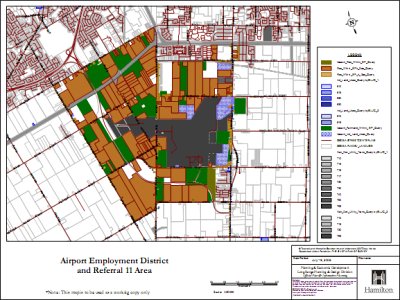 AEGD Growth District Area
The letter exposed a big problem facing citizens, and perhaps even councillors, in participating effectively in Hamilton's biggest planning decision of the decade.
A report given to councillors that afternoon by city planning staff advocated that 1134 hectares of prime agricultural land around the airport should be set aside for future industrial development.
That would be the largest boundary expansion in decades, would establish the central economic direction of Hamilton for at least the next 25 years, and would likely cost several hundred million dollars to service with water, sewers, roads and other public infrastructure.
The 1,134 hectare number was generated by consultants and staff, and is the result of a provincially-mandated exercise to determine how to accommodate projected employment growth to 2031. It has already generated controversy because consultants hired by the city decided that none of those new jobs will be located on old industrial lands along the bayfront.
Many citizens and several councillors objected when the 1,134 number was first presented in March. They argued that it's wrong to pave over more farmland before every effort is made to re-use the older lands, including over 1,500 hectares along the bayfront, which have seen the loss of more than 30,000 jobs since the early 1980s.
City Numbers are Fudged
The letter was received on June 20, but only given to councillors three days later - just as they began their decision meeting. Essentially, it says the city's numbers are fudged. Specifically, it identifies six city assumptions that "are not supported" by the provincial Ministry of Municipal Affairs and Housing (MMAH).
The province doesn't agree with a staff decision to inflate the expected job growth by 20 percent - from 49,000 to 59,000 - thereby inflating the land 'needed' by about 283 hectares.
The province also doesn't accept the city assumption that ten percent of the existing industrial business parks and the one proposed at the airport will remain forever empty, or that another ten percent will be used for non-industrial activities such as coffee shops and gas stations. Those assumptions could add as much as 400 hectares.
The province disagrees with staff's decisions on "netting out existing uses" around the airport including infrastructure and utility corridors, as well as floodplains and future roads. It questions the city's use of "a net-to-gross factor of 20 percent". The latter figure alone is 227 hectares.
Add all that up and the 1,134 hectares could shrink to about one-fifth of what staff and consultants are arguing for. Keep in mind that the province is the final decision-maker on boundary expansions.
No Infill Development
Perhaps most significantly, the province disagrees with the city's plan to locate all the 'needed' industrial land in greenfield areas.
"The Growth Plan requires municipalities to prepare intensification strategies and plan to accommodate significant amounts of both future residential and employment growth in existing built up areas," says the letter. "To date [we] have not seen any intensification analysis related to employment lands."
In short, the provincial position could ground the whole aerotropolis - especially if the cost of servicing it can't be scaled back proportional to the acreage.
Since a key part of the servicing is extending water and sewer services 25 kilometres from the Woodward Avenue treatment facility, it would appear the servicing cost per hectare will climb dramatically as the aerotropolis shrinks.
Accountability Gap
So why did this 'difference of opinion' between the city and the province not surface until decision day? How come there's not a hint of this conflict in any of the multiple staff and consultant reports presented to councillors on this issue?
We might also ask why it took nearly three full days to deliver the five-page letter to councillors, and then only at the beginning of a meeting when reading it would require not paying attention to what they were supposed to be doing.
But it's worse than that - much worse. Staff and their consultants have apparently known about these provincial objections for eight months. When asked at the June 23 meeting to explain the conflict, the director of airport development freely admitted as much.
"Having been at those meetings over that six or eight months that we've discussed with the province about our assumptions, they have not provided any technical basis for their position," he declared.
"They have just indicated that they have a concern that it may not be, you know, sufficient to lead to a conclusion that meets the philosophy and the vision that they have."
Staff and consultants have prepared well over 700 pages of reports for councillors and the public without mentioning this fundamental conflict. We have no way of knowing if they have shared any of this privately with members of council.
The Mushroom Treatment
We do know that they've held a string of "public information meetings" without erecting a single display board that sets out the views of the province and the fact that those views and their implications are quite different from those of the city.
Citizens are asked to attend these 'information' sessions and provide informed input. How can citizens do that when they are not told about such critical issues? We are treated like mushrooms.
The city has spent over $300,000 on consultants and an untold amount on staff time to come up with the recommendations on the aerotropolis employment growth district. The only other participant in this process with similar resources is the province.
If our governments don't tell us what the debate is about, how can we reasonably be expected even to know what questions to ask?
The majority of councillors went ahead and voted to accept the 1134 hectares, rejecting a motion by Mayor Eisenberger to rezone only 50 percent for industrial use initially - although still adding all of it to the urban area.
It is quite possible that the councillors didn't have enough information to do anything else.
It's absolutely certain that the public consultation was a farce.
Post a Comment
You must be logged in to comment.