Going Steady by Rah Rah
Rah Rah seethe with passion and intensity and sincerity, and their music correspondingly kicks all kinds of ass.
By Ryan McGreal
Published April 30, 2009
I've received a few review copies of new albums since my last published music review but just couldn't bring myself to review them.
They were all so meh that I a) couldn't be bothered to say too much about them and b) think it's needlessly cruel to write a negative review of an indie band trying to get its music out - I'd rather follow the old saw and not say anything at all.
I began to wonder if it was me and not the music. Maybe something changed in my approach to the music so that I was no longer assessing it by a common standard.
On the one hand, the majestic "Jackson Square" by the Arkells is still in high rotation on my MP3 player six months after reviewing it.
On the other hand, maybe I was unconsciously falling prey to a kind of confirmation bias with regards to music to which I had previously given positive reviews.
(Parenthetical aside: I have no idea if other reviewers - particularly the professional ones - suffer as much reviewer's angst as I do. Did Roger Ebert kvetch before submitting, say, his "disrespectful" take on X-Men Origins: Wolverine?)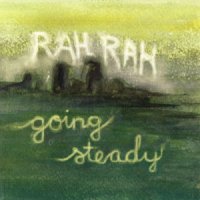 I was able to lay some of my fears to rest this week after spinning Going Steady, the new album by Regina's Rah Rah. Unlike the other stuff I've received lately, this album is an instant, sustained wave of awesome that comes roaring out of the stereo.
Rah Rah are a six-piece featuring clean, sparkly guitar riffs, animated drumming, a male-female singing team, judicious use of accompanying keyboards, and a violin. The music is charmingly, delightfully, even majestically garage: the lyrics are quirky, the vocals are just a touch off-key, the violin sounds very slightly flat, the politics are decidedly left-of-centre, and the songs themselves are lush, rousing and catchy as hell.
It opens with the frothy "Betrayal Pt. 1", segues right into the driving "Tentacles" ("She has tentacles / I'm in love with the tentacles"), and slows things down for the martial "The Innocent One", which features a strained duet wailing out "I feel for you, my friend".
"My Guarantee" is a short, catchy intermission before the haunting, country-tinged "Duet for Emmylou and the Grievous Angel", which could almost be a duet between Neil Young and Joan Baez.
The following track, "Fuck NAFTA", crackles with building intensity and righteous anger - "I'm so sick of your management / I'm so sick of all of this / I'm so sick of your management / I'm so sick of your bullshit".
The cockeyed "I've Got Faith" reminded me of Hamilton's Tristan Psionic, with delightful washes of discordant guitar/violin screeches leading into the big, anthemic chorus.
The beautiful, warm harmonies on "Winter Sun" are a pleasant contrast to the shouted, squawky duets on earlier tracks, and that warmth extends to the next track, "Castles". I'm almost tempted to conclude after these two songs that the band are actually more skillful musicians than they let on.
"Betrayal Pt. 2" does full credit to its sister track, contrasting major key chords and bombastic drums with maudlin lyrics: "I am the loneliest I have been / Since I first kissed you way back then / You were so gorgeous / I was so thin."
The album kind of peters out by this point, but a couple of half-strength tracks coming after ten straight hits is hardly cause for complaint.
This album could have gone all wrong. Like so many song collections that step through all the obligatory motions but fail to come together, Going Steady could have come off as Yet Another Predictable Indie Album (YAPIA). Hey, look, some people in a Regina basement are trying to sound like Broken Social Scene. How cute.
But it didn't go wrong; it went wonderfully right. Rah Rah seethe with passion and intensity and sincerity, and their music correspondingly kicks all kinds of ass. I predict that six months from now, this album will still be in high rotation on my personal tracklist.
You can listen to a selection of tracks from Going Steady on Rah Rah's Myspace Page:
Rah Rah are set to play a live show at Absinthe on May 13, 2009. If you can't make that show, they'll be at Toronto's El Mocambo on May 12 and Guelph's Jimmy Jazz on May 14.
Post a Comment
You must be logged in to comment.