Hammer Can Learn From Steeltown USA
By Jason Leach
Published April 03, 2009
Steeltown USA caught my eye recently in the news, along with a great photo-tour. First, NY Times notes that Pittsburgh's slow-and-steady approach is helping the city cope with the economic crisis:
[Pittsburgh] was in the forefront of the movement to conserve existing structures and clean up the contaminated industrial sites called brownfields, becoming a leader in the field of sustainable building. That is now serving Pittsburgh well during the economic downturn.

Describing the area's rebuilt economy, the Allegheny County executive, Dan Onorato, said: "It's clean, it's shiny, it's green. Slow, steady growth is our strongest asset."

The city's commercial real estate market is relatively healthy. In the fourth quarter of 2008, Pittsburgh earned the top ranking in Moody's Investors Service's quarterly "Red-Yellow-Green" report on the state of commercial real estate in 60 major United States cities.
Now check out the tall 'skinny' buildings in this photo tour on Skyscraper Page - much like our building stock around King and James.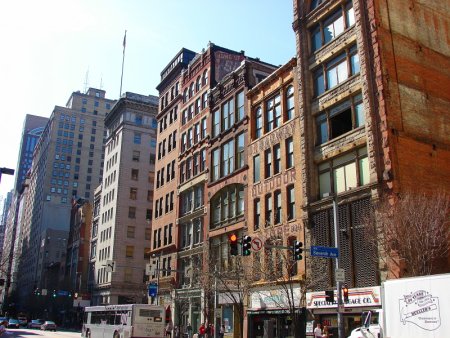 Pittsburgh buildings (Image Credit: Skyscraper Page)
Hamilton can learn much from our Steeltown friend to the south as we face a dwindling steel industry and heavy manufacturing sector.
Will we go the route of Detroit, or the route of Pittsburgh? Our future destination as a city is actually quite a simple journey and it will be decided by decisions we make today.
Post a Comment
You must be logged in to comment.