Plenty of Room Downtown
By Jason Leach
Published June 10, 2009
Now that the Hamilton School Board has killed the Education Square project, McMaster is said to be looking for alternate sites to locate their new health centre. In today's Spectator, Mac's vice-president is quoted saying that it might be difficult to find a site large enough downtown for this development.
Allow me to help out.
This image shows all the empty land and parking lots in downtown Hamilton: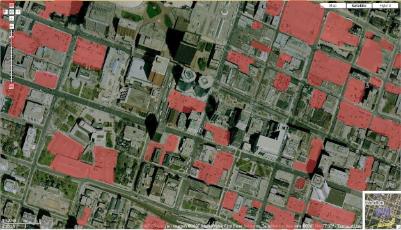 Highlighted areas are surface parking. Click on the image to view larger. (Image Credit: Flar on Skyscraper Page)
Boston or Paris, this ain't. If Hamilton has one thing in massive supply, it's empty land in the heart of the downtown core. Decades of council-approved demolition permits and conversion to parking lots have led to this glut of available land. Close your eyes and choose a piece, McMaster. There's ample selection.
Post a Comment
You must be logged in to comment.