Residents Call for Crosswalk at Aberdeen and Kent
By Ryan McGreal
Published November 23, 2010
Raise the Hammer has an occasional feature called Walkability Fail, in which readers send in reports of intersections or stretches of road with particularly poor pedestrian accessibility.
It all started with the corner of Aberdeen Ave. and Kent St., between Locke and Queen, where the city responded to an earlier call for a crosswalk by putting up a sign that reads: "PEDESTRIANS PLEASE CROSS AT LOCKE OR QUEEN".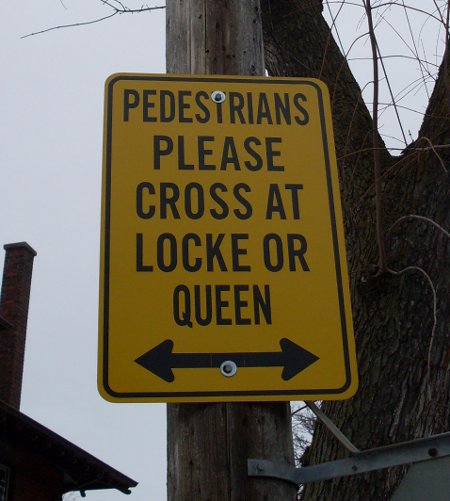 Sign at Aberdeen Ave and Kent St: PEDESTRIANS PLEASE CROSS AT LOCKE OR QUEEN
Now a resident of Kent St. is organizing a neighbourhood petition to ask for a proper crosswalk.
Madeleine Verhovsek, a doctor at McMaster University, originally sent an email to Councillor Brian McHattie on September 20 asking for a crosswalk.
Dr. Verhovsek's letter argues: the corner has HSR bus stops on both sides; Kent is the only north-south street between Locke and Queen that runs continuously from Glenfern to Charlton, the site of HAAA Park and Ryerson School; the sidewalk on Aberdeen is narrow and harrowing for pedestrians; and the neighbourhood south of Aberdeen has a large and growing number of children.
According to Councillor McHattie, he "proposed this concept to our Traffic department in the past, only to be stymied by their analysis that a crosswalk at this location is not 'warranted' (they have a scoring system based on traffic and other data)."
The report on the 2006 Kirkendall Traffic Study concluded that this location has safety concerns, and the report recommended: "Provid[ing] directional signing for safer crossing locations", i.e. the signs ordering pedestrians to walk 400 metres out of their way and cross at Locke or Queen.
In an email to RTH, Dr. Verhovsek wrote that Councillor McHattie "has been quick with his replies and seems to be supportive."
McHattie has organized a meeting with Dr. Verhovsek and City staff from the Transportation and Public Health departments on Thursday, December 2. Neighbouring residents are invited to attend, but the room is pretty small so Staff would like to know in advance how many people plan to attend.
If you are interested in attending or want to support this initiative, you can contact Dr. Verhovsek for details via email at: verhovm@mcmaster.ca.
Original Letter
Here is the text of Dr. Verhovsek's original email to Councillor McHattie:
Dear Mr. McHattie,

I am a resident of Ward 1 and a home owner on Kent St., south of Aberdeen. I am writing to you to inquire about the possibility of installing a cross-walk at the intersection of Kent St. and Aberdeen.

I believe there are many good reasons for installing a cross-walk in thisparticular location:

1) As I am sure you are aware, there are HSR bus stops on either side of Aberdeen at Kent St. If someone wishes to get on or off at this stop, it requires either crossing the street against 4 lanes of traffic or walking all the way to the lights at Queen St. or Locke St. I think we can agree that the first option would be unsafe, and the second would be inconvenient. For someone with limited mobility, the long walk might not be manageable.

2) Kent Street is the only street between Undermount/Locke and Queen that runs all the way through to Charlton. A crosswalk at Kent St. would provide a convenient point from which people living on the north and south sides of Aberdeen could easily access the benefits of each other's neighbourhoods, including parks and other amenities.

3) As you know this area of southwest Hamilton has a growing number of young families. For myself and other parents of young children wishing to access the amenities south of Aberdeen, especially the library, shops and eating establishments on Locke Street, the walk along Aberdeen from Kent Street to Locke Street can be harrowing at the best of times. The traffic is heavy and the cars often do not obey the speed limit. The sidewalk is narrow and abuts the lanes of traffic. Walking along this stretch with a toddler or young child is very difficult and potentially dangerous.

4) Along the same lines, there are many children from our neighbourhood who walk to and from school each day at Earl Kitchener, St. Joseph's or Ryerson. A crosswalk at Kent Street would enable them to cross Aberdeen and walk along one of the residential streets (such as Kent, Homewood or Stanley), which enable a more pleasant and more safe walking environment.

I trust that you feel that these are relevant concerns, and I hope that you will consider this request. I believe a cross-walk at Kent Street would be enthusiastically welcomed by individuals and families in this area of Kirkendall.
Next: we need more residents to step up, take ownership of un-walkable intersections and put pressure on City staff to do the right thing.
Post a Comment
You must be logged in to comment.