More Details from Vranich on Downtown Development
By Jason Leach
Published May 08, 2012
I ran into Vrancor president Darko Vranich last week near his construction site, and took the opportunity to ask him what's happening with his developments around Caroline and Market. Here are his replies to a rapid-fire line of questions I tossed his way in about three minutes: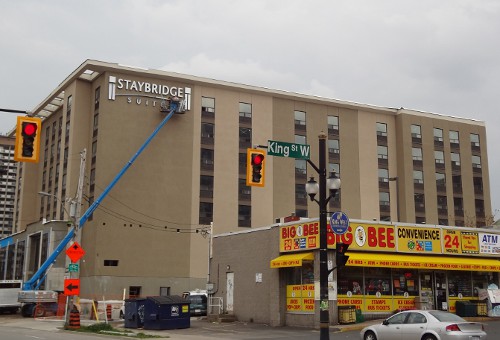 The sign goes up on the side of the Staybridge Suites hotel at Caroline and Market (RTH file photo)
Regarding phasing: no phasing of the project is taking place. A second crane is going up in the next week or two, east of the current tall crane. He says he will build a total of 3 buildings at once.
Five stories of lofts are being added to the top of the existing Revenue Canada building at Main and Caroline.
A 25-storey glass and steel condo tower will be built on the east side of the the Revenue Canada building.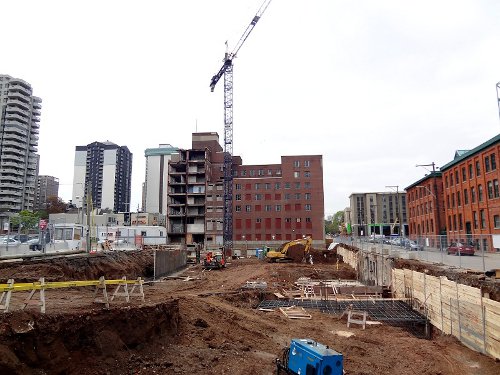 Tower crane and excavation east of the old Revenue Canada building (RTH file photo)
A 17-storey Hilton Homewood Suites will be built on the sliver of land at George and Bay.
He said there will be street-level retail space along George in every building.
There will also be some retail facing Main - but obviously less, due to the fact it's a freeway.
Preliminary ideas include possibly a restaurant in the ground floor of the Revenue Canada Building facing Main, and an LCBO or other larger format store facing Main. Smaller retail, pubs, patios etc.... will be the norm on George in an attempt to link Hess to Bay.
Vranich spoke with the city about cobblestoning George right to Bay, but they said they will wait until all of his construction is done and then consider it. If the city is going to seriously consider doing this, it makes more sense to do it during construction than after it, when the road work will just disrupt the new buildings.
I didn't have time to ask about condo sales. The hotel opens in October and rumours are there will be two restaurant/cafes facing George with patio space.
See also:
Post a Comment
You must be logged in to comment.