Modifications to Glenside Bike Path through Chedoke Golf Course
By Ryan McGreal
Published June 07, 2012
A week ago, RTH reported that the City is going ahead with the Glenside bike path after the plan was appealed to the environmental Review Tribunal in 2010. The Tribunal rejected the claim of the appellants and upheld the approval of the Niagara Escarpment Commission (NEC) on the grounds that the City's plan does accord with the Niagara Escarpment Planning and Development Act.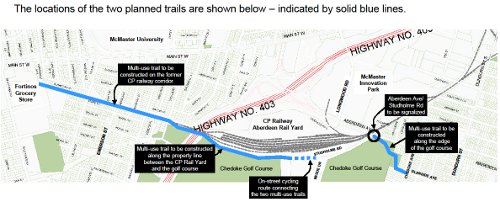 Map of the multi-use trail, marked in blue (click on the image to view full-size)
Daryl Bender, Alternative Transportation Project Manager for the City of Hamilton, was kind enough to provide additional details on changes to the plan that the City is implementing in response to the appeal.
According to Bender, "the Environmental Review Tribunal stressed a few items for the NEC to be mindful of as they review the final plans in order to issue the final approval: specifically, a vegetation buffer for two adjacent properties, additional drainage details, and required consultation with adjoining landowners."
As such, the City is reducing the width of the trail from 4.5 metres to 4 metres along one section to make room for a wider vegetative buffer and to reduce disruption of tree roots. In addition, the landscaping plan, which the NEC still needs to approve, will entail tree plantings "that will foster regeneration of native tree species in the area".
Perhaps the most significant change is the decision to remove the fencing from around the trail, which came as a result of discussions between residents and Ward 1 Councillor Brian McHattie. This decision was made after the City submitted its application to the NEC but before the submission was reviewed, "so that is why the NEC submission shows the fencing."
Post a Comment
You must be logged in to comment.