Transport Truck Wedged at Main and Locke
By Jason Leach
Published September 25, 2013
Nothing screams safe, livable city like transport trucks getting wedged between buildings in the middle of the neighbourhood.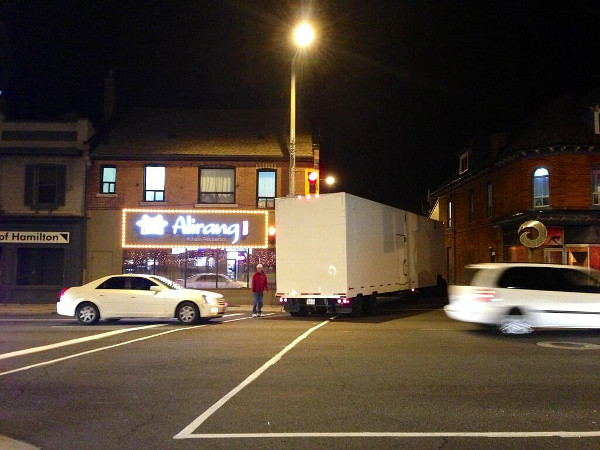 Transport truck stuck at Locke and Main
I decided to hop on the bike for a quick spin last night and got to watch this scene unfold on Locke Street at Main Street West. I arrived just as the truck started screeching against the poles. It quickly got wedged against the light posts and buildings.
The driver eventually managed to escape after backing up onto Main Street again.
We have to ask: why on earth is a transport truck trying to turn north up Locke Street North, a purely residential street? Did the driver get lost on our confusing one-way street network and try to cut over to King Street to head back west?
I've been saying this for years: cities that actually care about their residents don't allow transport trucks to drive through urban neighbourhoods. How many more ridiculous pratfalls and close calls do we need to experience before we wake up to this?
Does someone have to die under the wheels of a transport truck before we recognize that they belong on highways, not city streets? (And, by extension, that highways don't belong in city neighbourhoods either?)
See also:
Post a Comment
You must be logged in to comment.