Queen West and King East: A Tale of Two City Streets
By Ryan McGreal
Published August 20, 2007
Yesterday after finding ourselves in Toronto, my wife and I walked along Queen West around the Spadina/Bathurst area to enjoy some sidewalk shopping on a pleasant Sunday afternoon.
Today, I took a walk along King East to check out Reg Beaudry's new Three16 Lounge (alas, closed on Mondays).
I was surprised at how very similar the two stretches looked and felt, even down to the scale and density of the streets themselves. Notwithstanding the weekday, the biggest difference I saw was the number of people.
Whereas the streets around Queen West are full of tall, narrow Victorians, row houses, lofts, apartments and new condo towers (especially along Spadina - more on that below), the streets around Hamilton's King East are mostly filled with empty lots and surface parking.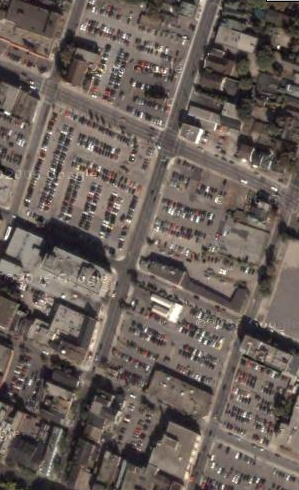 Surface parking in downtown Hamilton around John St. and Rebecca St. (Image Credit: Google Maps)
As for Spadina, a radical simplification of the planning environment there is responsible for much of the growth in density, diversity, and reinvestment (both financial and physical in the form of people returning to live and work). I'll quote extensively from Toronto's mighty John Sewell on what they did:
A more complicated kind of urban form planning has occurred here in Toronto in the King-Spadina area. Ten years ago some of the finest minds concerned with land use planning in Toronto got together to talk about how development should be controlled in the King-Spadina area.

Among those at the table were Ken Greenberg, Jane Jacobs, Margie Zeidler and developer Bob Eisenberg. They decided to get rid of zoning to prohibit uses, and instead to allow any use that a building owner wanted providing it did not cause undue noise, odor or vibration.

The second decision of this committee was to remove all controls on density. This kind of planning obviously turned on its head the experience of the past forth years which dictated that planners had to control use and density.

Instead, the committee decided there were only two important controls that should be exercised in King-Spadina. First there should be a height limit generally the same as existing structures, a height of eight or nine storey structures. Second, they decided that buildings could not be set back from the edge of the sidewalks, but had to come right out to the edge of the sidewalk.

This has proven to be a very powerful way of planning. It provides certainty for developers and for the community and it helps ensure that the city gets the forms that it thinks best for this part of the city. As we have seen, developers have surged into the King-Spadina area, building structures which are a mix of residential, retail, office, light industrial and cultural. [emphasis added]
Sewell notes that some developers managed to wrangle variances that increase the height restriction by another six storeys or so, but this isn't enough to undermine the logic of the planning rules, which have been highly successful at revitalizing the King-Spadina area and raising the population density in a healthy, vibrant, favourable way.
Because there are so many more people living nearby, commercial strips like Queen West can't help but be more successful. The economics are based around adaptive reuse (one shoe store was located in a space so obviously a former restaurant that shoes were displayed on the stainless steel counters and even in the sinks that still ran across one wall) and niche marketing in a population large enough to support quirky, independent businesses.
On Queen West, my wife and I had lunch at a bona fide Crêperie like you would find in Paris (albeit bigger and arguably more hip). I would love a similar establishment in Hamilton, but there just aren't enough people in our downtown to provide a subset of crêpe-lovers big enough to support a commercial business.
The heart of the matter is that abundant cheap and 'free' parking directly and explicitly prevent vibrancy downtown. They displace both residences and commercial destinations, so there are fewer people living withing shopping distance as well as fewer places to shop.
The solution lies not in attracting visitors with cheap parking but in attracting residents with dynamic, affordable homes - loft redevelopmens, condos, row houses, and other medium-density living spaces. The best way to ensure this, as Sewell argues, is through a planning framework that recognizes how urban development works and supports an urban form and density necessary for street life.
As the core revitalizes, intensifies, and fills with people, businesses and employers again, the dynamism and energy will begin to attract visitors to supplement that activity - and they will pay to come downtown because the destinations will be worth paying for.
Post a Comment
You must be logged in to comment.