Downtown: the Overlooked Asset
By Jason Leach
Published January 09, 2008
I've long called for Hamilton to recognize the tremendous asset that is our downtown core as we look to turn the corner and bring prosperity back to our economy.
Too often, however, those calls fall on deaf ears as local leaders and residents continue to have this strange love-affair with our bland suburban neighbours to the east.
Hamilton has attempted every other kind of growth model out there - sprawl, big box, highways galore - and yet most people would agree that our city is far from realizing its full potential.
In recent years, we've seen attempts by other suburban cities in the GTA to try to add downtowns to their communities. Some, like Mississuaga, end up looking like a strange combo of post-modern communist Russia set on the surface of the moon.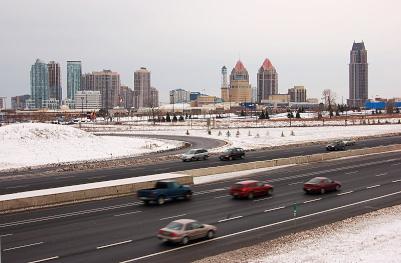 Image Credit: Skyscraper Page
Others, like efforts to urbanize Markham, seem to have more potential to create a walkable, livable environment. Yet even these are still very sterile, modern and fake-looking if you're looking for true urbanity.
Real Downtown
Hamilton has the only other real downtown outside of Toronto. That city has managed to leverage the appeal of the downtown by doing many little things right ­ allowing the adaptive reuse of old buildings, allowing street uses such as patios and sidewalk stalls, keeping streetcars and two-way streets and maintaining acceptable sidewalks for pedestrians.
Despite the huge population, Toronto has fewer lanes, fewer one-way streets and much more congestion than Hamilton. Yet their downtown booms.
We've sacrificed the public realm at the altar of the suburban pass-through vehicle traffic and our downtown shows it.
People in other GTA communities come here and are amazed at the urban core and fabulous surrounding neighbourhoods. Yes, they are always perplexed at the one-way highways and lack of street life, but overall they see great potential and livability here.
The problem is, we don't.
Stitch into the Urban Fabric
City Hall refuses to stitch into the urban fabric we already possess. We're too busy trying to figure out how to cram another Walmart into Ancaster or Waterdown.
I realize sprawl is here to stay, but we don't need to be wasting urban tax dollars to subsidize it. We need that money downtown.
We continue to demolish wonderful, urban buildings while other municipalities try to figure out how to build them.
In today's Spectator, Paul Wilson has written a great piece highlighting the asset that we possess in our downtown core.
Tim Dobbie, highly regarded former Burlington city manager, has been hired to work with the new economic development group here. He was asked last week if there's an asset Hamilton has overlooked. His answer: "Downtown."
He's from Burlington. He would know.
Post a Comment
You must be logged in to comment.