Fast Networks, Slow Networks and Safety Through Negotiation
Safe street design accepts and embraces the idea that a slow network entails connections and interactions between people moving on it.
By Ryan McGreal
Published March 17, 2011
To gain a better understanding of what's wrong with our streets today, we need to understand the assumptions that went into their design. To that end, I would like to define and contrast fast networks and slow networks, as conceived by the late Dutch traffic engineer Hans Monderman.
Fast networks are optimized for high-speed transportation between macro-destinations. They place top priority on maximizing the speed and volume of traffic. Incompatible uses are restricted so that they don't interfere with traffic flow, and the number of access points - places where people can turn on or off the highway - are severely limited and controlled.
The canonical fast network in Canada is a 400-series highway: multiple wide lanes, limited access points controlled by on- and off-ramps, traffic flows segregated by guard rails and wide medians, and a total ban on pedestrians, cyclists and other obstructions.
Slow networks, by contrast, are optimized for direct interaction and flexible movement using a variety of modes - including walking, cycling, transit and driving - among micro-destinations within a geographic area.
Slow networks are characterized by a high concentration of access points - cross streets, lanes, building entrances, and so on - and a dense concentration of local destinations. As such, traffic must move slowly to ensure both safety and accessibility.
Fast Network on Hamilton Streets
The high-speed, limited-access highway model works very well for fast networks like our highway system, which is designed to funnel large volumes of vehicles between cities. That same model becomes disastrous when applied to slow networks like the busy, multi-use streets of a city.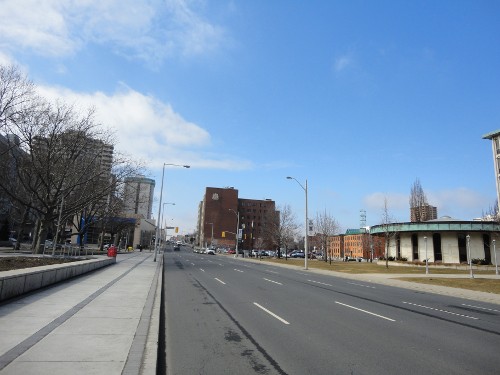 Main Street is a highway in all but name (RTH file photo)
Unfortunately, that is precisely what we have done. Hamilton has designed its slow-network city streets to behave like fast-network highways. Here are some examples that illustrate what I mean:
Wide, multi-lane, one-way streets with timed lights that allow - indeed, encourage - continuous speeds in excess of 60 km/h. Main and Cannon Streets are the eastbound and westbound lanes of a de facto highway.

Highway-style on-ramps instead of normal turn lanes at intersections, like we see at Main/Paradise (right next to a high school) and Aberdeen/Queen. Even the exit from Hwy 403 onto Main Street is designed as an on-ramp merging with the traffic flow on Main, instead of meeting it at a signalized perpendicular stop.

Bans on pedestrian crossings at signalized intersections where such crossings would interfere with traffic flow, like the west side of King/Dundurn, King/Strathcona, and King/Locke.

A near-total absence of crosswalks at non-signalized intersections throughout the lower city, with stretches of several hundred metres between signalized crossings. The city's position is that pedestrians should walk several minutes out of their way to cross at the lights.

City traffic engineers actually proposed putting up guard rails along Main Street to prevent pedestrians from "jaywalking", AKA crossing the street.
Our traffic engineers justify all these design choices under the rubric of traffic flow. Again and again, the fast, efficient movement of cars through the city takes priority over every other potential use of our streets.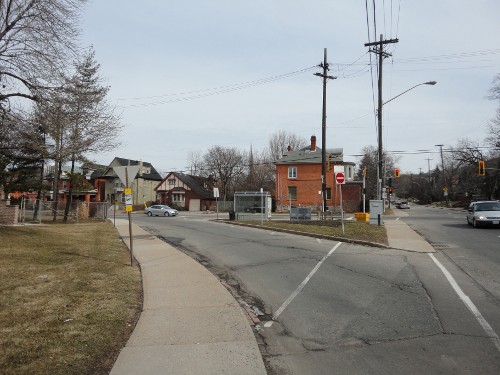 On-ramp at Queen and Aberdeen (RTH file photo)
Mismatched Priorities
This standard fails us horribly when we apply it to a street that must necessarily mix transportation modes (walking, cycling, transit, driving) and include multiple access points (cross streets, lanes, parking lots, storefronts, and so on).
The problem is not pedestrians crossing the street. The problem is the assumption that fast, continuous through traffic flow at 50, 60, 70 km/h is a desirable goal inside a built urban neighbourhood. This is a recipe for collisions and pedestrian fatalities.
The kinetic energy of a vehicle is proportionate to the square of its velocity (KE = 1/2 mv2). Traffic collision studies reflect this: the collision fatality rate for pedestrians is 5% for vehicles traveling at 32 km/h and jumps to 85% for vehicles traveling at 64 km/h.
Vehicles traveling at higher speeds have not only a much higher chance of killing any pedestrians they hit, but also a higher chance of hitting pedestrians in the first place due to increased reaction time and longer stopping distances.
Again, traffic collision research clearly demonstrates this geometric correlation: a moving vehicle has about twice the risk of a casualty crash at 65 km/h compared to 60 km/h, and about four times the risk at 70 km/h compared to 60 km/h.
Because our traffic engineers are committed to traffic flow above all else, their response to these realities of physics is to restrict the movement of pedestrians so they are not allowed to get in the way of the traffic and risk injury - hence the bans on jaywalking and even on pedestrian crossings at signalized intersections.
This is ridiculous: people who live in cities have a reasonable expectation that they should be allowed to move freely through their own neighbourhoods. When pedestrians cross these restricted routes anyway and someone gets killed, the inevitable response is that pedestrians need to "be more careful".

Risk compensation on Archway Road, London
Contact and Negotiation
Our traffic engineers design streets with wide, straight lanes and no obstructions because that is the best way to make a fast network safe. However, this is just about the worst way to make a slow network safe.
Fast network street design - wide, straight lanes withs with no obstacles or barriers - sends a strong psychological signal to drivers to assume the path is clear and to speed up. When another vehicle, a bicycle or a pedestrian does appear unexpectedly in the way, a motorist with a fast-network mindset is less prepared to stop.
On a slow network street that mixes a variety of transportation modes with a high density of access points, engineering for safety means engineering a speed of traffic flow that is low enough to minimize both the risk of collision and the risk of injury/fatality if a collision occurs. More generally, engineering for safety means sending drivers a clear psychological signal to slow down and watch carefully for other people sharing the road - because there will be other people sharing the road.
Perhaps counter-intuitively, the safest slow network streets are those streets that 'feel' dangerous enough to send drivers the psychological signal to slow down: opposing traffic, narrow lanes, curbside parking, marked bike lanes, frequent access points, and so on.
Perhaps more importantly, slow network design accepts and embraces the idea that a slow network entails connections and interactions between people moving on it. Whereas a highway system is designed to minimize the potential for contact between fast-moving vehicles, a slow network encourages it as a way of allowing people safely to negotiate their way through the network.
As Monderman, the engineer who pioneered the "shared space" approach to slow-network design, put it: "When you don't exactly know who has right of way, you tend to seek eye contact with other road users. You automatically reduce your speed, you have contact with other people and you take greater care."
With the City in the midst of developing a Pedestrian Master Plan, there is no better time than the present for us to formally shift our priorities away from traffic-flow-at-all-costs and toward the inherent safety of people moving through their communities via all modes.
Post a Comment
You must be logged in to comment.