Ottawa Street Textile and Shopping District
The Great Places in Canada competition has taught us locally that we embrace and are proud of the type of experience provided by community-friendly neighbourhood streets.
By Larry Pattison
Published March 22, 2011
Although I grew up on Hamilton's east mountain, much of my childhood was spent in the city's north end in the vicinity of the old Centre Mall.


Centre Mall photos
My earlier memories of Ottawa Street in particular were not generally happy ones, as my family played a significant role in assisting with the renovations to Wallace Funeral Home. Of course that isn't totally true, but it is something our family can now make light of all these years later.
Nonetheless, family 'gatherings' and celebrations of life were embedded into my earliest recollections of Ottawa Street.
My fraternal grandparents lived on Bayfield Avenue just south of Dofasco until they died when I was nine years old. When I look back to my childhood, it seems most of my youth was either spent among the four walls of Lawfield Arena on the east mountain, or in various spaces in the vicinity of where I now live today.
To many, the smell of steel or the billowing smoke from the factories that line our shore are a deterrent, an eyesore. To me, taking a deep breath of the early morning Dofasco air brings me back to my childhood.
I spent countless hours with my grandmother, her dog and budgie, on their front porch playing dinky cars, or on the sidewalk tossing parachute men and cap rockets into the air, with the crashes, banging, and hum of manufactured steel as the backdrop at the end of the mature tree-lined Bayfield Avenue.
Those steel factories represent a lifeline for (at least) four generations of my family. They symbolize hard-working, dedicated men and women who worked (and still work) around the clock to provide for their families.
Connections to the Past
I used to drive by my grandparent's old home (now I can simply go on Google Street View) to see how the neighborhood had changed from how it looked when I was nine. The old tree that once shaded the front of my grandparent's and neighboring houses is gone, but otherwise little seems to have been altered.
I remember walking 50 yards to the Dofasco gates with my grandmother to pass my uncle his lunch over the fence, stopping for a bite to eat at the Sears restaurant in Centre Mall, or driving throughout Wards 3 and 4 with my grandmother in her old blue, five-speed Peugeot.
Although my maternal grandmother died when I was only six months old, she and my grandfather - now in his 96th year - also lived across from Centre Mall on Harrison Avenue, just behind East Hamilton Radio, another east end staple. My grandmother purchased that home with money my grandfather had sent overseas while serving in World War II.
It's no coincidence that I live where I do. There is hidden meaning behind the fact that the same green turf-like material that covered the whole of my grandparents front porch is spread across mine, or that the house across the street from ours bears a peculiar resemblance to my grandparent's old home.
Regardless of why I live where I do or the connections to my past that garnered the affection I have for this area of our city, walking up and down Ottawa Street sells itself as a great street in Canada.
Rapid Change
I first felt disappointment with the direction wards 3 and 4 were taking when Centre Mall started to be removed piece by piece to make way for big box developments.
I took a hundred or so photos over a few months span, trying for the most part to avoid the destruction from making its way into my photos, so I could retain some personal account of the history we were parting with.
It was a landmark within our city that I was sad to see go.
At the same time, watching Ottawa Street re-brand itself helped shift my focus to dreams once again alive between Barton and Main.
Things were suddenly happening at a rapid pace in the city's east end, and now Ivor Wynne Stadium's fate seemed all but sealed. As well, talks were heating up that one of Canada's largest outdoor festivals was threatening to leave our Ward.
Change is one thing, but allowing this much of our city's history to withdraw from one area in such a short time in the 'spirit' of progress was not my idea of positive change.
Ivor Wynne was eventually saved and the hope is that the creation of a stadium district will transform the area surrounding the stadium and Barton Street into places to which people will once again want to stop their cars or get off the bus and peruse.
It seems likely that people will also be able to get off the GO or a light rail car to enjoy a strip of shops and restaurants along Barton where people will occupy its benches and patios over a coffee, a beer, and good conversation.
I have become passionate in my adult life about seeing this area flourish and once again become the shopping and entertainment district it once was.
I find it fitting that it was Ivor Wynne, another one of my childhood playgrounds, that finally enlivened the advocate in me to fight for these two wards.
I love this area. I love the people. I love the history and architecture. I will continue to do my part to help save and preserve what I feel makes this area of our city a great place to raise a child, and a fun and safe place to play and be entertained.
Neighbour-to-Neighbour
I have now lived in the general area of Centre Mall (Centre on Barton) for 10 years. I will always have a soft spot for the east mountain, but there is so much I love about living downtown in general: the closeness of the houses, the front porch versus backyard experience, and how both of these traits seem to generate a completely different neighbor-to-neighbor dynamic, including being able to walk to shops, restaurants and entertainment.
I even lived on Herkimer Street just off of Locke for three years and in many ways, Locke is to that west-end neighborhood as Ottawa Street is to the community in which I now reside.
Both lifestyles I have enjoyed in the first 38 years of my life have been great. It just so happens that for more than a decade, downtown has attracted me with a completely different way of life than the one I grew up with.
I have come to realize that neither experience is better. They are just different.
I may not always live in Ward 3 or downtown for that matter, as my young family grows and we all discuss what our next move may be in the next five or so years. Wherever we decide to hang our hats, this area will always be near and dear to my heart.
So although I could go on selling what I love about this area of our city, Ottawa Street is what brings it all together.
If there is one thing that this Great Places in Canada competition has taught us locally, we embrace and are proud of the type of experience provided by the Locke Streets, James Street Norths, and Ottawa Streets of our city.
One cannot forget Concession Street on the escarpment, King Street in Dundas, or Hess Village, to name a few others. Is there room for Kenilworth Avenue to follow suit with James and Ottawa, with Barton Street tying it all together from the bell tower at James, to East Hamilton Radio at Kenilworth?
Now more than ever, I think that is something worth exploring and striving to achieve.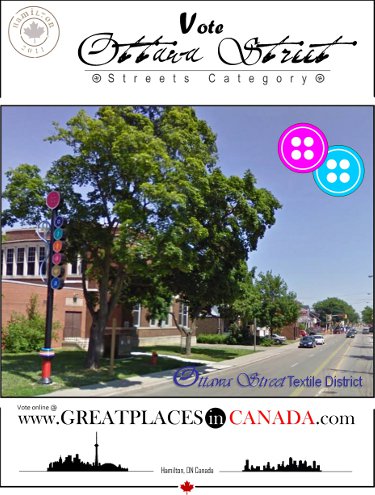 Great Places in Canada: Ottawa Street
Post a Comment
You must be logged in to comment.