Greetings From London
A recent visitor to Hamilton loved our hospitality and friendliness, but was seriously off-put by our intimidating and confusing one-way streets.
By Jenn Nelson
Published September 26, 2012
Hi Hamilton! I recently visited your city for the first time and was asked to write about my experience. I would like to commend you as well as make some suggestions.
Firstly, you're amazing people! Right from the moment I mentioned on twitter that I was coming to visit the city for the first time, several people responded with suggestions on what to do and where to eat! So, thank you! Your hospitality and friendliness was much appreciated! I didn't feel like such a stranger!
Secondly, my awesome lunch experience at Chuck's Burgers on Locke Street was just fab! The staff were extremely welcoming and so friendly to a first time visitor! I'd definitely recommend it! I really enjoyed wandering around the stores on Locke Street and it's so great to see so many independent stores in one area!
Now, to the other stuff...
As a Londoner, I'll have to say that I'm not used to so many one-way streets. I found them to be very stressful as they were the first thing I faced when I came off the highway. Trying to navigate directions as well as trying to not drive the wrong way up the one-way streets is not a pleasant experience.
The one-way signage is very poor and I didn't see a welcome sign as I entered the city. I apologize if there was one, but I was so concerned with trying not to hit anyone that I didn't see it. I did at one point see a sign indicating that a street was a one-way but it actually wasn't.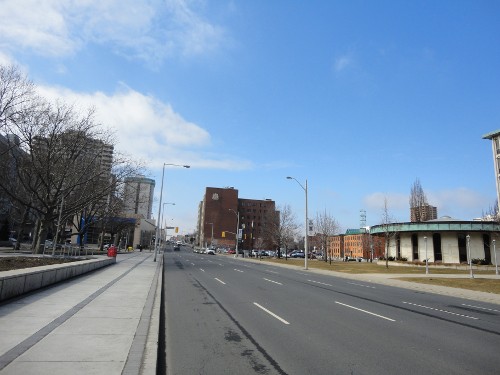 One-Way Streets intimidating for tourists? (RTH file photo)
I'm not sure why it's necessary to have so many one-way streets. I guess there was a reason at some point (and I'm sure it's logical to many Hamiltonians) but as a first time visitor, I'd have to say it was something that turned me off.
I'm sure that if I frequented the city often enough, I'd get used to it; but with regards to tourists and visitors, I think it should be a concern.
Something else that I also noticed was that there were no signs suggesting areas where people could park. I then discovered that you could park on the street but was so concerned that I was driving up the wrong way that it took me forever to find a parking spot. More signage would definitely be a huge help!
This post is very short (as my trip was very short in itself), but I hope I've made some constructive suggestions. Your city is great, and always has so many things going on! I wish I had been able to make it to Supercrawl as I heard it was a huge success! Hopefully I will be able to make it next year.
Cheers for giving me this opportunity to share my experience!
Post a Comment
You must be logged in to comment.