Surprise Demolition Permit for Gore Park Buildings
There is no way to stop the demolition permit for 18-28 King Street East unless Council convenes an emergency meeting before January 9 to designate the buildings.
By Ryan McGreal
Published December 20, 2012
In a surprise move, Wilson-Blanchard has filed for demolition permits for the remaining Victorian buildings lining the south leg of Gore Park between James Street South and Hughson Street South.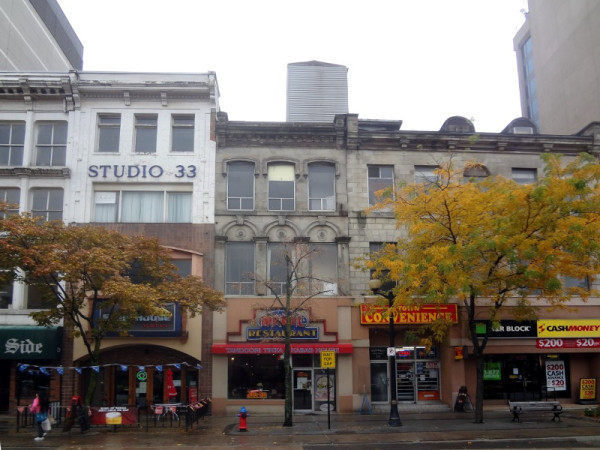 King Streetwall on the south side of Gore Park (RTH file photo)
This emerged at today's meeting of the Municipal Heritage Committee, which debated what, if anything, can be done to save them.
Joey Coleman livestreamed the meeting.
No Barrier to Demolition
The buildings at 18-28 King Street East, some of which predate Confederation, are not designated heritage buildings but have been identified as properties of interest.
Because they are not already designated and do not contain residential uses, the City has no recourse but to issue the demolition permits for January 9, 2013.
The only way to stop it would be for Council to convene an emergency meeting to designate the buildings under the Municipal Heritage Act.
The Committee moved to designate the buildings, but Councillor Lloyd Ferguson, who sits on the Heritage Committee, noted that Council would have to ratify the designation before January 9.
That would require interrupting Councillors' Christmas vacations and that it would be difficult to achieve quorum.
Councillor Brian McHattie, also on the Heritage Committee, expressed extreme frustration with the news. "This is a perfect example of how screwed we are" on protecting municipal heritage, McHattie said.
Later in the meeting, McHattie suggested that the non-Council members of the Heritage Committee should resign to protest Council's failure to take heritage seriously and protect buildings from demolition.
McHattie also proposed designating properties owned by the Hamilton Wentworth District School Board (HWDSB) to prevent more buildings like Sanford School from being demolished.
Missing Tooth
The building at 30 King Street East was already demolished in May 2011 and the site has sat vacant ever since.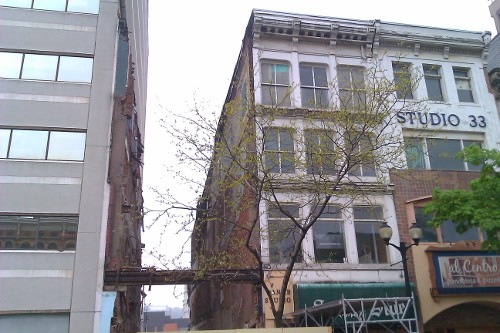 Missing tooth in Gore Park streetwall (RTH file photo)
This past October, Wilson-Blanchard floated a proposal to build a new condo development in the block bounded by James, King, Hughson and Main that would include a grocery store and multi-level parking garage fronting on to King Street.
No more details have emerged from this proposal, but Wilson-Blanchard has clearly decided to proceed with the demolition of the rest of the King Street buildings anyway.
The Gore Park Master Plan envisions a pedestrian plaza on the south leg of King Street, which would provide ample surface area for patios. A pilot project this past summer was a great success at drawing people to enjoy their lunches in the park.
A grocery store and multi-level parking lot would destroy the pedestrian character of Gore Park, the centre of the downtown core, and effectively render the master plan moot.
with files from Joey Coleman
Post a Comment
You must be logged in to comment.