Hamilton Continues to Destroy its Heritage and Kill its Downtown
Hamilton has so much promise, so much going for it, and never misses an opportunity to screw it up.
By Lloyd Alter
Published July 28, 2013
Over at NRDC Switchboard, Kaid Benfield points to a quote by Phil Myrick about building cities that work.
Creating lively town centers and neighborhoods that enhance pride of place and promote local economic development is critical to improving local quality of life as well as quality of the environment. In fact, we can reinvent entire regions starting from the heart of local communities and building outwards.
That's not the way it works in Hamilton, Ontario, a medium-sized city west of Toronto and a case study in how you mismanage assets and opportunities. I described the city earlier:
Hamilton, Ontario should be a great city; it has geography (a great location close to the border, a great big harbour that is now quite beautiful), topography (a nice "mountain" that keeps it from being boring), a major university and great transportation connections. It has (compared to Toronto) affordable housing, within viable commuting distance by commuter rail. It should be succeeding.
Instead, its main streets are five-lane throughways lined with empty shops, and people who live in historic neighbourhoods can't shop for a quart of milk without getting in their cars.
Right now in its historic heart, the Gore, four historic buildings that have suffered from neglect for years are on the verge of destruction.

Hoarding around 18-28 King Street East (RTH file photo)
Heritage activists are, of course, upset: the developer has filed no formal plans for the site but the city issued demolition permits.
After last-minute meetings, the developer promised that he is going to save the important parts of the buildings, then he says that he will carefully take them apart brick by brick for future reconstruction.
The city refuses to protect the buildings (even though they are in a historic district) and the Provincial Minister responsible for the Heritage Act that governs such things refuses to act.
But wait: did I say that Hamilton didn't care about heritage? Just down the street, there is some real local economic development. A new restaurant has opened, a nice replacement for the usual payday loan joints and dollar stores.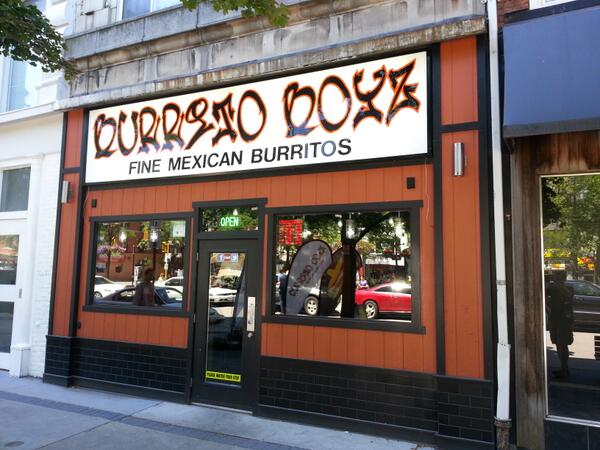 Burrito Boyz facade in Gore Park (RTH file photo)
Ryan McGreal of Raise the Hammer describes it as "well decorated, clean, operated by fast, efficient and friendly staff, all in the service of selling delicious, high-quality sandwiches to a bustling daily clientele."
Now the city is going after the restauranteur, because the storefront doesn't comply with the heritage guidelines for the district. I will admit that it isn't the prettiest facade, but really, as Ryan McGreal notes:
We seem perfectly willing to bend over backwards to accommodate "compromises" for developers who want to demolish heritage buildings, and then nitpick to death those entrepreneurs who make the kinds of small-scale, building-by-building investments that are actually responsible for the nascent recovery of the core.
There is the classic double standard taking place, where the big developer and property owner gets what he wants every time. But the young entrepreneur? the inspectors need something to do to fill their day.
Across North America, planners, architects and economists are recognizing that the key to sustainability is building strong, walkable urban cores. Peter Calthorpe writes:
Pedestrian-oriented development is really at the heart and soul of great cities. Every city that you love is a city that you want to walk in.
The keys to walkability include complete streetscapes that aren't interrupted by parking lots, lined with viable retail and restaurants and other uses that people want to visit. But they don't get that in Hamilton, never have. What a waste; it has so much promise, so much going for it, and never misses an opportunity to screw it up.
First published on TreeHugger.
Post a Comment
You must be logged in to comment.