57 Years and Counting: Hamilton's Love Affair with One-Way Streets Needs to End Now
Let's take a sensible leap into the known and start acting like the ambitious city we could be, not the fearful bedroom community to which too many of us aspire.
By Ryan McGreal
Published September 20, 2013
These days, the design and operation of our cities is controlled to an enormous extent by traffic engineers, but we need to remember that the modern field of traffic engineering did not exist before the 20th century.
The first edition of the Manual on Uniform Traffic Control Devices was published in 1935 to standardize traffic control systems across the United States, and was comprised of four sections totaling 166 pages. (The current edition has ten sections totaling 754 pages.)
One pioneer was civil engineer Wilbur Smith, the first state traffic engineer for the South Carolina Department of Highways. Smith started a company, Wilbur Smith Associates, in 1952 and began to crisscross the country to sell his services to cities that were struggling to accommodate growing automobile traffic on their Victorian street grids.
Smith had the insight that you could move traffic at a much higher speed if you converted pairs of parallel streets so that each carried traffic in just one direction.
All-In
Hundreds of cities eventually adopted Smith's plan, including Hamilton. Our Council went all-in, converting our downtown streets into paired one-way thoroughfares en masse in a single night in 1956. (Say what you want about midcentury governments: at least they were ambitious.)
Immediately, downtown business owners cried foul, complaining that the high speed and volume of traffic was hurting their business. In a 1957 Spectator article, one business owner called out Smith directly:
"This man, this expert from somewhere in Connecticut, stands to lose face throughout this continent if our one-way system is abandoned because it doesn't work well," Mr. Zack declared.

"It is beginning to look as if there is only one God and Wilbur Smith is His prophet!"
It's profoundly sobering to re-read the summary of that meeting, all these decades later:
Decreasing business returns, the refusal of old customers to visit the stores, large numbers of heavy trucks passing through the downtown area, the alleged conversion of King Street into a highway - all these and many other subjects were hurled at the committee by protesting businessmen from King Street East and West, James Street North, and York Street.
Smith himself continued to run his company until 1983, when he retired from the board. Today, CDM Smith Associates is a global company with nearly 6,000 employees. One of their specialties, ironically, is overseeing studies into traffic calming and complete streets designs.
Tragic Success
Hamilton's one-way streets have been remarkably successful at carrying traffic at high speeds across the lower city. Unfortunately, they have paid for that success at the devastating cost of neighbourhood vitality in large swaths of the lower city.
Those business owners were right. Storefronts can barely survive on a narrow ribbon sidewalk next to three, four or five lanes of fast, one-way automobile traffic. Families suffer when their homes open onto de facto expressways with transport trucks barreling past.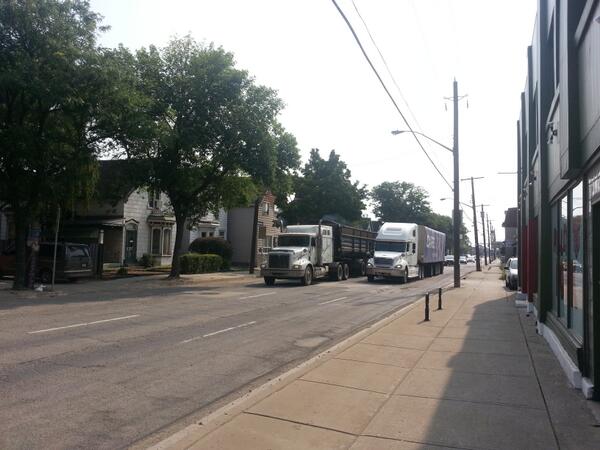 Transport trucks on Cannon Street (RTH file photo)
One-way streets haven't been the only cause of lower city Hamilton's declines over the past several decades, but it has been a major contributing factor.
This is no longer in doubt: our one-way streets are strangling the lower city. Every single expert who comes to Hamilton tells us the same thing!
Inefficient Use of Space
Ironically, while multi-lane one-way streets are good at carrying traffic at high speed, it is actually a shockingly inefficient use of roadway space. There are several reasons for this:
Lane capacity on additional lanes is subject to the law of diminishing returns. As you add lanes, the marginal capacity of each additional lane goes down.

A lane can carry fewer cars per hour at higher vehicle speeds. This seems counterintuitive, but as vehicle speed increases, the stopping distance increases geometrically and so each car needs to leave a bigger gap in front.

Synchronized traffic lights means cars are herded into clumps that all drive together, alternating with stretches of emptiness between each Green Wave.

Main Street just east of James during a weekday rush-hour (RTH file photo)
If we converted our streets back to two-way, we could actually use our lane capacity far more efficiently. Individual cars would not be able to race at 60 or 70 km/h through the city, but we could actually carry more cars overall on fewer lanes.
That, in turn, would free up lane capacity for more and better pedestrian and cycling infrastructure, which is proven in city after city to be much more important for the economic and social wellbeing of an urban neighbourhood.
Level of Service
Why do we continue to deform our streets and our city to make it as easy as possible to drive through it at high speed?
The City of Hamilton measures traffic level of service (LOS) based on average vehicle speed, average stop delay at intersections and traffic density at peak driving times.
"A" LOS - free flowing traffic at or above the speed limit at all times with low traffic volumes.
"B" LOS - steady traffic flow at or above the speed limit with multiple cars on the street.
"C" LOS - steady traffic flow with multiple cars requiring driver attention.
"D" LOS - steady traffic flow at a high density of vehicles approaching street capacity.
"E" LOS - reduced speed of traffic flow due to high volume.
"F" LOS - congestion with volatile speeds and delays at intersections.
What's interesting is that traffic engineering definitions also give prominence to qualitative assessments of driver perception. For example, in the City of Hamilton's definition, at "B" LOS, "Many drivers begin to feel somewhat restricted".
Note that this is based on peak times, so a street that may be operating at an "E" LOS for an hour in the morning and an hour at night may be at an "A" or "B" for the rest of the day.
The City of Hamilton has a goal of maintaining an LOS of "D" or better, but in practice, the entire downtown actually has an LOS of "C" or better, meaning every street has at least steady traffic at the speed limit and no significant delays during rush hour, and free-flowing traffic at or above the speed limit at all other times.
Consider the extended lane closures on Main at Caroline and King at Hess, which had only a minimal impact on traffic flow during rush hour and had no impact during the rest of the day. Here's a video of traffic on Main at Bay this past March, when it was reduced from its normal five traffic lanes to just two during construction of the new medical centre:
Granted, traffic was stopped at a red light, which is normally unheard-of with the synchronization of traffic lights along Main. However, traffic stopping at the occasional red light is normal for a city. What's abnormal is the system we have today, which sacrifices the normal functioning of city life to make room for fast through traffic.
We Measure What we Value
The classification of automobile LOS is much more clearly defined and measured than LOS for walking, cycling or transit. While the city has nominally adopted a hierarchy of transportation modes that puts walking, cycling and transit ahead of driving, in practice automobile traffic flow continues to take priority over the other modes.
This is partially a cultural problem - our traffic engineers still primarily see themselves as being in the business of designing streets for driving - but it also reflects the fact that the city has clear standards for driving but only fuzzy goals and qualitative objectives for the other modes.
On the maxim that you can only manage what you measure, our failure to measure LOS for walking and cycling means we're not doing much to manage them. Indeed, we are constantly told that a given pedestrian or cycling improvement would be nice to have but cannot be allowed to take priority over the one level of service we do systematically manage.
When a city decides to measure different things, it produces different outcomes. The City of New York recently published a groundbreaking report called Measuring the Street: New Metrics for 21st Century Streets that evaluates streets based on desired objectives: safety for all users, economic vitality, user satisfaction and environmental/public health benefits.
The study concluded that complete streets perform better on a variety of metrics than automobile-centric streets:

Protected bicycle lane on 8th and 8th Avenues, NYC (Image Credit: NYCDOT)
In Hamilton, we don't measure these things, and so we have no way to manage them. Instead, we have free-flowing traffic through a ghostly downtown core.
Traffic Growth
The City also proceeds from a baseline assumption that traffic volumes will grow by at least 2 percent a year in "background traffic growth", plus any site-generated traffic from new developments. This assumption then generates decisions about land use and street design that have the effect of generating the background traffic growth the engineers expect.
In fact, if you compare daily traffic volumes in 2000 with daily traffic volumes in 2010, it's clear that traffic volumes have actually declined in the lower city, even as the need to maintain traffic flow continues to justify our failure to convert these streets back to two-way.
Daily Traffic Volumes, 2000 and 2010

| Location | 2000 Volume | 2010 Volume | Change | % Change |
| --- | --- | --- | --- | --- |
| Cannon E of Sherman | 16,000 | 10,800 | -5,200 | -32.50% |
| Cannon W of Sherman | 11,000 | 9,100 | -1,900 | -17.27% |
| Cannon near James | 18,000 | 16,700 | -1,300 | -7.22% |
| Bay N of Main | 15,700 | 12,400 | -3,300 | -21.02% |
| James S of Herkimer | 30,000 | 18,700 | -11,300 | -37.67% |
| Main at Dundurn | 41,100 | 37,300 | -3,800 | -9.25% |
| Main E of Bay | 31,000 | 28,400 | -2,600 | -8.39% |
| Main near Kenilworth | 32,000 | 20,300 | -11,700 | -36.56% |
| Queen S of Charlton | 13,000 | 12,200 | -800 | -6.15% |
| Hunter W of John | 11,000 | 7,500 | -3,500 | -31.82% |
Yet we still plan and design our streets on the assumption that traffic volumes will continue to grow. Cities that reject the manifest destiny of ever-increasing traffic are freed up to make different land use and street design decisions that have the effect of reducing traffic volumes.
Consider Vancouver, which has managed nearly to double the population of its urban centre while reducing overall traffic volumes by 20-30 percent.
Vancouver worked hard to establish the kind of land use policies that would make living car-free a natural choice. The city prioritized walkable, mixed-use development and established a strong transit system with rail, trolly buses, and rapid buses, as well as walking and biking connections.

That strategy has worked exactly as planned. Vancouver officials recently trotted out traffic data to make the case for overhauling a traffic-heavy road by the waterfront into a street that prioritizes biking and walking while eliminating through traffic.

The figures showed that on major streets, traffic has dropped 20 to 30 percent since 2006 - although the city has grown 4.5 percent percent over that time.
Vancouver has achieved this through a series of decisions, large and small, to measure and prioritize different things than maximizing the speed and flow of automobile traffic.
We could do this too. In fact, given that traffic volumes are already stagnant and our streets have significant excess capacity, it will be easy for us to redesign them into complete, two-way streets that provide dedicated space for cycling and create comfortable, welcoming environments for people to walk and enjoy their community.
All we need is the political will to make it happen. With all the data at our disposal, and after 57 years of head-banging-against-the-wall dedication to Wilbur Smith's fatally flawed traffic plan, there is nothing to stop us but inertia and fear of change.
Hamilton, let's take a sensible leap into the known and start acting like the ambitious city we could be, not the fearful bedroom community to which too many of us aspire.
Post a Comment
You must be logged in to comment.