October 2014 Brad Clark vs. May 2014 Brad Clark
Clark's latest policies are a total repudiation of his analysis in May, when he understood that investing in urban intensification is more economically sustainable than low-density, high-cost sprawl.
By Ryan McGreal
Published October 16, 2014
While mayoral candidate Brad Clark continues to double down on his Hail Mary pass to angry anti-urban voters, it's worth taking a few moments to look back at what Clark was saying before he settled on his platform of divisive wedge politics.
We have already contrasted Clark's new position on LRT with his position in September 2011, back when he still thought Hamilton's leaders should "be fighting tooth and nail to get the Province to keep their promise to pay 100 percent of the capital cost for LRT."
But Clark has also begun claiming the city spends too much time and money on downtown when it should instead be investing more in the suburbs. Let's compare that to what Clark said back in May of this year, during the Tactical Taxation event organized by the Hamilton-Burlington Society of Architects.
Tactical Taxation is a presentation by Joe Minicozzi, architect and urban planner, who demonstrates that higher-density urban land use makes vastly more productive use of public infrastructure than lower-density sprawling land use. The following infographic illustrates the huge discrepancy in property tax revenue per acre between urban and suburban land uses.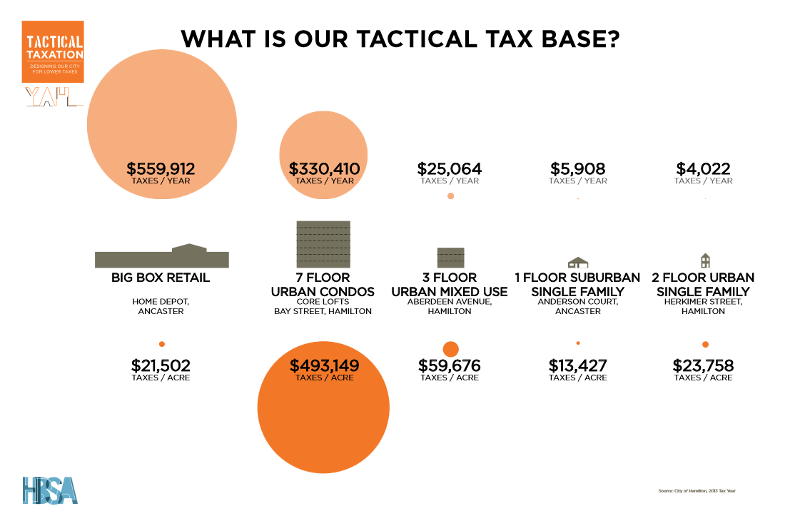 Infographic: What is our Tactical Tax Base? (Image Credit: Hamilton-Burlington Society of Architects)
Hamiltonians learned that the Ancaster Home Depot generates less property tax revenue per unit of land area than a two-storey single family house in southwest Hamilton.
A three-storey mixed use building on Aberdeen Avenue generates three times as much property tax revenue per unit of land as the Home Depot. Astonishingly, the Core Lofts on Bay Street generates a staggering 23 times as much property tax revenue per unit of land as the Home Depot.
Clark's Tactical Taxation Response
Minicozzi's talk was followed by a mayoral candidates' debate in which candidates were asked to respond to the following question:
How would you as mayor of Hamilton change the current city policies and fee structures regulating new development, redirect city resources and work with citizens to ensure that the future development will reduce our per-capita infrastructure costs and collective tax burden across the city? Please describe the three most important changes or initiatives you would undertake, and when.
Thanks to Joey Coleman, we have a video recording of the event. Please take five minutes and listen to how Clark responded. You can jump directly to the start of Clark's response.
Here is the text of Clark's response (emphasis added):
This is kind of right up my alley. I've spent the past two terms as chair of the Development Charge Review Subcommittee, which has been looking at these fees themselves and slowly moving the city in a direction where we're getting full cost recovery for both the hard services and the soft services. So the city has moved forward in some very dramatic ways.

One of the things as a result of that - and it pretty much proves what Joe said tonight - we did a study, and just in downtown Hamilton, on the stormwater costs that the developers are paying to develop in downtown Hamilton. And we learned that the stormwater costs that are being charged are about $300 more per unit than is required because of the infrastructure that already exists. So that's a very recent report that shows very clearly what Joe is talking about.

That $300 could be taken off of those DCs for stormwater in downtown Hamilton, which makes it more advantageous per unit - $300 per unit - for the developers and it becomes a bit of an incentive. But we're not finished there, and one of the things that we have requested was that we look at the actual engineering studies of the hard services and the soft services. We have combined sewers in downtown Hamilton, so we really need to understand very clearly what the costs are from an engineering standpoint so that we can actually back out and that's what we do with the DC review.

So from my perspective, I really do believe that we can develop special policy areas for DC costing that is actually informed by these financial statements. And this will really demonstrate to the public - but more importantly, provide those inventives that we can change the DC structure for downtown Hamilton. And for that matter the outlying downtowns also, so that you're not paying for something that's already in the ground. And that's the key that I think is important, and that provides significant incentive to develop those items.

We also need to look at - and we've tried for a long time on brownfield development, we need to really begin a strong push on the brownfield development and lower the industrial DCs for the brownfields. We have a very competitive industrial development charge - it's $11.78 and it's subsidized by the city. We need to switch that around a little bit in terms of greenfield versus the brownfield and provide incentives so that people will come in and the developers will look and say, so if I'm doing this fiscal accounting, and you're providing me this subsidy here, it helps to offset the cost to remediate as well as the ERASE grant. And that would assist us in terms of bringing industry and factories into the city itself.

The other item that I think is really important is twofold. One, we need to ensure that the incentives are across the entire city for all of the downtowns. But more importantly, we need to educate the suburban voters as to why those subsidies are so vitally important in the downtown. And if, you know, if we could have this presentation to every taxpayer in the city of Hamilton, it would really enlighten them significantly about the fact that if we intensify, we end up developing significant economic growth for the city and the land itself, the value goes up in those areas. And then we wouldn't need to develop as much in the greenfields.

So I hear frequently, as I have been knocking on doors and talking to people, that the suburbs are concerned about all the money going into the downtown. They don't really understand the economics, because quite candidly, we've not done a good job of explaining those economics. And without that support, and without the city coming together with some unified vision, we're not going to get there. So we need to make sure that they're informed as well as the folks who live in the downtown communities.
This is a thoughtful, even refreshing response from someone who has not resorted to letting politics get in the way of speaking clearly on factual matters.
Cultivating Ignorance
Unfortunately, Clark has decided not to use his mayoralty run to help explain the economics he so clearly understands. Instead, he is cultivating the ignorance he so recently decried.
Here is what he said to the Flamborough Review on September 30:
For years, residents of both Hamilton Mountain and our suburbs have felt council has been too focused on one part of the city. To move forward, it's important for our new mayor and council to spread their focus beyond downtown Hamilton.
Just as in his cynical reversal on LRT, Clark has decided that the wedge politics of stoking resentment and playing the old lower city off against the suburbs offers him his best shot at winning the election.
The fact is that Council agonizes over every small investment in the lower city and downtown while quietly approving comparatively huge infrastructure investments for sprawl projects.
Councillors spent more than four hours debating whether Wards 2 and 3 should use $867,200 of their own capital infrastructure funds to build a protected two-way cycle track on Cannon Street.
Earlier this year, Council couldn't bring itself to proceed with minor, inexpensive two-way conversions it approved all the way back in 2001 because suburban Councillors were suddenly outraged that some of their streets don't have sidewalks - even though some local residents apparently prefer it that way.
Meanwhile, the decision to spend $3.7 million rebuilding a mountain access or $18 million on an arterial road on the East mountain just happens with no fuss or controversy.
Energizing Anti-Urban Votes
In 2010, Bob Bratina managed to energize some anti-urban votes by promising to revisit the amalgamation of Hamilton and its surrounding communities, a policy over which the mayor has absolutely zero control and in which the Province has expressed zero interest.
This time around, Clark promises to negotiate for the Province to take over the Lincoln Alexander/Red Hill Valley Parkway and expand them with additional lanes.
Thanks to the law of induced demand, widening a highway to reduce congestion is an expensive exercise in futility, as the mere existence of additional lane capacity will generate enough new traffic to fill it up.
The Province has promised 100 percent full capital funding for rapid transit in Hamilton - either a light rail transit (LRT) line as specified by Council or, alternately, a cheaper-to-build but more-expensive-to-operate bus rapid transit (BRT) line.
Clark supported Hamilton's LRT planning for years but now rejects it. Instead, he wants to butter up the status quo with additional express buses that he insists on calling "BRT" even though they do not meet the minimum BRT criteria of running on dedicated lanes to stations where riders can board directly after having prepaid.
Perhaps Clark thinks he can convince the Province to throw out its own smart growth policies and spend the rapid transit capital money on widening the highways instead.
More likely, he merely thinks he can convince Hamilton voters that this is possible.
In any case, it is a total repudiation of his analysis in May, when he still understood that investing in urban intensification is more economically sustainable than spending money we don't have on low-density, high-cost sprawl infrastructure.
Post a Comment
You must be logged in to comment.