Traffic Chaos Demonstrates Need to Diversify Our Transportation Network
When the supply of lane capacity increases, the quantity of traffic increases to fill it, eliminating the surplus.
By Ryan McGreal
Published December 01, 2014
Automobile traffic in Hamilton slowed to a crawl on Friday after a water main leak on York Boulevard triggered a landslide onto the Toronto-bound lanes of Highway 403 between the King and York exits.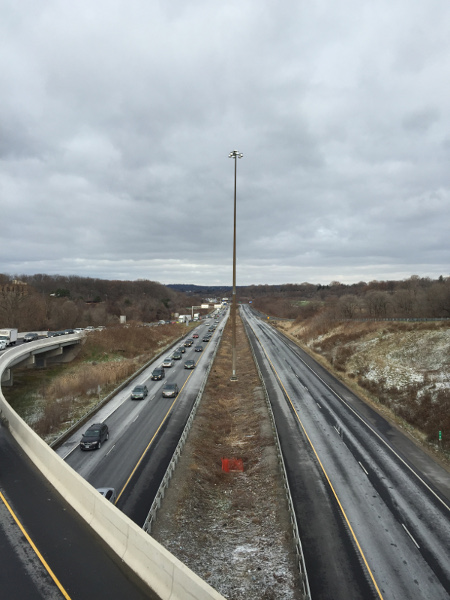 Looking east on Hwy 403 from King Street (Image Credit: Mark Fenton)
This comes only a few months after traffic ground to a halt when a dump truck with its box raised crashed into a truss on the Toronto-bound lanes of the Burlington Skyway Bridge and shut down the QEW.
It's only a matter of time until people start pointing to these events as reasons to build another highway to provide surplus lane capacity so our network can handle temporary closures with less disruption.
This makes a kind of intuitive sense, but it never works. The only way a "spare" highway network could serve this purpose is if we build it and then hold it in abeyance, not allowing anyone to use it unless and until another failure jams the current network.
Induced Demand
If we merely build it and let people use it, induced demand will consume all the spare capacity and we will end up in exactly the same situation we are today, but with a higher total number of people stuck in cars.
Induced demand is what happens when you make it easier to do something: more people do it. It is an instance of the economic Law of Demand, which states that as the price of a good goes down, demand for it will go up.
In the case of transportation: when the supply of lane capacity increases, the quantity of traffic increases to fill it, eliminating the surplus.
The intuitive mental model most people have about automobile traffic is that it is like water running through a pipe. If you make the pipe bigger, the thinking goes, the water flows more smoothly.
Unfortunately, this intuitive metaphor is highly misleading. Traffic is less like a liquid and more like a gas that expands to fill the available space.
Choices in a Context
People make choices in a context of incentives and disincentives, and if you make it easier to drive, more people choose to drive more often.
In the short term, some people shift modes away from walking, cycling and transit when it becomes easier to drive; or they choose to drive to destinations that are farther away since it's easier to get there.
In the longer term, the new highway becomes a catalyst for new developments around the highway interchanges that generate more and longer automobile trips.
We've already seen this with the Red Hill Valley Parkway, which made it possible for developers to build new low-density, car-dependent sprawl on the east mountain.
This, of course, is why the Red Hill was not able to absorb the overflow traffic when the QEW closed: it had already become host to its own traffic. The exactly same thing will happen again if we build yet another highway.
Diversify Our Network
Whereas people looking at the world through our society's pervasive windshield perspective see road widening as the only possible solution to congestion, a more constructive approach is to diversify our transportation network by making it easier for people to choose other modes.
For example, if the B-Line LRT was in service, people travelling locally between west Hamilton and downtown could choose to ride it instead of getting grounded on Main Street West.
After more than a half-century of designing our streets and planning our land use around the assumption that most people will drive, Hamilton has predictably become a city in which most people drive.
According to the 2011 census, 84.4 percent of Hamiltonians commute by car, while just over 9 percent use transit, 4.5 percent walk and less than one percent bicycle.
Over the longer term, if Hamilton becomes a city in which a smaller share of total trips are taken by the automobile, we will not only reap the many large net benefits of improved air quality, lower rates of obesity, diabetes and heart disease, longer life expectancies, lower per-capita road infrastructure lifecycle costs and improved local economic activity.
We will also become less vulnerable to traffic disruptions from incidents that shut down significant lane capacity.
More on Induced Demand:
Post a Comment
You must be logged in to comment.