Approve and Improve the Bus Lane
Killing the bus lane would be deeply unfair to the thousands of Hamiltonians who rely on it and demonstrate that Hamilton is not serious about improving transit or planning for the effective transportation our city needs.
By Nicholas Kevlahan
Published January 09, 2015
I urge Council to keep the bus lane on King Street that has been tested as a pilot project for the past year.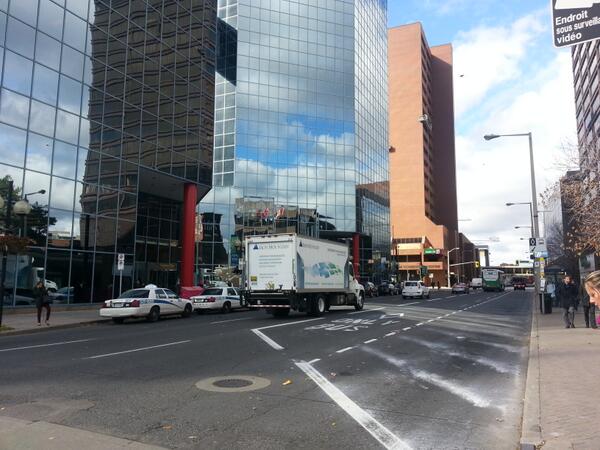 Bus lane on King Street (RTH file photo)
In December, Council prudently decided to wait to receive the staff report before making a final decision on the bus lane despite complaints by some residents.
Now the staff report is complete, and the data and recommendations in the staff report have shown how wise that decision was!
The staff report is very clear: despite the impressions of some people, on all important measures the bus lane has been a success and achieved its objectives. It has significantly improved bus service while only increasing motorist travel time at rush hour by a few minutes.
The pilot project did identify some deficiencies of the design that can be easily rectified - restore curbside parking to the north side of King west of Bay and add signal priority for buses - and these changes should be adopted.
Most importantly, the report makes it very clear why the bus lane is justified and fair:
The bus lane alone carries as many people as three other lanes of traffic! This more than justifies dedicating a single lane to buses. What would cancelling the bus lane say about how the city respects the interests of all those bus riders? Are they worth less than one-third of those who choose to drive?

Ridership along the B-line corridor has grown by 20 percent in the last five years, despite minimal improvements in service apart from the bus lane, while ridership overall has only grown by 4 percent. This one transit corridor now accounts for 42 percent of the ridership of the entire HSR.

This justifies significant investment in this corridor to improve transit service since the demand is clearly there. It also reminds us once again why this was the route chosen for LRT.
Again, I urge Council to vote to keep and improve the transit lane.
Not doing so, when the staff report tells us it is urgently needed and is successful, would be a waste of taxpayer dollars and deeply unfair to the thousands of Hamiltonians who rely on efficient transit every day.
It would also say loud and clear that Hamilton is not serious about improving transit or planning for the efficient transportation network our city needs to thrive in the future. We need to have the courage to start making these changes now. As the staff report says:
[I]f current auto mode share trends continue, most of the escarpment crossings in Hamilton will be well over capacity by 2031. In addition, many downtown streets including King Street would operate at a poor level of service with volume exceeding capacity.
Similar, and much broader, recommendations were made in the 2010 HSR Operational Review by IBI Consulting, and in the the Rapid Ready report adopted by council in 2013. It is now time to start acting on these recommendations!
This article is adapted from a letter to Council.
Post a Comment
You must be logged in to comment.