Parking is Not the Problem With the Farmers' Market
The limited hours, lack of places to sit and interior glass wall cutting the Market off from the street are the real problems.
By Jason Leach
Published February 18, 2015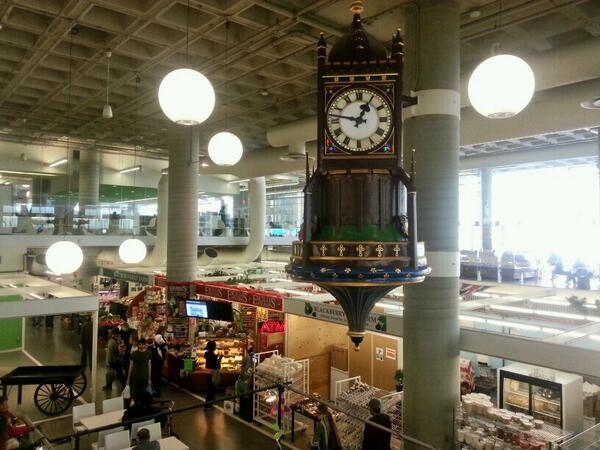 Birks Clock, Farmers' Market (RTH file photo)
The Spectator reports that Ward 2 Councillor Jason Farr wants to bring back curbside parking in front of the Farmers' Market.
Farr wants staff to study the logistics of metered spots on the south side of York between Bay and James streets.

Farr says stallholders are "near unanimous" about repatriating the meters, which were installed in the late 1990s, but axed when York became a two-way boulevard in 2010.

Whether those spots would crowd out the east-west artery's bike lanes is uncertain, the downtown councillor said after Tuesday's planning committee meeting.

"There's only so much road you can work with. … We'll let the experts report back on that."
My two cents: parking isn't the problem there. They have the biggest, covered parking garage in the city 35 steps from their front door. The limited hours, lack of places to sit and interior glass wall cutting the Market off from the street are the real problems. More on this below.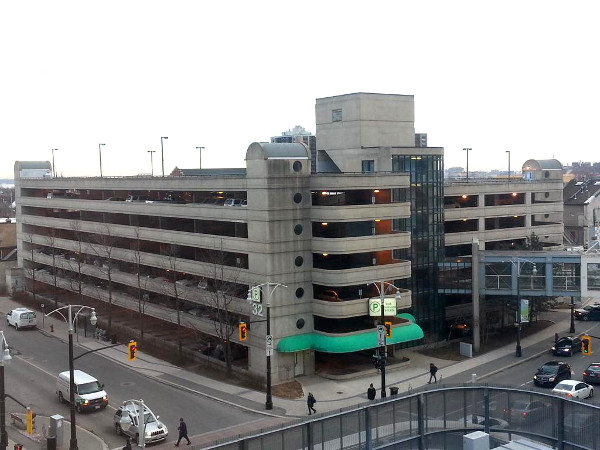 City Centre Parkade (RTH file photo)
Keep Bike Lanes
Having said that, there is ample space to add street parking there without losing the bike lanes, since we barely have any bike lanes as it is in this city.
Cities around the world are moving to narrower traffic lanes, as they help keep traffic safer and calmer instead of big wide lanes that encourage speeding.
Hamilton can adopt narrower traffic lanes of 2.9 metres (9.5 feet) in width instead of the huge, wide lanes we always love. The three travel lanes on York look very wide, but staff will know the exact numbers.
If they are 3.2 metres (10.5 feet) wide, we can gain almost a metre (3 feet) right there just by narrowing them. I'll be shocked if the westbound car lane isn't something like 3.65 metres (12 feet) wide. It's huge.
We can also get rid of the useless painted median on York that is just dead space in between double yellow lines. It looks to be about 0.6 metres (2 feet) wide.
So just by repainting, it looks like we can gain the 2 metres (7 feet) needed for a 24-7 parking lane in front of the Market without losing any bike lanes.
This scenario would see parking on the south curb 24-7 in a typical parking-width lane, not a full traffic lane, then the bike lane, then two eastbound traffic lanes. Westbound would remain the same, but a narrower car lane.
Option 2 could be to do the same re-painting, but take the newly gained space to add a buffer in between the eastbound bike lane and the curb lane. Then, during non-rush hour times, we could allow street parking in that eastbound curb lane.
Personally, I prefer this option as it would also meet the goals of a calmer street in front of a busy public market. Those two eastbound lanes are wide open freeways during evenings and weekends. No need for two full vehicle lanes 24-7.
This cross section would look something like this, and would be the best option for enhancing public safety on the sidewalk and bike lanes.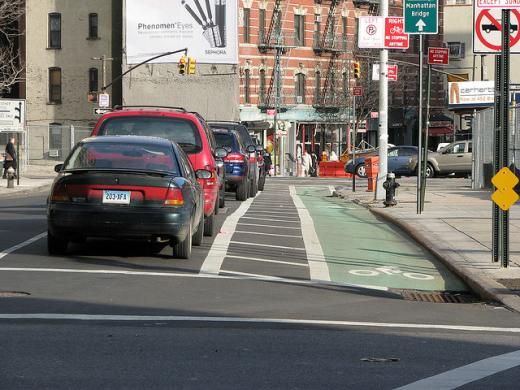 Buffered, green-painted bike lane in New York City (Image Credit: CycleTO)
Unfortunately, public safety on sidewalks and bike lanes seem to be low on Hamilton's priority list.
Problems With Market
We rarely go to the market anymore, due to a few factors, none of which have to do with parking.
The operating hours are still very limited. We have Nations and the Mustard Seed nearby with great operating hours.

There is nowhere to sit and relax. We are a family of five and there is nowhere in the market for us to sit and have lunch. Those ugly white tables/chairs only accommodate two or four people, and there aren't enough of them.

The vibe in the upper portion facing York feels like a hospital due to that interior glass wall, which blocks off the sounds and smells from the market.
Also, last summer the sliding panels onto York were never open anytime we were there, even on beautiful days.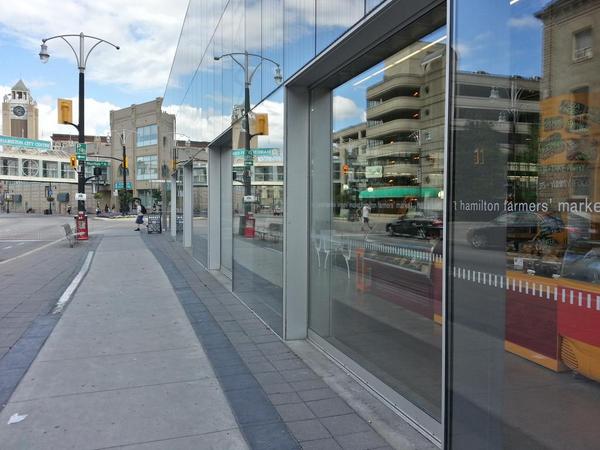 Glass panels closed on a nice summer day in 2014 (RTH file photo)
Those panels should be open as often as possible and the interior glass wall removed so people passing on the street can hear, see and smell the great vibe in the Market.
Activate the Sidewalk
You may recall the my suggestion last year for that upper portion and sidewalk to be loaded with Paris-style cafe tables and chairs. Dozens could fit there and provide more street animation and place for folks to linger and have lunch or coffee together.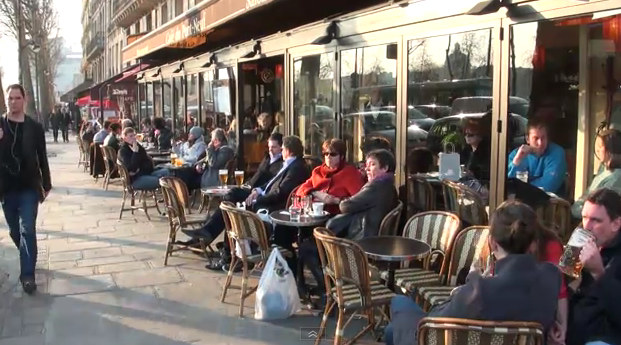 People sitting outside in autumn (Image Credit: Soundscape Explorations)
Hamilton is honestly one of the worst cities I've been to in terms of creating a welcoming, inviting public realm on our city streets. We still view streets as speedways to somewhere else, instead of learning from places like Montreal or Toronto.
Personally I'd love to see large tree and flower planters at the sidewalk edge to help frame in patio table space in the cobblestone section of the York sidewalk: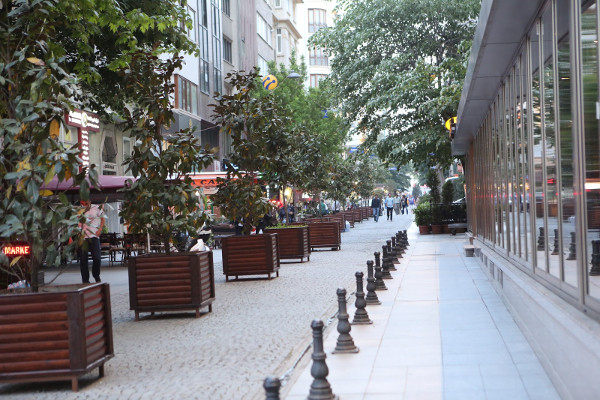 Large tree and flower planters to frame the sidewalk (Image Credit: aRbANEu)
With the bike lane and curb parking next to the sidewalk, this would help create a more welcoming environment by slowing cars and creating that needed buffer between people on the sidewalk and live traffic.
Look at what Toronto is doing downtown on John Street to enhance the public realm:
In mid-April, the Toronto Entertainment District BIA kicked off a six-month pilot project that closed one lane of John Street to vehicular traffic between Queen and Adelaide, replacing the cars with a row of tables and chairs (including 20 Muskoka chairs custom painted by a pair of OCAD students). Dubbed John Street: Toronto's Red Carpet, the project lends a touch of glamour to what BIA executive director Janice Solomon calls the "central spine" of the Entertainment District. But it also offers a preview of a much grander project that's in the works for next year: the John Street Pedestrian Initiative, which will include widened sidewalks, more trees, and slower traffic speeds to make the corridor more pedestrian-friendly.
The article includes some great photos from last summer: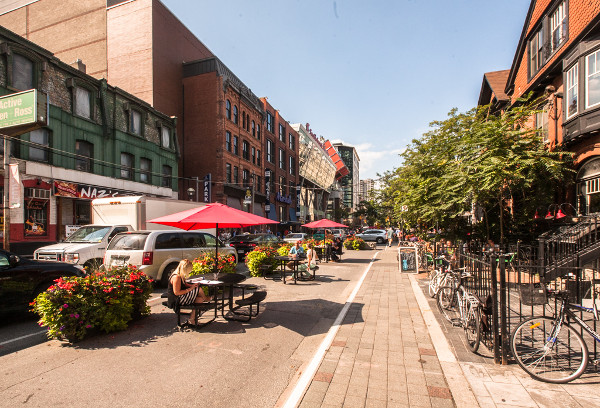 John Street, Toronto with a lane blocked by planters for tables and chairs (Image Credit: Torontoist)
There is no reason the blue cobblestone area on York couldn't be filled with patio tables, chairs and umbrellas from MacNab Street all the way over to the Library entrance.
How Hamilton Views Streets
That we haven't already done this really speaks to the bigger problem that I have pretty much lost hope will ever change in this city: how we view our streets.
Last Friday we visited Toronto and noticed the simple, easy-to-navigate design of the major streets we were on: Queen, College, Dundas, Roncesvalles, Ossington and so on. They were all one lane in each direction with streetcars and buses in the centre lane and parking on both sides.
During rush hour, the parking is removed for two hours on Queen and Dundas, but not the others.
The streets are vibrant, alive, full of business and not full of speeding drivers in cars killing the quality of life and business opportunity like we have here.
York/Wilson with its wide lanes, weird turning lanes at John/Hughson and lack of parking on the south lane makes it a horrendous street, even as two-way.
How many more decades of being the only dead zone in the GTHA will it take before we stop pretending it's still the 1970s? Toronto is booming, and cars can't do 70 km/h through the city. Shocking.
Hamilton truly is the last city in the country holding out with these outdated, horrible ideas of city-building.
Post a Comment
You must be logged in to comment.