By the Numbers: Impacts of Paid Parking at Work on Commuter Modal Share
Despite the obvious moans and groans, paid parking at work has the potential to play a significant role in reshaping our transportation mode share in Hamilton.
By Matt Pinder
Published July 08, 2015
Free parking at work is one of those things that you don't really appreciate until it's gone. Employers charging for parking is controversial, to say the least. Many people believe that employers should be removing commuting barriers rather than creating new ones.
From a transportation demand management perspective, however, paid parking can be a highly effective tool for encouraging alternative forms of transportation.
Travel is really about choice, and when presented with choices, people will choose the one that's best for them. When one of those choices is disincentivized (i.e. charging for parking at work), the other available options become more favourable.
How effective is this strategy? I decided to use the 2011 Transportation Tomorrow Survey (TTS) to find out. The 2011 TTS surveyed residents in the Greater Golden Horseshoe in the fall of 2011 and 2012 on their travel habits.
Over 160,000 interviews were completed in the 2011 TTS, making it one of the largest travel surveys ever undertaken anywhere. Using statistical analysis, the data is then expanded to provide a high-accuracy representation of people's travel habits, on the region, city, and even municipal ward level.
My first sample looked at the City of Hamilton as a whole. The graph below show the modal split of trips from home to work for commuters living in Hamilton who are offered free parking by their employers.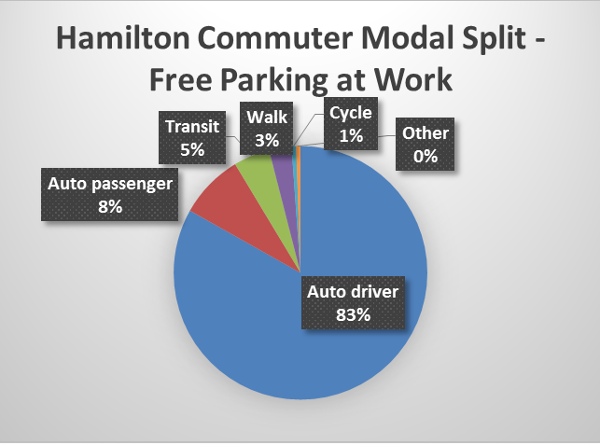 Chart: Hamilton commuter mode split with free parking at work
The result is pretty typical to the Canadian average with 91 percent of modal share going to automobile travel and the remaining 9 percent split between transit, walking and cycling.
Here's what the split looks like for Hamilton commuters who have no free parking at work: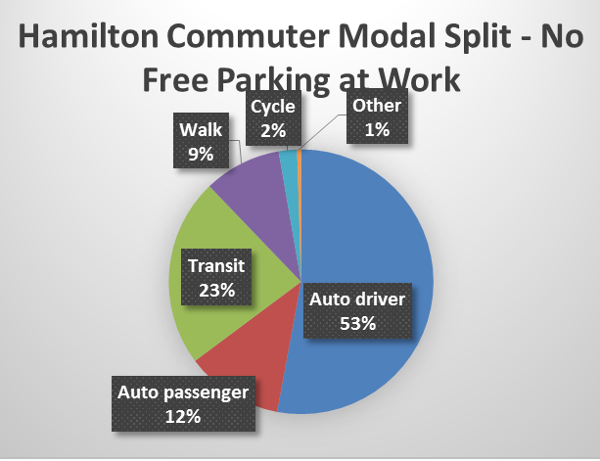 Chart: Hamilton commuter mode split with no free parking at work
The difference is startling. Hamiltonians who don't have free parking at work are 3 times more likely to walk, 4 times more likely to take the bus, 2 times more likely to bicycle, and 1.5 times more likely to carpool to work!
Modal Share for Hamiltonians With and Without Free parking at Work (2011 TTS Survey)
Mode
Free Parking
Paid Parking
Difference
Auto driver
82%
52%
-30%
Transit
8%
12%
4%
Auto passenger
5%
24%
19%
Walk
3%
9%
7%
Cycle
1%
2%
2%
Other
1%
0%
0%
Total Commuters (Expanded)
232,061
54,370
But there are many factors at play influencing people's modal decisions. In many cases, there really aren't any realistic alternatives to driving to work, especially for rural Hamiltonians.
So to make a more level playing field for analysis, I decided to narrow my scope to specifically Ward 2 in Hamilton. Ward 2 is one of Hamilton's most urban wards, with quality transit access and better suited for active commute modes.
First, the split for commuters with free parking: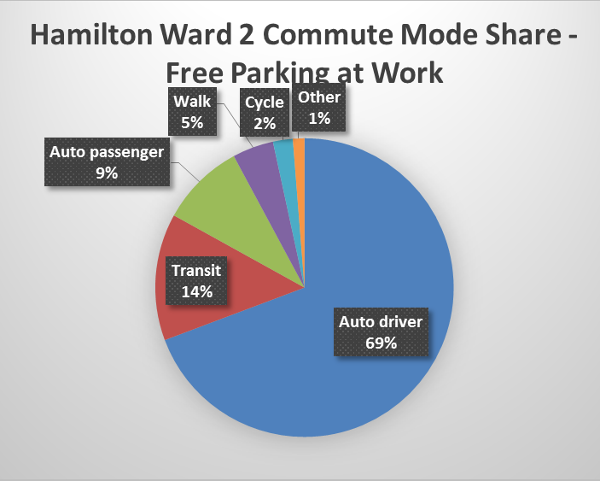 Chart: Hamilton Ward 2 commuter split with free parking at work
The results again are quite consistent with the national average. The high level of transit service in Ward 1 is reflected in a 14 percent transit modal share, but automobile travel still occupies 78 percent of the pie.
But when you analyze the split of commuters who aren't offered free parking, things get really interesting: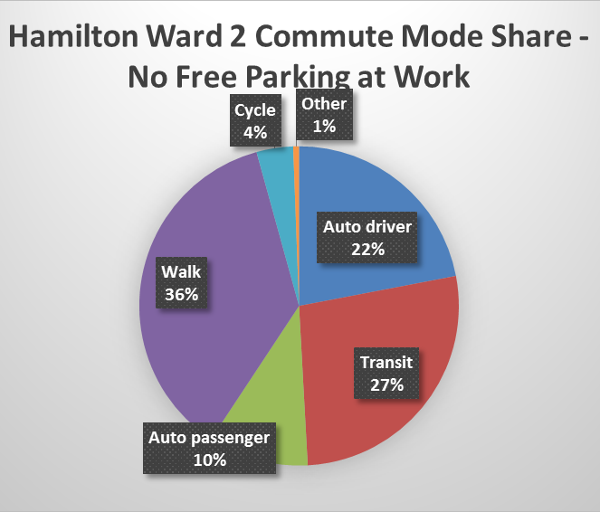 Chart: Hamilton Ward 2 commuter split with no free parking at work
Boom! Hamiltonians who live in Ward 2 and are not offered free parking at work are 2.5 times less likely to commute using an automobile, twice as likely to take transit or cycle, and a whopping 7 times more likely to walk to work!
Modal Share for Ward 2 Residents With and Without Free parking at Work (2011 TTS Survey)
Mode
Free Parking
Paid Parking
Change
Auto driver
67%
22%
-46%
Transit
15%
27%
12%
Auto passenger
9%
10%
1%
Walk
4%
36%
32%
Cycle
2%
4%
1%
Other
1%
1%
-1%
Total Commuters (Expanded)
12,216
6,316
The conclusion is clear: when all other variables are kept constant and the cost of driving increases, the usage of alternative modes increases drastically, especially in environments that offer a diverse range of transportation choices.
While there is no silver bullet to solving the congestion crisis our region is currently facing, increasing the cost of driving is an important tool available to cities. Taxes, tolls, and parking charges, though unappealing, need to be taken seriously as strategies to reduce automobile demand.
While our cities also need thoughtful planning for alternative modes of transportation by providing frequent transit, bike lanes, and walkable communities, without increasing the user cost of driving, many of the positive outcomes of these measures are lost.
This article was first published on Matt Pinder's website.
Post a Comment
You must be logged in to comment.