Complete Streets Opposition the Same Old Political Fear and Loathing
This war on the lower city comes from the ugly political tradition of stoking contempt to manufacture a phony crisis and score cheap points at the expense of the city's overall well-being.
By Ryan McGreal
Published November 30, 2015
Kevin Love has written a thoughtful article making a case for turning Aberdeen Avenue into a safe local residential street by eliminating dangerous cut-through traffic. This is, of course, exactly what cities in The Netherlands have been doing for the past four decades, and it has succeeded in making them safe havens for walking and cycling.
If Hamilton was a truly progressive city, this is what we would be doing. When you stop to think about it, it's actually quite astonishing that you can drive between the West Mountain and West Hamilton faster on residential surface streets than you can on the ring highway system that was specifically built for commuting.
That in itself indicates how far out of order our priorities are: in Hamilton, we think absolutely nothing of deforming an entirely residential neighbourhood street into a four-lane thoroughfare that consists almost entirely of fast, dangerous cut-through traffic rather than local traffic.
But what Love has proposed is not what Ward 1 Councillor Aidan Johnson and the Kirkendall Neighbourhood Association have proposed. Instead, they have put forward a very modest compromise that accepts the continued presence of cut-through traffic but merely asks for a little bit of the excess roadway space to be repurposed to make local use safer and more inclusive.
In a more normal city, what Love describes would be the controversial initial proposal and what is actually being proposed might be the ultimate solution brokered with the suburban voting interests that bridges the various competing demands on the street.
Instead, we live in a city where even a modest compromise that was specifically designed to continue allowing cut-through traffic is rejected so vehemently, so hyperbolically, that it actually provoked a Mountain councillor to propose a moratorium on any changes to the entire lower city street system to make it safer or more inclusive.
Folks, it is truly insane that such a response has even been proposed by someone whose job it is to lead the city, let alone that anyone is taking it seriously.
Slightly Better Balance
The people living around Aberdeen Avenue, a designated minor arterial, are not asking to eliminate cut-through traffic. They are not asking for their neighbourhood to become a walled garden.
They are only asking for a slightly better balance between the current regime of roaring traffic and the needs of local residents to get around safely.
They are asking for Aberdeen to be balanced like, say, Lawrence Road in the east end, which is also a minor arterial that connects to our ring highway system: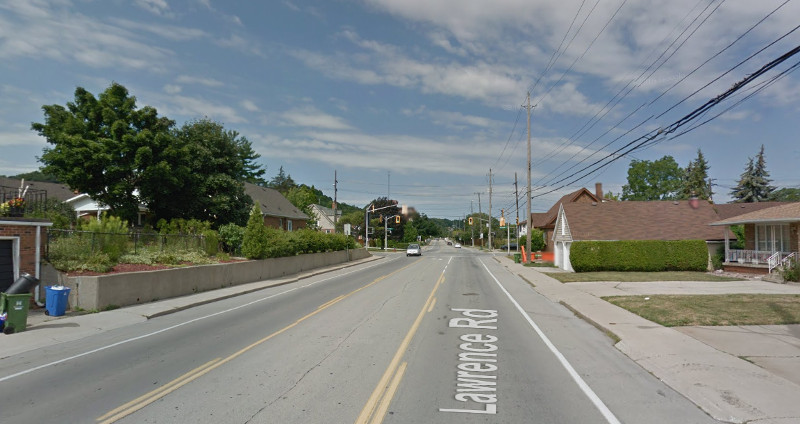 Lawrence Road (Image Credit: Google Street View)
They are asking for Aberdeen to be balanced like, say, Stone Church Road on the south mountain, a crosstown minor arterial in a very suburban part of the city that still manages to function with one lane in each direction and dedicated bike lanes: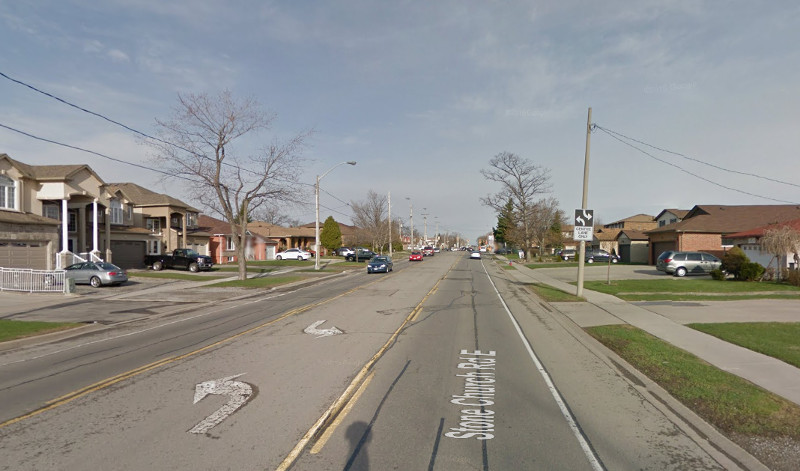 Stone Church Road (Image Credit: Google Street View)
They are asking for Aberdeen to be balanced like, say, West 5th Street, a minor arterial on the West Mountain - the very ward of the councillor who has declared open war on street safety improvements across the entire city: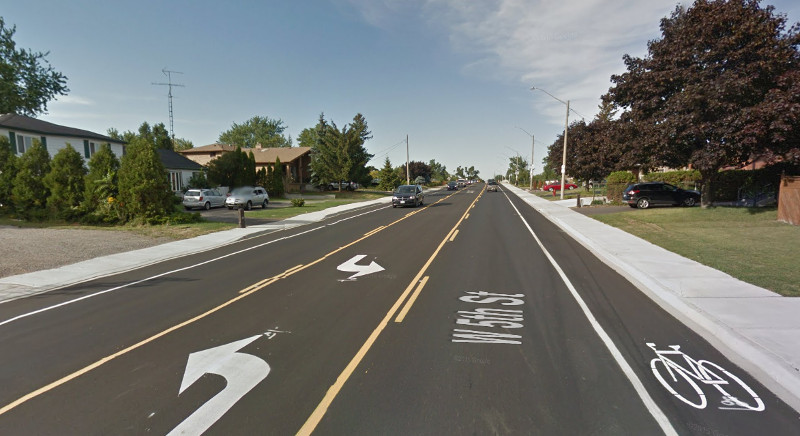 West 5th Street (Image Credit: Google Street View)
They are asking for Aberdeen to be balanced like, say, Wilson Street in Ancaster, a major arterial whose complete street redesign was celebrated by its local Councillor: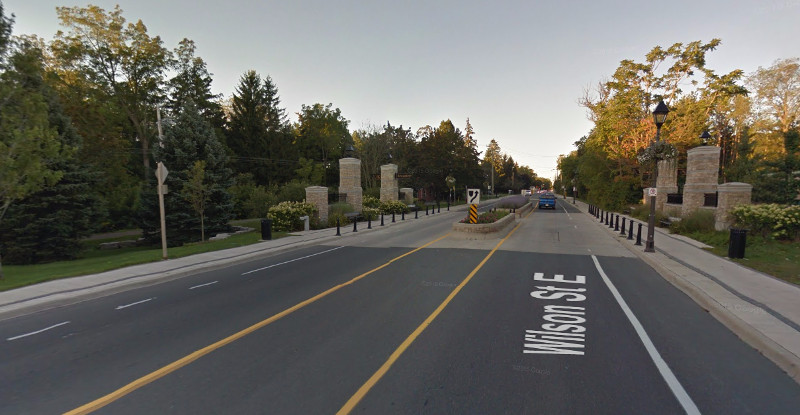 Wilson Street, Ancaster (Image Credit: Google Street View)
We have examples right here in Hamilton of arterial streets that achieve a better balance between uses that we can apply to Aberdeen - and we can implement them for the cost of paint and some staff time! There is really no excuse not to move forward with this.
Contempt and Loathing
The opposition to making Aberdeen Avenue safer and more inclusive is not about protecting its role as a cut-through minor arterial, not really. The street carries 18,000 cars a day, which can easily be accommodated on one lane in each direction with left turn lanes.
It requires nothing less than a wholesale rejection of reality and utter contempt for the full weight of a very large, broad body of global evidence to oppose this change that Kirkendall residents have gotten organized to develop and advocate.
Worse, it requires utter contempt for the people living in the lower city - not just around Aberdeen, but within the entire sacrifice zone that has been proposed for a moratorium on street safety improvements.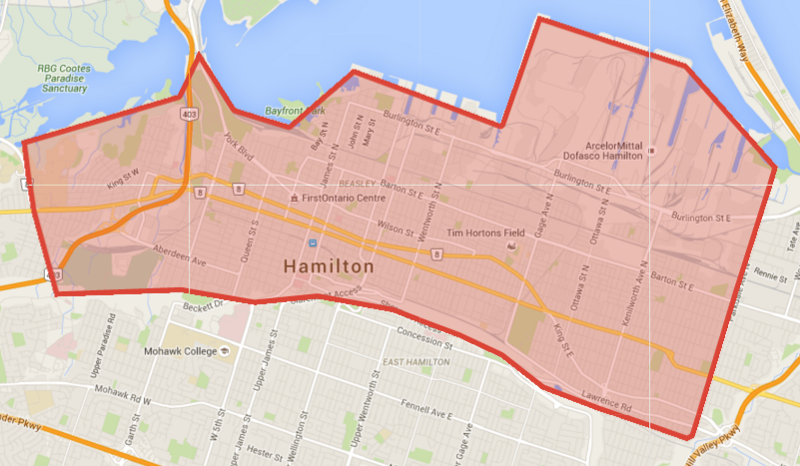 Proposed area of moratorium on new stret safety improvements (Image Credit: Google Maps)
The excuse that we can't make any streets safer because light rail transit (LRT) is coming is transparently ridiculous. As Nicholas Kevlahan has pointed out, all of the research on LRT indicates that it will be more successful, not less, if we combine it with complete, walkable streets.
No, this proposed moratorium on making our city safer does not come from any serious policy positions. Like far too many council decisions in Hamilton, it comes from a position of contempt and loathing for the lower city.
It comes from the depressingly familiar ugly political tradition of stoking and channelling anti-urban fear and loathing to manufacture a phony crisis and score cheap points at the expense of the city's overall well-being.
It combines the worst impulses of narrow parochialism, chauvinism and knee-jerk opposition to change to incite conflict among people who, when you step back and take a deep breath, mainly want the same things.
Livable streets are a fundamental quality of life issue. No one wants to live on a street roaring with with dangerously fast traffic. Councillors in every single part of the city regularly get resident requests for stop signs, speed humps, bumpouts, police enforcement and other city interventions to reduce dangerous speeding and make their streets calmer, safer and more pleasant.
The Golden Rule of basic fairness insists that you should not impose on others what you would not want imposed on yourself.
We have an easy, cheap and timely opportunity to support civic engagement and add safety and walkability to Aberdeen without taking away the ability for people to use it as a shortcut. In fact, people using the street as a shortcut would also benefit from reduced speeding, making the street safer for everyone.
Cheap, easy, win-win: That's the Holy Trinity of good municipal policy. Beware any politician who tries to deform this into a divisive us-vs-them conflict!
Post a Comment
You must be logged in to comment.