Let Hamilton Be Ambitious Again
There will always be people who complain when any change to the status quo happens. We expect better from our leaders.
By Jason Leach
Published December 01, 2015
I feel compelled to share a few thoughts in light of the recent discussion surrounding safety improvements on Aberdeen Avenue, and particularly the mind-boggling motion proposed to prevent any road safety improvements in the entire lower city.
Here are my thoughts as a car-driving, cycling, walking, transit-using Hamilton resident with three kids:
Move the City Forward
First, our politicians are elected to move the city forward. Safe, complete streets projects that are good enough for one district should be good enough for all, regardless of their income levels or whether they are a code red neighbourhood.
There will always be people who complain when any change to the status quo happens. That's part of life.
Leadership and long-term visioning are what allow elected officials to kindly remind those folks that shaving off ten feet from a 43-foot roadway in order to allow safer usage by cyclists, pedestrians, kids, seniors and families in the neighbourhood does not mean: "nobody will be able to drive on Aberdeen to Highway 403 ever again!"
I expect such sound bites from people who call talk radio shows to complain about the colour of their fire hydrant. I don't expect them from people I am helping pay to lead and improve my city.
Insanely Overbuilt Downtown Streets
Downtown Hamilton has a slew of vastly overbuilt, dangerous, highway-style streets cutting through neighbourhoods and retail districts. Interestingly, not one of these one-way freeways exist in downtown Ancaster, Dundas, Stoney Creek, Concession St, Waterdown or Binbrook.
Golf Links Road in Ancaster carries 25-40,000 cars a day - more than twice the number of cars as Wellington Street, which carries 10-15,000 cars a day southbound. Golf Links is two lanes each way. Wellington is four lanes one-way.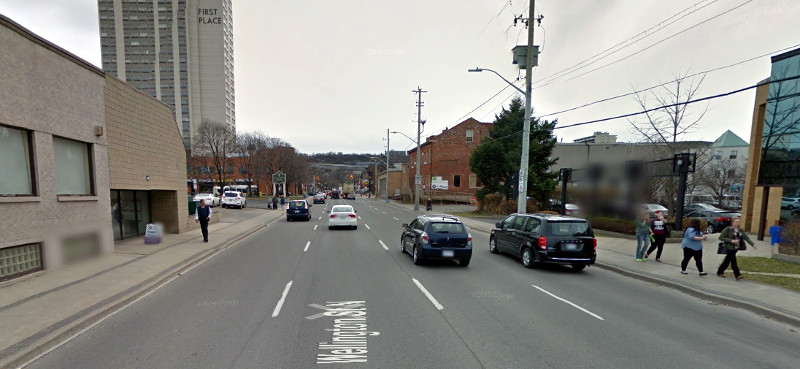 Wellington Street South (Image Credit: Google Street View)
Likewise, Victoria Avenue only carries around 10,000 cars a day northbound and is between four and five one-way lanes!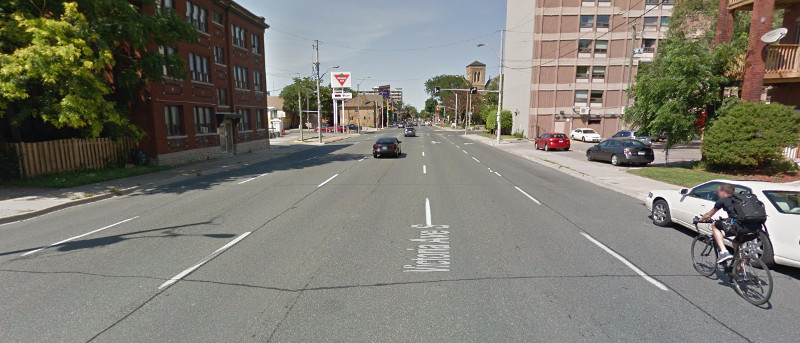 Victoria Avenue South (Image Credit: Google Street View)
Combined, Victoria and Wellington are nine lanes wide to carry only 25,000 cars!
And we wonder how it is that humans can be sliced right in half while trying to cross the street in the lower city.
Neighbourhood Action Plans
Our Code Red neighbourhoods have worked on fabulous neighbourhood action plans in conjunction with the planning team from City Hall. Every single neighbourhood action plan has requested traffic calming, safer streets and complete streets suitable for cycling and walking.
Do we really care about improving our Code Red neighbourhoods, or will we continue to dump on them because there are a few people who are resistant to change have labelled residents who desire safe streets as 'whiny, latte-drinking activists'?
Code Red residents are giving feedback how to improve their daily quality of life. Awful stereotypes from old-fashined media - and even worse, from elected officials - do a great disservice to the needs of our urban neighbourhoods where 50 percent of residents don't own a car and rely on these dangerous speedways to walk with their kids to school, swimming, grocery shopping and work.
Surely taking ten feet from the 50 on Victoria and the 45 on Wellington (and many others) can be repurposed to allow safe transportation for all people, regardless of mode choice.
LRT Success
One of the goals of LRT and the HSR Ten Year Transit Strategy is to change how we can move around our city. The goal is not to fight to maintain the car-centric mindset of the 1970s with a 21st century LRT running through a mini Los Angeles.
Every study done by City Hall, Metrolinx and transit planning consultants has spoken clearly of the need for complete streets city-wide to help make transportation options easier and more comfortable for residents.
Now, well ahead of LRT, is when we should be working to add complete streets to our city. Anyone truly concerned with traffic disruption to King Street during construction should be proposing a full examination of converting Main, Bay, Wilson and Sherman to two-way traffic.
The ample, overbuilt nature of these roadways gives us a rare chance to rather easily mitigate any disruption caused on King by offering alternatives for cars, bikes and transit during construction.
Bright Future with Leadership
Hamilton has a very bright future, but it will only be realized if council shows leadership to take us there.
Residents aren't impressed anymore with fancy conferences trying to compare us to Brooklyn or other progressive cities. 2015 Brooklyn wouldn't dream of opposing complete streets just to maintain the 1970s high-speed car dominated culture.
The future is coming to Hamilton eventually. Will we be one of the rare cities on the planet to try to oppose it, or will we embrace it and lead Hamilton to prosperours and successful future like leaders in Brooklyn, Copenhagen, Portland, Vancouver and Stockholm have?
Let's be ambitious again and dream of a walkable city, linked with safe cycling routes, great transit and incline railways.
Hamilton is already blessed with a fantastic stock of neighbourhoods and green respites. We need to start bringing balance back to our transportation network, and improving the quality of life for everyone.
Let's Be Ambitious Again
A civic brainstorming session to develop a list of ideas for our future would be amazing, yielding both grand and small ideas. Imagine how our city would improve with the following:
Bury Summers Lane and create a linear park with long, narrow water pond/winter skating rink similar to what was proposed in the original Civic Square plan.


Original 1965 Civic Square plan, artist's rendering

Install smooth cobblestone Main Street from Bay to James and raise it to sidewalk level to create a seamless public space connecting to the AGH courtyard. Bury the roadway through this section for maximum impact and an impressive city square.

Bury all City Hall parking to create a massive urban park bounded by McNab, Hunter, Bay, Main.

Build an incline railway to Sam Lawrence Park

Add pedestrian zones on King East, King William, Augusta and in the parking ovals on King in Westdale

Express transit lanes connecting all suburban downtowns, city BIA's and malls

A tree lined, off-street pedestrian/cycling corridor connecting every part of the city with all conservation areas, trails, waterfronts and escarpment lands
The possibilities are endless in this city given the fantastic foundation we have to work from. It's time we start to see our future as more vibrant, economically successful and exciting than simply a place to live behind a car windshield.
Let's not copy Buffalo and butcher the once-in-a-lifetime opportunity LRT is presenting to us. Let's be ambitious again.
A version of this article was sent to Hamilton City Council as a letter.
Post a Comment
You must be logged in to comment.