New Food Desert Opening in East Hamilton
The irony is that Loblaw is making this short-sighted move at a time when the hot housing market is moving into the eastern portion of Hamilton's lower city.
By Paul Weinberg
Published March 08, 2016
At my house I am often faulted for not scribbling down a shopping list before I set out on Saturdays to shop at the local No Frills supermarket in our eastern neighbourhood. I end up relying on my memory for what is missing in the fridge or the cupboard as I move from aisle to aisle, basket in hand.
As a result, I invariably have to head over again during the week to the same store to purchase ingredients which it turns out we do not have. And I usually find myself standing in lengthy line-ups at the cashier again, with those similarly laden with groceries, in those late afternoons.
Of course, it is easy to be a steady customer if the only other supermarkets available are situated a little over a kilometre away. The Metro store at Barton and Ottawa, for instance, in Centre Mall requires about a 30-minute walk with a bundle buggy to load up on food if you are like me and don't have a car.
That's why I was puzzled this week to read in the Hamilton Spectator that our No Frills was slated to close as of April 9 because of its "underperformance," as a business. Huh? With all those people shopping daily at this store?
Suddenly, Main and King next to Gage Park is turning into what planners call a food desert where residents do not have an easy access to groceries in their community.
No Communication with Customers
Strangely enough, there was no sign at No Frills announcing the closing when I went there this Saturday to do my usual shopping, or thanking us (the customers) for our loyalty.
When I tried to get information from No Frills staff, I was told that employees had been required to "sign a waiver" which barred them from publicly discussing the closing. One person wondered out loud whether the store really would be closing on April 9, while another revealed that all 90 employees working there would be losing their jobs. Apparently these employees can apply for openings in other No Frills outlets and hiring will be based on seniority.
The No Frills stores are run by individual franchise operators. They were set up by Loblaw in the 1970s to provide low-cost groceries in warehouse settings by offering consumers the basics at a time when everyone was worried about the rising costs of groceries (sound familiar?).
Over time they have morphed into something more sophisticated as customers have demanded frozen vegetables, meat and more recently vegetarian products and organic foods.
Short-Sighted Decision
The irony is that Loblaw is making this short-sighted move at a time when the hot housing market is moving into the eastern portion of Hamilton's lower city.
In our area of the city, the range of customers who shop at No Frills is quite diverse. They now include the working poor, middle class professionals, and artists.
So, it would seem a bit counterintuitive for a major food conglomerate operation to suddenly abandon an area that many predict will experience even more positive changes in the future - especially once the east-west LRT is constructed.
It appears that Loblaw has become part of the problem rather than part of the solution - unlike Nations Fresh Foods. Back in 2012, the city was considering offering a financial incentive to encourage the opening of a supermarket or grocery operation in the downtown core as a means to revitalize a depressed area.
Instead, with a great deal of foresight, Nations arrived on the scene and set up shop with its own money in Jackson Square to great acclaim.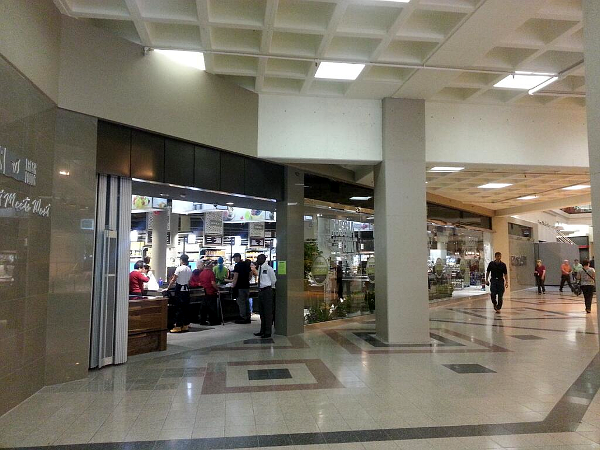 Nations Fresh Foods, entrance from Bay Street (RTH file photo)
The company recognized the need for a grocery store in an area where there is the potential of shoppers from the condominiums springing up.
Let's revisit pre-Nations the argument made by Tim McCabe, the city's former top planner, for a new store that offers a broader range of goods and services not available at either the Hamilton Farmers' Market or specialty food retailers like Denninger's.
"The desire and need for a supermarket in the Downtown area is often expressed by local residents and investors. A lack of basic amenities such as a full service supermarket can impact quality of life in a community, and can affect population growth required to help revitalize inner city neighbourhoods, in particular, which impacts the City's ability to meet growth targets established in the new Urban Hamilton Official Plan," wrote McCabe, then General Manager for Planning and Economic Development.
What McCabe suggested in 2012 could be applied today to east Hamilton with its bleak retail strips along Main, King and Barton.
Urban 'Re-Colonization'
City planners could also control the number and location of supermarkets, as suggested by writer Ian Wylie, in a recent article in the Guardian.
Wylie writes that large supermarkets in the UK are controlled by what he calls the "big four" conglomerates that tend to bunch up in affluent urban areas. At the same time, he notes, formerly abandoned parts of town, especially in city centres, are "experiencing a re-colonization" with the establishment by these large entities of smaller food convenience stores under 3,000 square feet, which compete with independently-owned groceries.
This is a unique British situation but there is a lesson for people on this side of the pond. "That might mean setting rules for where supermarkets can open, like in San Francisco, where chain stores must provide evidence they are appropriate for the neighbourhood," says Wylie.
"Until then, the food supply of UK cities - and the character of our neighbourhoods - will be subject only to the law of which supermarket locations are most profitable per square foot."
Paul Weinberg wishes to thank the Ontario Arts Council Writers Reserve program for assistance in the research for this article.
Post a Comment
You must be logged in to comment.