Don McLean and the Local Implications of Climate Change
There is a growing understanding of what can be done to slow the nightmare of climate change that is unfolding and change direction.
By Beatrice Ekwa Ekoko
Published March 22, 2016
There's a storm coming.
The idea is for people to concentrate some attention on climate beyond what the weather is. Because we have become such a force on this planet, generating waste, using up resources, it is coming back to kick us.
—Don McLean
Don McLean is scared. Unlike the many of us with a nebulous awareness of what is really going down, Don understands - truly, deeply, the science, the reality, the cause and effect - that what we humans are doing to the climate of our home, the Earth, is something like no one has seen before, ever.
"We are making the kinds of changes to the planet that no other generation has had to face, and there are consequences," warns the co-founder of Environment Hamilton, Hamilton 350 committee member and a Stoney Creek resident. "It's a path that is unclear. The real issue is that we don't know what is coming."
Simply put, we can't predict the extent of the damage our ignorance will cause.
Don is thinking about the extreme ways we are changing civilization. Human made climate change is already forcing the collapse of countries-for example, the Mediterranean basin (Portugal, the Balkan areas, Lebanon, Syria and Egypt) is seeing the worst drought in 900 years, causing countless people to deal with immense disruption and revolution.
But this horror is presented as "just more news," according to Don. The severity of the problem has not been explained. Meanwhile, "It's terrifying to the people it is happening to, but not to us."
Yet.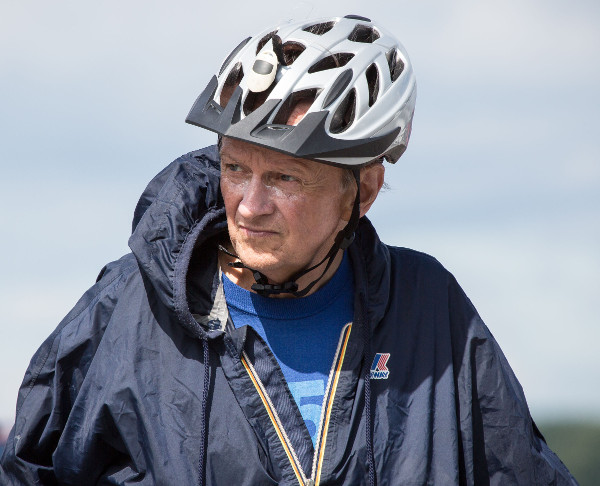 Don McLean
Implications of Consumption
"We are feeling a little bit of what might be coming - people getting flooded, tornadoes becoming more severe. These seem like short-term emergencies but when food sources are at risk because of extreme weather, we start to gain perspective," Don is hitting hard.
Reality check: We grow mostly corn and soybeans to feed cattle. Don points to California and the drought there, and how we get most of our food products from this region until now, where we are seeing food in the grocery stores coming from places like Chile and Mexico.
"But when we cut into those markets, someone else is losing out, as we go bouncing around the world in search for the best priced strawberries."
Everything we purchase has implications for the planet. And for Don, consumption is not necessarily an answer to happiness. "I think we can all agree, deep down inside us, we know the products aren't worth it. All the while, interrelationships and caring for others gets pushed aside."
But Don remains positive: "I don't think it is something we are stuck in; we fell into it. I think this is something we can change. People are ready for it."
Climate Change a Justice Issue
What's more, people are feeling the pressure to think about climate change as a justice issue. The wealthy cause it and the poor pay for it.
"The wealthy countries like Canada are the biggest emitters of greenhouse gases, the poor countries are the most vulnerable to rising seas, extreme storms and escalating food prices," Don says.
"In Canada, the well-off have far more cars per household than those living in poverty. They consume far more electronic goods whose mining and manufacture are trashing the planet, and whose disposal adds to the mess. In Hamilton, the better off drive cars, those with low incomes ride the HSR or walk. The roads budget expands and the transit budget is frozen."
What we need to do is re-establish our ability to protect ourselves. "One of the pieces we can do on a day to day basis is producing and buying locally," says Don. "Another way is avoiding over-purchasing of goods entirely because it doesn't deal with our relationships."
Calling City Hall
There is a growing understanding of what can be done to slow the nightmare of climate change that is unfolding and change direction. Governments can do a lot.
For the past twelve years, Don has coordinated Citizens at City Hall (CATCH), a group that monitors and reports on civic affairs in Hamilton.
Don asks himself, "What is it that our local governments can do, what changes do we need to make as a city?"
He answers:
We can look at the larger source of GHG emission. Transportation is an area that we can do. "Taking two tonnes of metal everywhere they go; that's not sustainable."

Another large area for action is the amount of energy we use heating and cooling our homes. City of Hamilton can change things in that expensive low interest loans to homeowners could be paid back on taxes attached to the home.

We need to protect farmland. We need to protect farmland. We need to protect farmland. Can we say it enough times? We have less and less food security but we can change the decision-making, the economics of that. Currently, it is cheaper for developers to build on Greenbelt sites than on areas that have fewer populations.
"The point is, Council is receptive to pressure," concludes Don. "That pressure needs to be coming from the public at large."
Things are Shaking at Environment Hamilton
Don reports that Environment Hamilton has hired two climate coordinators (a result of generous donors) to do advocacy around climate change. They will be dealing with some of the issues above.
EH will continue to screen climate-related films and offer presentations and discussions. The next screening is Do the Math on Friday, April 8 at Laidlaw United Church, 155 Ottawa Street North, 7:00 PM. The film is followed by a presentation with Don McLean.
EH's Annual General Meeting is on March 30 and Don will be telling attendees exactly what the City of Hamilton - and you - can do about climate change.
Post a Comment
You must be logged in to comment.