A Blueprint for the NEXT Hamilton
Mayor Eisenberger argues that our new Official Plan will help shape the Hamilton of tomorrow.
By Fred Eisenberger
Published July 02, 2009
City Council has passed the first urban Official Plan for the City of Hamilton since amalgamation. This was the culmination of a long process that required the former six municipal plans to be merged into one consistent document. As Mayor, I congratulate staff on all their hard work as the new Official Plan will effectively help transition our city to become what I often call, the NEXT Hamilton - the Hamilton of tomorrow.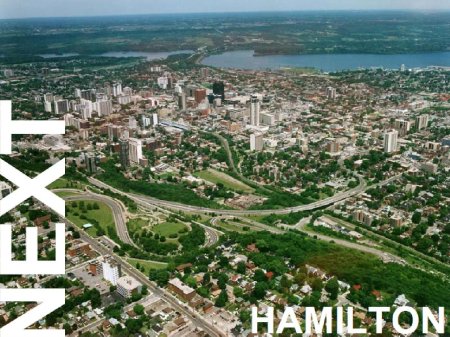 Mayor Eisenberger champions NEXT Hamilton, a transformation of the city involving collaboration and consensus.
The Official Plan is a very important document. It is the blueprint for the future growth of our City. It outlines when, where and how we will grow and it speaks to the values of our community: quality of life, economic opportunity, and sustainable development.
It is important to look at it as part of a process - where's we have been, where we are now, and where we are heading. For example, Council increased a density target for downtown Hamilton to 250 people+jobs per hectare, up from the current density of 200 people+jobs per hectare.
While some may wish this number to be higher, we are looking at this as a minimum to be surpassed. Ultimately, the real determinate of downtown density will not be a single number in a document, it will be the overall supporting plans, policies, and projects that will make downtown a more vibrant place to live and work.
The overriding question is whether we are making downtown more dense or less dense. Just as the current reality of our City is a product of the direction of previous decades, the Hamilton of tomorrow will be a product of the direction we start traveling in today.
In this respect, I think that in a number of ways we are changing course and heading in the right direction.
Maintaining an Urban Boundary
Public input, evolving priorities, economic realities, and Provincial policies have all contributed to the final document. Looking back over the past three years, we have come a long way in many respects. I have often said that we need to limit urban sprawl and more effectively use our existing land base before growing outwards; so I am pleased to report that there is no urban boundary expansion in this Official Plan.
Further, there is a robust and transparent process required for when we do look at growth down the road. This includes looking to intensification and the reuse of our brownfields before contemplating any more urban sprawl.
Given the size and complexity of the issue, any urban boundary expansion associated with the Airport Employment Growth District is going to be dealt with as a separate Official Plan Amendment that will need Provincial consent. I am still strongly advocating for a phased approach to airport land development to ensure that our future employment land picture is balanced with Greenfield and Brownfield land.
Rapid Transit
Three years ago, when I became a member of the Metrolinx board, transit planning was just starting to become a serious part of how we talked about our city's future. With the passage of the new Official Plan, rapid transit in Hamilton is now recognized as a major part of the backbone of our urban form.
Two corridors - North-South and East-West - will help citizens get across the city faster, safer, and in a more environmentally friendly manner, all while contributing to a more sustainable community.
Rural Protection
The flip side to the urban boundary is our rural landscape which actually makes up the majority of land within the City of Hamilton. By limiting urban sprawl and promoting intensification in our downtowns and major corridors, the Official Plan also helps to preserve precious agricultural farm land and many magnificent natural heritage features.
New Economy
Recognizing the diversification of our economy is also an important element to our long-term planning. By providing policy tools to help address the growing importance of the arts and cultural industries, institutions of higher-learning, the Innovation Park, the Port and Airport, the Official Plan helps modernize our municipal government toolkit to be relevant to our contemporary economic needs.
Main Streets and Big Box Stores
On the commercial side, Big Box developments are another element of our city for which we need to do a much better job of planning. We have seen a boom in the number of these big-box discount stores, both planned and developed in recent years and the impact on our existing retail base must be fully understood.
Particularly: what is the impact on our traditional commercial streets, lined with mom-and-pop retailers who collectively contribute the lion's share of commercial taxes and commercial employment in our community.
The economic impact of small business is significant. By some estimates three times as much money stays in the local economy when you buy goods and services from locally-owned businesses compared to chain stores. Local businesses rely on local services and suppliers (banks, manufacturers, accountants, lawyers, farmers, newspapers, internet providers, etc.).
Conversely big box retailers typically use international suppliers and corporate services.
Our older commercial areas have certainly had their struggles, but many have shown their resilience by reinventing themselves and becoming some of the most vibrant and sought after destinations in the city - think of Ottawa Street, Concession Street, Locke Street, and James Street North.
Study Big Box Impacts
However, if we are truly interested in cultivating the next Ottawa or Locke Street, we need to approach new discount big-box retail developments with a more serious eye to their impact: what is the net benefit to the community between the jobs and taxes they create, and the jobs and taxes that will be lost as other small stores are put out of business?
It makes no sense to put money into urban renewal programs, if we are simultaneously allowing new commercial development to de-populate existing commercial areas.
We have a starting point for this discussion by way of a commercial study that was done by the City in preparation for our new Official Plan. The study helps answer a common question regarding these developments: "Do we need more of these stores in our community?"
The study looked at the measure of square feet per capita to determine whether certain areas of the city are underserved.
As of 2004, the study concludes that on average the City of Hamilton is fully serviced by commercial uses, with some pockets being underserved, and others over-served. However, the new developments since 2004 in Flamborough and Upper Stoney Creek as well as the proposed developments in Lower Stoney Creek, should push Hamilton into the over-serviced category.
At the very least, any room for commercial growth over the long term as a result of predicted population growth to 2031, has likely all been taken up with all the recent big-box developments. Therefore, the City of Hamilton should be done with big box development for quite some time and the new Official Plan policies encouraging the vibrancy of traditional commercial corridors and downtowns should be the focus for commercial development moving forward.
It may take some time to achieve balance in this regard, but we are headed down the right path.
The Right Plan
In summary, the Official Plan is not the only document that will guide our future. Nor is it a static document as it needs to be reviewed every five years. However, I am confident it is the right plan for our City moving forward.
It is also a great achievement, as it is the first common document since amalgamation that puts our collective future on common footing so that we can make planning decisions with an eye to the benefit of the overall community.
Post a Comment
You must be logged in to comment.