OK, GTA: We Won the Games, Now Don't Screw Up the Legacy
If planners and decision makers want to get the most out of the Pan Am Games, they need to keep two core principles in mind: think long-term, and think urban.
By Ryan McGreal
Published November 09, 2009
Local political leaders seem incapable of investing in high quality urban amenities for their own sake. Political, er, prudence conspires with a distressing lack of basic comprehension about how cities work to kill civic ambitions by a thousand nicks of compromise and half-measure.
(This is doubly true of investments in high quality public transit, which are only even conceivable if higher levels of government agree to pay.)
Of course the only known exception to this municipal political ennui is the landing of international competitive multi-sport events, for which those same politicians gleefully commit hundreds of millions of dollars to construct legacy facilities.
The danger is that the facilities may be designed with the short-term aggrandizement of their political and commercial sponsors in mind, rather than the long-term benefits of their host communities.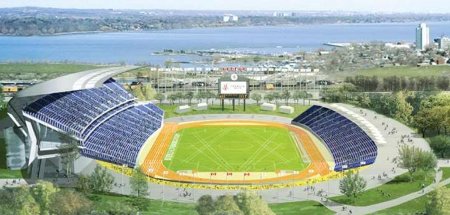 Artist's rendering of a Pan Am Stadium on the Rheem factory site on Barton St. west of Bay St.
One-Shot Tourism vs. Legacy Infrastructure
According to a report prepared for the Ontario Ministry of Tourism on Major Festivals and Events Attraction [PDF link], the total cost for the Greater Toronto Area to host the 2015 Pan American Games will run to approximately $1.7 billion, spread across all three levels of government.
The direct material benefit of this investment is a projected 250,000 visits by tourists, combined with international exposure for the GTA. The events themselves will additionally provide some temporary employment for coordinators. As far as this goes, it seems like a pretty poor return on investment. The indirect material benefit, of course, is the new fixed capital investment of sports facilities and transportation infrastructure that the participating cities will be able to enjoy long after the Games are over.
Since the increased tourism itself rarely pays for the capital outlay, it's crucially important to ensure that the capital goes into amenities that will pay for themselves over time.
This can happen through some combination of increased economic development potential - using the facility to attract related private investment - and improved urban efficiency - using the facility to make the local economy operate more productively and hence attract more investment.
Competitive Infrastructure
Frankly, the potential for the former seems limited, given the evidence that sports facilities do little to increase local economic activity. As much as a signature stadium may boost local civic pride, it will do little to grow the economy, provide employment, or expand the tax base.
More potential inheres in the latter - building infrastructure that makes the region more competitive. This is the real legacy: not sports facilities, which are nice but limited, but transportation facilities, which deliver efficiencies multiplied thousands and millions of times.
The Pan Am Games committee has already argued that a successful event will require fast-tracked improvements to regional GO Train service. For a mega-region with the dubious distinction of having just about the worst traffic congestion in North America, this is a huge benefit.
If the Provincial Government takes the opportunity to electrify the GO Trains, boost service frequency and convenience so that it becomes a viable alternative to driving, and balance the modes with congestion tolls on the GTA's 400 series highways, this could propel regional transport in the Golden Horseshoe into the 21st century.
Pan Am Games and Hamilton Light Rail
Of more local interest is the spot where Hamilton's Pan Am Games activities intersect the developing plan to build an east-west rapid transit system along the B-Line from Eastgage Square to University Plaza.
So far, Metrolinx, the provincial body coordinating rapid transit across the GTA+Hamilton, has been dragging its feet at producing a benefits case analysis on the rapid transit line. It is expected to recommend either bus rapid transit or light rail transit, and it was supposed to be released back in July.
Based on Metrolinx' mandate and evaluation criteria and how closely Metrolinx staff have worked with Hamilton's Public Works Department staff, it seems overwhelmingly likely that the Analysis, when it is finally published (now slated for January), will recommend light rail.
The real question is just what priority Metrolinx will assign to the B-Line. Given the body's limited capital funds and the provincial government's huge projected deficit, it may well be that light rail delayed amounts to light rail denied.
The Pan Am Games introduce an additional note of urgency: the transit corridor cannot be in mid-construction during the Games, as it would spell chaos for athletes and tourists alike. Therefore, it must either be completed before the Games begin or else wait until after 2015 to begin.
So far, it sounds like the city's Rapid Transit office staff see the Pan Am Games as a win. The Spectator quotes strategic and environmental planning director Jill Stephen saying, "We've got a deadline to work to. The more certainty we have with something, the easier it is to plan."
Think Long-Term, Urban
If planners and decision makers want to get the most out of the Pan Am Games, they need to keep two core principles in mind:
Think Long-Term
Think Urban
Fortunately, Hamilton has some positive experience with long-term benefits of one-shot expenditures to draw upon. Ivor Wynne Stadium was built in 1930 to host the inaugural British Empire Games, the precursor to the Commonwealth Games, and has hosted the Ti-Cats since 1950. (Prior to that, the Ti-Cats - then called the Hamilton Tigers - played at the Hamilton Amateur Athletic Association Grounds (HAAA), now a public park on Charlton Ave. W. just west of Queen Street.)
Aside from a major renovation in 1970 and a few more modifications since then, it has served Hamilton well for some seven decades. While the location is somewhat poor, with limited transit access and only single-family residential uses around it, Ivor Wynne has nevertheless enjoyed a long life and serves as a good example of getting the most out of an investment made possible through a multi-sport event.
But another lesson we can draw from Ivor Wynne is that it's not the best idea to build a stadium out in the middle of nowhere.
A critical note in the discussion of where and how to build new facilities is the economic case that a stadium's location, design and integration into its surroundings has a huge impact on whether the stadium serves as an anchor for related private investment.
In the study A Tale of Two Stadiums: Comparing the Economic Impact of Chicago's Wrigley Field and U.S. Cellular Field, economists Victor Matheson, Robert Baade and Mimi Niklova argue that compact, urban stadia that are closely integrated with their neighbourhoods generate a lot more related economic activity than large, sprawling suburban stadia surrounded by parking lots and highways.
Wrigley Field was built in 1914 on Chicago's north side, and is, along with Fenway Park in Boston, one of the two oldest remaining stadiums in MLB. ... [T]he stadium is nestled into a neighborhood that is densely populated with restaurants and bars, retail shops, and residential housing. Wrigley is famous for the apartments bordering the stadium from which the occupants can look down into the stadium and watch games as they are played. Many of these buildings, in fact, actually sell tickets to non-resident customers for rooftop viewing.

Wrigley predated the automotive culture and the exercise of monopoly muscle by professional sports leagues in the United States, and almost no large parking lots are within easy walking distance of the stadium as a consequence. Fans either arrive by mass transportation or park on neighborhood streets. Local residents also do a brisk business selling spots in garages down back alleys.

The footprint of the stadium itself is also rather small. While Wrigley Field seats nearly as many fans as U.S. Cellular, its concourses and walkways (as well as its restroom facilities) are much smaller than those at the newly constructed U.S. Cellular Field. The smaller concourses significantly limit the variety and the number of vendors selling merchandise and food at Wrigley Field translating into lower revenues for the Cubs' owners. The White Sox generate approximately 35% more in non-ticket revenue per fan in attendance than the Cubs.

[U.S. Cellular] ... presents a completely different picture. Built in 1991, the stadium itself is much larger than Wrigley Field. Modern sports teams rely much more on the sale of concessions and other paraphernalia for revenue than teams back in the day when Wrigley Field was constructed. Therefore, most modern stadiums like U.S. Cellular are designed to bring as much fan spending inside the stadium walls as possible. Of course, with expansive shopping, eating, and drinking options available within the stadium, fewer entrepreneurs have an incentive to locate businesses outside the stadium in order to cater to White Sox fans.

The other striking difference between Wrigley and U.S. Cellular is, of course, the availability of onsite parking around the White Sox' stadium. Massive parking lots surround U.S. Cellular Field on the south, west, and north while the stadium is bounded on the east by a major interstate highway. Like supplying expansive concessions services, supplying adequate parking also serves to increase the revenues of the team at the expense of local businesses. Because of the size of the parking lots, fans are dissuaded from walking to local bars and restaurants either before or after the game simply due to the physical distances involved.
It's disturbing to think that there are still anti-urban voices in Hamilton insisting that the Pan Am Stadium ought to be built out near the airport, on the argument that it will be more accessible sitting next to a highway with acres of surface parking around it.
That's a guaranteed recipe for economic failure: a huge public subsidy for a purely private benefit with no positive externalities to the community as a whole.
Post a Comment
You must be logged in to comment.