Double Downtown Density? We Should be Aiming to Quadruple It
By Ryan McGreal
Published November 28, 2008
Today's Spectator carries a head-scratching article on a proposal by Councillor Brian McHattie to double the downtown's urban density of 200 people and jobs per hectare to 400 people and jobs - the same goal as Mississauga's goal for its downtown - by 2031.
It's a head-scratcher because city staff recommend setting a goal of only 250 people and jobs per hectare. Tim McCabe, the city's general manager of planning and economic development, thinks it's "a very risky path." He worries that trying to increase downtown density could jeopardize the city's plans to expand the urban boundary.
(He also echoes the FUD that emanates from the Hamilton Halton Home Builders Association about building heights.)
The fact is that there is absolutely nothing dramatic about doubling our downtown density over the next twenty-five years. In fact, I would consider that the mediocre, bare-minimum goal of a half-assed urban policy. We'd almost get there via nothing but business-as-usual planning, especially if the city's LRT initiative goes ahead.
Density Without Skyscrapers
Look at the numbers. In Hamilton, the population density of wards 1 through 4 is around 1,600 people per square kilometre (according to 2001 StatsCan data - the current density is probably slightly higher).
By comparison, Paris, France has a population density of 25,000 people per square kilometre - well over an order of magnitude higher than Hamilton's lower city. (It also manages to do this with a uniform building height of six stories.)
To the pedestrian, Paris feels lively but by no means claustrophobic. It has plenty of green space, broad tree-lined boulevards, and friendly pedestrian walkways along the Seine.
The downtown core has tremendous potential to densify without disrupting the existing build form. After all, there are whole city blocks given over entirely to surface parking.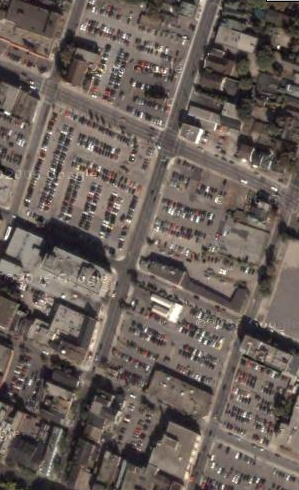 Surface parking in downtown Hamilton around John St. and Rebecca St. (Image Credit: Google Maps)
Yet Hamilton's planners balk at the thought of merely doubling our downtown density and call the goal of raising it to 250 people and jobs per hectare a "reach".
Density and Productivity
This is profoundly short-sighted. The research into density has demonstrated that two vitally important things happen when you intensify land use:
Energy use and the cost of physical infrastructure grows more slowly than the population; and
The rate of innovation by a variety of measures grows more quickly than the population.
In other words, scale up a city and you get both an energy/infrastructure productivity boost and a boost in human intellectual capital. This is partly due to economies of scale, and partly due to synergies from bringing a critical mass of innovators, investors and VCs together to generate and incubate new businesses.
This is why a city can get as big and dense as, say, New York and not simply collapse on itself - the city actually becomes more and more efficient and productive per resident the denser it gets, while at the same time offering a very high quality of life with a staggering variety of amenities.
By not pursuing higher density, we're effectively stifling whatever potential Hamilton has to become a centre of innovation and an economic growth engine in the future.
Post a Comment
You must be logged in to comment.