An Inspiring Source of Civic Pride!
By Jason Leach
Published November 30, 2009
Recently I mused to a friend about how annoying it is when the odd new building is being built in Hamilton and no renderings are ever installed on the site to allow residents to see what is coming.
Granted, new construction of buildings or towers is at a virtual standstill in Hamilton and has been since the early 1990s. This makes it even more stunning when I read articles in our paper from residents or business owners who are scared of change - as if Hamilton has been some sort of Shangri-la for decades.
As if it could get any worse, check out the newest rendering recently published on the Skyscraper Page website
Don't be deceived by the website name. In most other cities, forum participants offer opinions and share excitement in new condo, office and highrise construction projects in their city. From New York to Winnipeg to Portland, virtually every city on SSP looks like a veritable boomtown compared to Hamilton.
Now we may have set a new mark in economic development futility - we are producing crystal clear renderings of (brace yourself) parking lots.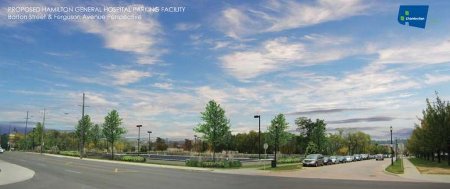 General Hospital Parking Lot Rendering
Yes, that's right. Parking lots.
Perhaps the fine folks who spend time and energy trying to develop a Hamilton presence on SSP should take their efforts to Surface Parking Heaven or Brownfields R Us.
Every Hamiltonian should be alarmed at what has been happening in this city for decades.
Next year is another municipal election and yet another chance for us to elect some new blood, new ideas and new vision into our city hall.
However, if history is any guide, we'll get another four years of the same old, same old as Hamiltonians choose to believe the crazy notion that nothing is broken and in need of fixing.
Post a Comment
You must be logged in to comment.