The Lister Reborn: Have we Learned a Lesson?
By Matt Jelly
Published April 13, 2012
The Lister Block is now open to the public. Tourism Hamilton's new office is buzzing with people, and it will be open during tonight's Art Crawl.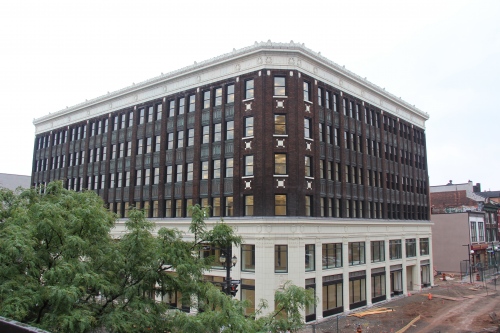 The Lister Restored (Image Credit: Matt Jelly)
As just one of many people who fought to make sure this building wasn't demolished, I'm overjoyed that the Lister Block has been restored. We've shown that heritage restoration can work, and indeed become a unique local asset, when we actually give it some thought, effort and investment.
As a City Councillor, Bill Kelly and his council colleagues voted to demolish the Lister Block in 2006. Today, Bill did a live broadcast for CHML 900 AM, singing the Lister's praises.
Tim McCabe, currently the GM of Planning and Economic Development, advised Council to demolish the Lister Block. Today, he spoke about the value of this investment, flanked by two Ticat cheerleaders, followed by a chant of "Oskee-wee-wee", for whatever reason.
Kathy Drewitt, Executive Director of the Downtown BIA, led a petition in favour of demolition. Today, the BIA is very proud of the newest addition to the downtown core.
Joe Mancinelli, Vice President of LIUNA, fought tooth and nail to convince council, local media and the general public that the Lister would be impossible to renovate, and would need to come down. In 2004 Mr. Mancinelli claimed that the Lister wouldn't survive another winter. Today, Mr. Mancinelli considers the Lister as one of LIUNA's proudest local achievements.
On June 14, 2006, Mayor Di Ianni, Councillors Bruckler, Collins, Jackson, Kelly, Merulla, Morelli, Mitchell, Pearson, Samson and Whitehead voted to demolish the Lister Block. Councillors Bratina, Braden, McCarthy and McHattie voted against.
The Provincial Minister of Culture of the time, Caroline Di Cocco stepped in and informed Council they would be expected to convene a working group to explore all the options first before making this irreversible mistake. Thankfully this process was successful.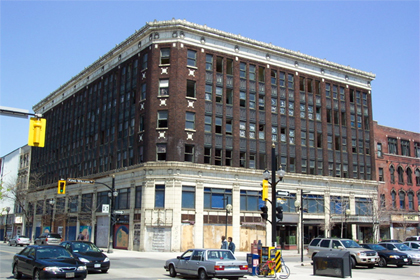 Lister Building in 2006 (RTH file photo)
I don't point this out to say, "I told you so", but rather in the hope that we learn from this experience that any building can be feasibly restored with the right attention, investment, and creativity.
I do hope the Lister Block is not used as an excuse not to save anything else. This isn't about one building, it's about doing what is right by our history and by our environment, every time we consider the option for any demolition.
It does seem that our civic leaders have no trouble in preserving and adapting their own revisionist histories - now let's do the same for our built heritage. Before we knock down any building in this city, let's make sure we have all of the information, and all of the options are fully explored before we give up.
There are many people who should be thanked for their dedication to this building, when all others claimed it was too far gone to save: Diane Dent, Michelle Stark, Kieran Dickson, Graham Crawford, Grant and Brenda Head, Bill Curran, Alissa Denham, Councillor Brian McHattie, Brian Henley, Tony Butler and more than 30 delegates who stepped up to tell City Council this building needed to be preserved. That's just a short list.
For those who say, again and again, "Oh, well we can't save every building," I believe we now have a very prominent example of just one case where that statement was dead wrong.
Enjoy the new Lister Block, but let's not rest on our laurels for too long. Let's make sure we make the right decision more than just this once.
In the next few months, we'll very likely see the demolition of All Saints Church and the Education Centre. The Connaught still sits vacant and without a heritage designation.
We still have a lot of work to do, and I hope our civic leaders have learned an important lesson from the Lister Block.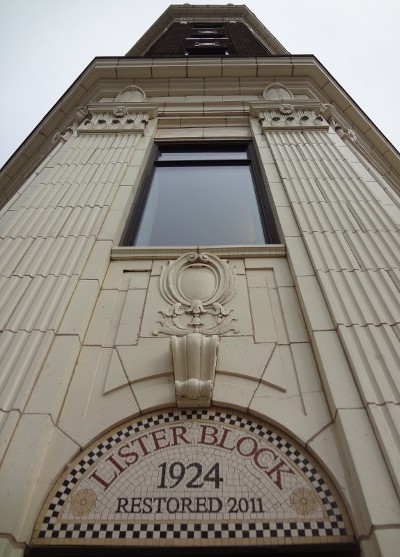 Lister Block 1924, Restored 2011 (RTH file photo)
This was first published on Matt's personal website.
Post a Comment
You must be logged in to comment.