Hamilton's Great Places Can Teach Us About Livable Street Design
James Street North, Locke Street South and Ottawa Street North are among Hamilton's most vibrant, livable streets, providing object lessons on how to improve the livability of the rest of the city.
By Ryan McGreal
Published March 18, 2011
this article has been updated
At the same time as the City is working on developing a Pedestrian Master Plan, today's Spectator includes a report by Jeff Mahoney that three Hamilton streets are among the top five contenders for the Canadian Institute of Planners' Great Places in Canada contest: Locke Street South, James Street North, and Ottawa Street North.
(Aside: I can't tell you how happy I am to see Jeff's excellent writing finally getting the respect it deserves in the main section of the paper.)
Let's take a quick look at what these three streets have in common:
Two-way traffic
One lane in each direction
Curbside parking on both sides
Intact 2-4 storey streetwalls
Mixed residential and commercial
The upshot of this arrangement is that automobile traffic flows are generally pretty slow and pedestrians can enjoy a pleasant street environment in relative safety.
I don't know Ottawa Street that well - maybe someone who is better acquainted with its history would like to write about it here - but I've been following Locke and James for a number of years and have observed the common themes that inform both of their revivals.
Update: Larry Pattison wrote a great article about Ottawa Street.
Locke Street South
The recent history of Locke Street South is an interesting case in point. I've lived on or near it for most of my adult life and I've watched its renaissance with great interest.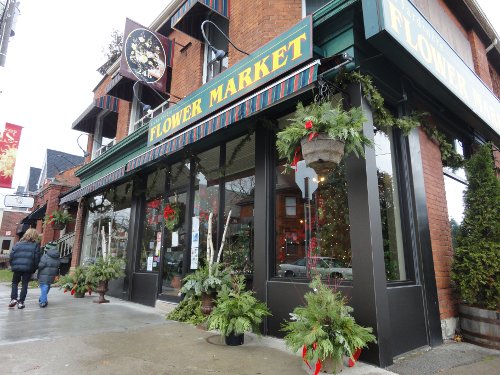 La Jardiniere on Locke Street (RTH file photo)
Back in the 1980s and early 1990s, Locke was a street in serious decline. The street - and the neighbourhood - were following the same tragic trajectory of exodus, disinvestment and decay as so many other city neighbourhoods.
The street was a designated thoroughfare - wide and straight with great visibility, restricted curbside parking and no stops for hundreds of metres at a stretch. Fast traffic roared up and down the street en route to somewhere else. Motorcyclists and kids in hot rods used it as a drag strip. Businesses hung on for dear life.
Starting in the early 1990s, under pressure by then-ward 1 councillor Terry Cooke, Council forced the installation of a stop sign at Locke and Charlton over the strong objections of the traffic engineers, who protested that this was going to be a disaster that would back up traffic and increase the number of accidents.
A couple of years later, they installed another stop sign a block away, at Locke and Herkimer (a corner with a primary school and a church on opposite corners).
The traffic immediately began to calm down. It just wasn't as much fun to drag-race up a street with two stop signs. The street became less hostile and dangerous to pedestrians.
Local business owners organized and started developing joint strategies to improve the street and attract customers. All-day curbside parking was expanded, another stop was added at Locke and Tuckett (this one a pedestrian-activated traffic light), and a few investors started buying up properties, renovating them and seeking out a compatible mix of business tenants on the main floors.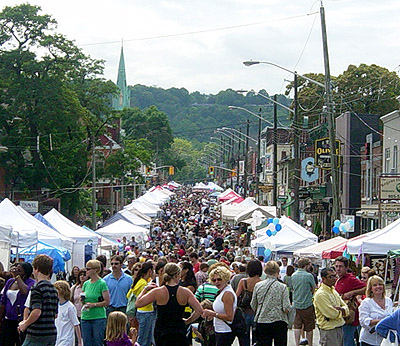 Thousands gather during the 2009 Locke Street Festival (RTH file photo)
Today, Locke is a prosperous, diverse central business district that draws a very large share of its business from people living in the neighbourhood and walking. Families have moved back into the surrounding neighbourhood in droves, property values have boomed (my house is worth three times what we paid for it in 2001), and Locke is widely recognized as one of Hamilton's most vibrant streets.
None of this would have been possible had council not mustered the political will to overrule the traffic engineers and transform the street from a thoroughfare - a fast network, if you will - into a local street - a slow network.
James Street North
Of course we can tell a similar story about James Street North. It wasn't so many years ago that former Ward 2 Councillor Ron Corsini told residents, "Forget about it. Shops and businesses are never going to return to James North. They're gone forever."
The two-way conversion of James Street North didn't single-handedly transform the street, any more than the installation of stop signs transformed Locke Street. Yet it did make it possible for the street to undergo a renaissance, by creating the conditions for a pedestrian-friendly environment that could attract customers to local businesses.
The public outcry when James North was converted to two-way was just astonishing. Irate letters to the editor in the Spectator predicted all sorts of mayhem: not only total gridlock, but also the final collapse of the struggling businesses that had survived on James once motorists started completely avoiding the street.
This reminds me of the old Yogi Berra line: "No one goes there anymore. It's always too crowded."
Of course, the sky didn't fall and it didn't take long for signs of life to materialize.
The revitalization of James North has been steady and incremental. Like Locke Street, James has benefited from dedicated investors who have been buying buildings, renovating them and seeking a compatible mix of tenants.
Because of its central location and intimate streetscape, James is natural site for public gatherings. Whether it's the Soccer World Cup, last year's Open Streets events or the annual Supercrawl, James is just a wonderful place for large numbers of people to gather and celebrate.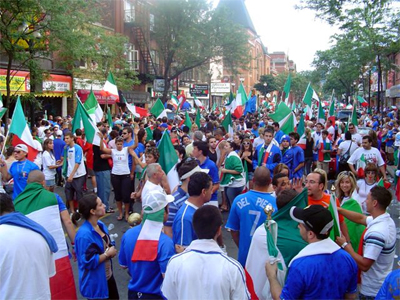 Celebrants throng the street after Italy's win in the 2005 World Cup (RTH file photo)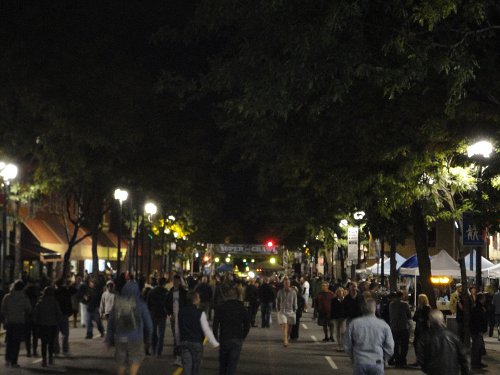 Thousands of people enjoying Supercrawl 2010 (RTH file photo)
The steady redevelopment of James Street has even generated some controversy as artists, investers and entrepreneurs come into conflict with antipoverty activists worried about gentrification. What a difference a few years can make.
(h/t to WRCU2 for posting a link to Jeff Mahoney's article)
Post a Comment
You must be logged in to comment.