Devil in the Details of 220 Dundurn South Redevelopment
Developers produce better outcomes when they work constructively with local residents to ensure their concerns are addressed.
By Jason Allen
Published June 12, 2013
Plans are in place for a renewal of the long-time Kirkendall eyesore at 220 Dundurn Street South, but part of the proposal has adjacent residents upset.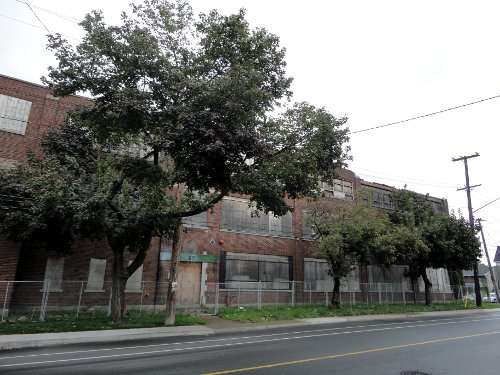 220 Dundurn Street South (RTH file photo)
With a reduction in the amount of lot required for the number of units from 294,000 sq. ft. to 143,000 sq. ft. and a reduction of the required size of each parking spot from 2.6 m wide to 2.4 m wide, the zoning variance application seems highly desirable.
Add in a reduced parking ratio from 1.25 spaces per unit to 1.15, and this appears to be a development that would fit neatly into this highly walkable neighbourhood.
But for residents on Charlton, the devil is in the details.
Clearly stated in the variance application [PDF] is the request for approval to add three stories to the main two-story structure, for a total of five stories.
A five-storey building would not be out of place on Dundurn, with a condo at Aberdeen and Dundurn, and an apartment at Stanley and Dundurn already exceeding that.
However, no mention is made in the text of the variance application of the building of an additional five-storey building in the location of a current one-storey, half-demolished garage. This detail only appears on the site plan.
This one-storey garage is currently located less than two meters from the property lines of the adjacent houses on Charlton Street. If the new structure follows the same footprint, there would be a 22 m high wall overlooking their backyards, an arm's width from their back fences. This has the adjacent neighbours understandably up in arms.
Apparently, early indications were that the new structure would mirror the existing height, although whether that was the height of the existing garage or the main structure is unclear.
The attempt to introduce a five-storey structure so close to the Charlton properties appears to have caught everybody off-guard, and has resulted in a public meeting being called on Monday, June 17 at 7 pm at Stanley Avenue Baptist Church.
Contrast this somewhat murky process with the approval process for the property that will soon be constructed on Blanshard - also known as the alley beside Bar on Locke. Initial plans for this structure were met with concern by property owners on Poulette.
After several revisions, which included setting back the upper stories of the property to prevent shadows on their backyards, residents felt their concerns had been heard, and the project received the community's endorsement.
According to a resident who attended the Committee of Adjustment meeting on Thursday, June 6 for 220 Dundurn, developer Dennis Vranich allegedly said he was not concerned with neighbours' objections because he could "do whatever [he] wants". That kind of attitude is not likely to allay residents' concerns.
Councillor Brian McHattie has done an outstanding job in the past few years of shepherding complicated development projects through in Ward 1, mainly because he was blessed with developers who were willing to listen to local concerns and respond accordingly.
The hope is that this will continue as the situation unfolds with 220 Dundurn. We'll know on the 17th.
Post a Comment
You must be logged in to comment.