Traffic on King While Main Sits Mostly Empty
If Main Street was two-way, it would be able to take some of the overflow from King Street during rush hour.
By Ryan McGreal
Published November 05, 2013
Last week, I wrote an article outlining the choice that underlies the controversial transit lane on King: the choice between easy motoring and a prosperous city.
One of the great strengths of RTH has always been the generally high quality of comments, but I had a real forehead-slapping a-ha moment when I read this short comment under that article:
If Main Street was two-way, the transit lane on King Street would be a total non issue.

Just saying.
Of course this is true, and it's something we've been saying on RTH for years. Yet I'm amazed that it didn't occur to me when I was writing the piece - such is the deeply ingrained pattern of Hamilton's one-way street system.
If Main Street was a two-way street, it would be able to take some of the overflow from King Street during rush hour. That's precisely the way a city traffic grid is supposed to work, but we have manufactured bottlenecks by artificially reducing the number of driving routes in a given direction.
Main Street Mostly Empty
During a walkabout yesterday mid-afternoon, I crossed both Main and King Street around the start of the transit lane. Here was the traffic on King Street at Mary Street:

Moderate congestion on King Street west of Mary
Meanwhile, just 110 metres away, here was the traffic on five-lane Main Street at Walnut:

No congestion on Main Street west of Walnut
A five-lane thoroughfare and there were just a few cars zipping along in a single lane. What a wasted opportunity to accommodate some of the overflow from King!
Incidentally, the slowdown on King was already clearing around Gore Park, and was back to free-flowing by James Street.

King Street traffic at Gore Park

Free-flowing west of James Street
West of James, King Street continues to open up and is back up to four lanes past Locke Street. So the traffic congestion we're talking about encompasses just a few blocks in the heart of the downtown core, a place one would expect to find some traffic congestion.
Two-Way Streets More Resilient
But back to Main Street for a moment. We've been arguing for years that two-way street networks are more resilient for drivers than one-way networks.
The city experienced this directly in September 2012, when a water main broke at the corner of James Street North and Cannon Street. Because Wilson Street had recently been converted to two-way west of Victoria, drivers on Cannon were able to divert south one block and bypass the blocked intersection.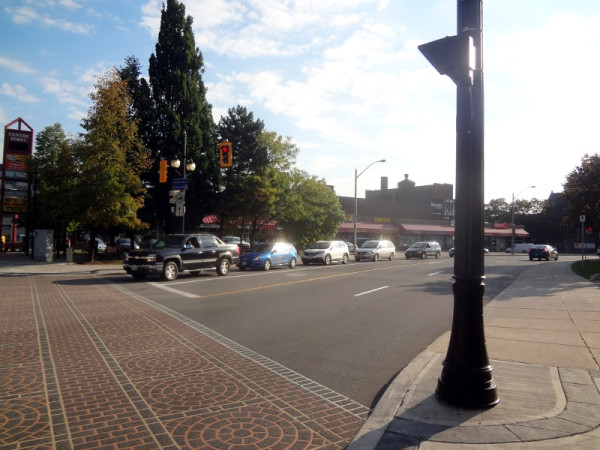 Westbound traffic on Wilson Street at James (RTH file photo)
Had Wilson remained one-way, drivers would have had to continue south another couple of blocks to King before they could turn westbound.
Inherently Wider Set of Uses
This summer, we experienced the other side of the coin: as Sean Burak documents, a transport truck hit a pole at Hunter and John and blocked the intersection. Because the streets around the crash remain one-way, they were far less efficient at diverting traffic.

Young was backed up westbound

Forest remained completely empty, unable to be used by westbound drivers

Walnut was backed up northbound

Catharine remained completely empty, since it's one-way in the wrong direction
Quite simply, a two-way street inherently meets a wider set of uses than a one-way street.
It's not like two-way streets are some radical, untested idea. Nearly every street on earth has been a two-way street for literally the past 10,000 years. Even Hamilton is full of two-way streets - outside the lower city. The point has been made before, but there's a reason no one on the mountain is demanding that their streets be converted to one-way.
Predictions of 'Chaos and Gridlock'
I'll close by noting that the dire predictions of "gridlock and chaos" and rage-quitting pronouncements have all been heard before. Every time the City does something, however modest, to make lower city streets more safe and comfortable for anyone other than fast cut-through commuters, the change is greeted with howls of outrage.
We saw it when James and John North were converted to two-way in 2002, and we saw it again when James and John South were converted in 2005.
After a little while, the dust settled, people figured it out, and the streets started to bounce back from their decades of punishment by fast, multi-lane commuter traffic.
If Council's resolve holds and staff respond to the King Street transit lane by making incremental changes as needed over the course of the pilot (like, ahem, allowing cyclists to use the lane), we'll get through this one as well.
One day we will look back and scratch our heads, wondering how people could ever make such a fuss about something as modest and reasonable as a dedicated transit lane on a high-capacity transit route through the heart of the city.
Post a Comment
You must be logged in to comment.