Complete Streets? Stop the Madness!
This is the road network we need and deserve - free from the irritation of cyclists, pedestrians, stop lights, turning lanes, oncoming traffic, and pretty much any other users of the road, allowing you to get anywhere in well under 20 minutes.
By Chris Higgins
Published December 19, 2013
Over the past several months there has been what appears to be an ever-increasing wave of attention paid to the issue of designing streets that promote safety, security, and economic development - streets that are more 'complete'.
From organizations such as the Clean Air Partnership, the Hamilton/Burlington Society of Architects, Yes We Cannon!, and Open Streets Hamilton to Gil Penalosa of 8-80 Cities, Toronto Chief Planner Jennifer Keesmaat, and the President and CEO of our own Chamber of Commerce, as well as initiatives from local residents and city councillors, it's almost as if some sort of consensus is being reached that the current design of our downtown streets is just not promoting a healthy, safe, and vibrant place to live and do business.
What would such a street look like? Last June, a series of pictures detailing a New Vision for Main Street West were published in RTH, taking the street from a one-way arterial to two-ways with bike lanes, and finally to an avenue with on-street parking.

Main Street West, reimagined as a complete street (RTH file photo)
Similar measures have been taken in a number of cities across North America, including Toronto, New York and Seattle.
Even our neighbours in Buffalo have gotten in on the game, taking Delaware Avenue down from four lanes to two with the addition of bike lanes and a centre turning lane! The result?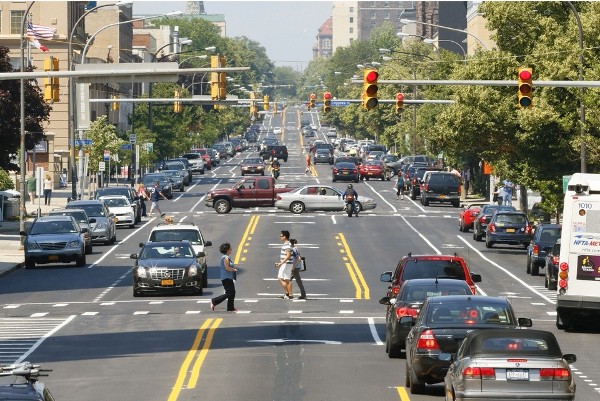 Delaware Avenue, Buffalo
Gridlock. Is this really the Hamilton we all want?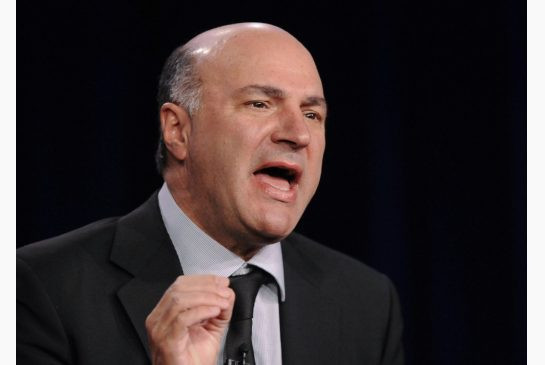 Stop the madness!
Stop the madness!
Hamilton today is a "20-minute city", wherein the ability to travel anywhere in the city by car in up to 20 minutes is central to making Hamilton the best place to "raise a child, promote innovation, engage citizens and provide diverse economic opportunities."
But if such a characteristic is truly the source our competitive urban advantage, is 20 minutes really the best we can do? Why can't we be an eight- or nine-minute city? Certainly we can do 15.
I say, stop selling yourself short Hamilton! Let's end gridlock, kick-start our renaissance, and cement our place as one of Canada's progressive urban leaders!
Everyone knows the heart of our economic engine is the city's complex network of one-way streets, many of which feature timed traffic signals to expedite flow. Between King, Main, Cannon, Wilson, Aberdeen, Homewood, Markland, Stanley, Herkimer, Charlton, Robinson, Duke, Bold, Hunter, Canada, and Jackson on the east-west direction and Queen, Bay, Hughson, Catharine, Mary, Wellington, Victoria, Wentworth, Sanford, Birch, and Sherman on the north-south, just to name a few, lower Hamilton is a commuter's dream.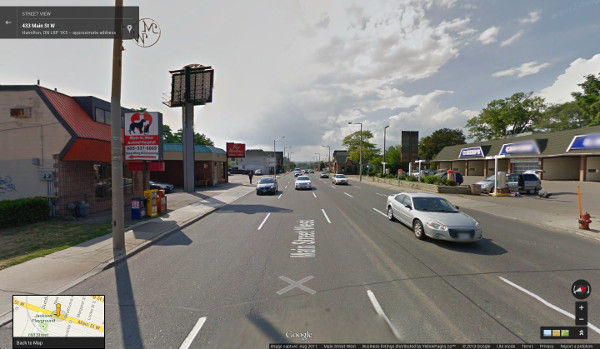 Main Street West
Frictionless Commute
Readers of RTH might want to reduce speeds on these streets, widen sidewalks, add parking, and paint bike lanes so that their lattes don't fall out of their baskets when a transport truck rumbles by. Nonsense.
Hamilton's real problem is the other areas of the city that are hotbeds of gridlock and threaten our dream of a frictionless commute.
Take Ancaster's Wilson Street for example: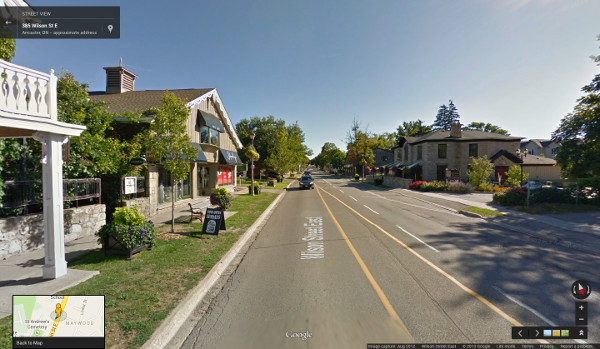 Wilson Street, Ancaster
Recently I wanted to get from West Hamilton to Meadowlands, and was shocked at the congestion that results from having only one lane in each direction. Cars were turning every which way into businesses along the street, and pedestrians served to confound things further. Some sections of Wilson have even added bike lanes in each direction, much to the local city councillor's delight!
Sound multi-modal planning in support of local businesses and residents? Poppycock! Let's help Wilson reach its full potential by solving its traffic issues once and for all: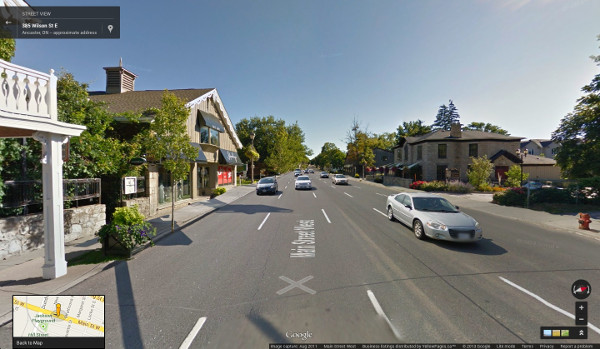 Wilson Street, Ancaster - Fixed
You know what also grinds my gears? All of the roads going into McMaster from Westdale. You just can't get there! How about Sterling: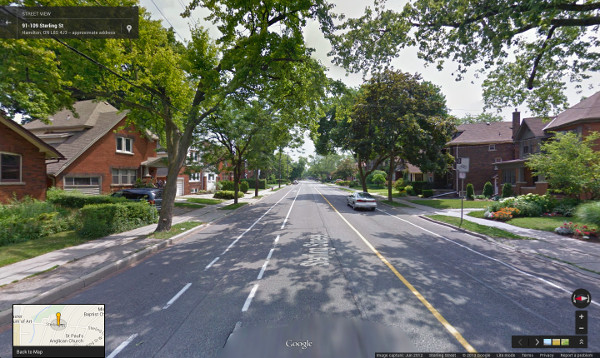 Sterling Street, Westdale
Issues? You got 'em all: two lanes of traffic with parking, big sidewalks, hundreds of students, and more bike lanes. Solution?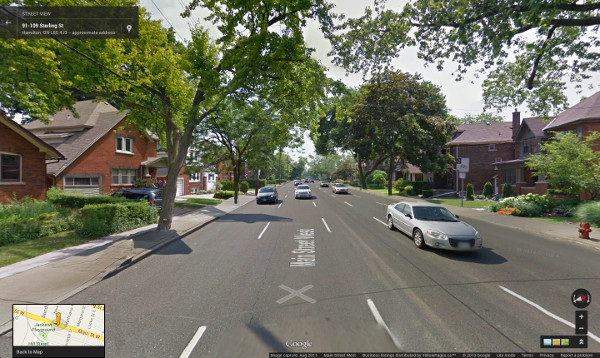 Sterling Street, Westdale - Fixed
Now with traffic heading in one direction for the drive to Mac, we naturally need to add more capacity in the other for the drive home. Luckily there are many good candidate streets in Westdale that can be upgraded from this: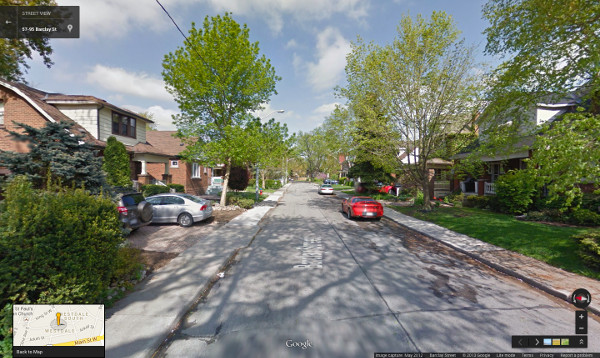 Barclay Street, Westdale
To this: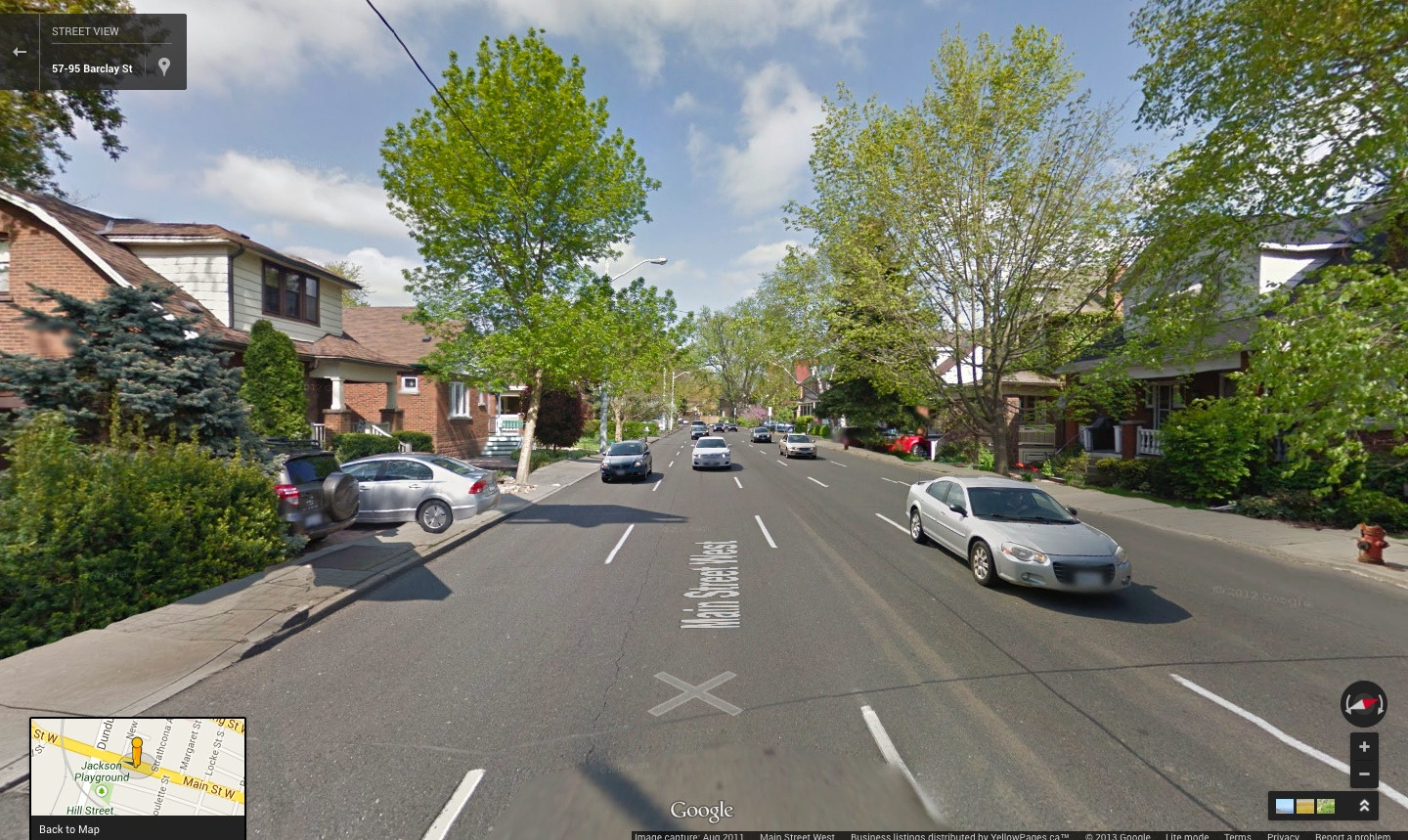 Barclay Street, Westdale - Fixed
Back to Main Street
With all this new added traffic flow, we will undoubtedly find our existing arterials get clogged up. Hamilton's new vision for the future will not be complete without a re-engineering of our existing thoroughfares, upgraded to again become our pre-eminent traffic arteries: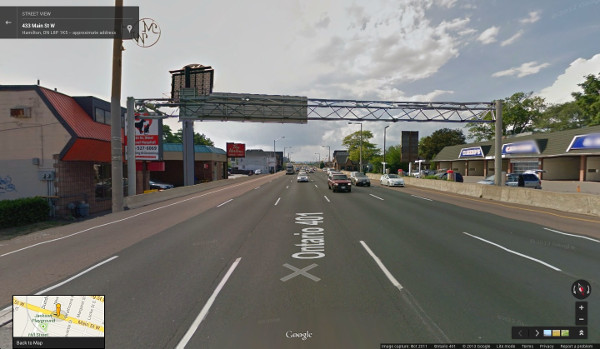 Main Street West - Fixed
Six lanes of free flow traffic. Barriers reduce opportunities for other drivers to slow down and turn, while also serving the second purpose of protecting drivers from other potentially hazardous uses of the roadway. And the large street signs now give you ample warning to find your exit to Locke Street.
It has become clear to me that Hamilton's two-way street debate and arguments over complete streets have it all wrong - I say we should instead go all-in on maximizing our competitive advantage and extend the one-way network to the rest of the city. What's the worst that could happen?
This is the road network we need and deserve - free from the irritation of cyclists, pedestrians, stop lights, turning lanes, oncoming traffic, and pretty much any other users of the road, allowing you to get anywhere throughout the city in well under 20 minutes.
We had just better hope that something worth travelling to still exists after all these changes.
Post a Comment
You must be logged in to comment.