Councillors Approve Cannon Street Cycle Track
Hamilton City Councillors voted unanimously to approve the detailed design and implementation of a protected two-way bike lane on Cannon Street.
By Ryan McGreal
Published March 19, 2014
this article has been updated
Hamilton City Councillors spent more than four hours boiling the ocean at today's General Issues Committee before voting unanimously to approve the detailed design and implementation of a protected two-way cycle track on the south curb lane of Cannon Street between Sherman Avenue and Bay Street. They also approved an amendment to extend bike lanes on York Boulevard from Bay Street to Hess Street to connect with existing bike lanes on York to Burlington and on Dundurn to King Street.
Update: Thanks to Joey Coleman, you can watch the whole thing - all four-hours-and-twelve-minutes of it:
The decision must still be ratified by full Council next week.
The capital cost, estimated at $867,200, will be covered by the Wards 2 and 3 capital infrastructure funds and the Red-Light Camera Project Reserve.
Citizen delegations in support of the plan included Justin Jones on behalf of the Yes We Cannon campaign, Lynda Lukasik of Environment Hamilton, and Sean Burak of the Hamilton Bike Share.
Additional Consultation Period
A few Councillors expressed concern that the City should undertake more public consultation before proceeding with the project, despite thousands of citizens expressing support through the Yes We Cannon campaign and the active support of the neighbourhood associations around Cannon Street.
A proposed amendment by Ward 9 Councillor Brad Clark to undertake a 30-day written consultation period before approving the plan was soundly defeated, with only Clark and Councillors Maria Pearson (Ward 10) and Brenda Johnson (Ward 11) voting in favour.
Johnson compared the bike lane to the Winona Wal-Mart, which she said was approved without adequate public consultation.
Ward 3 Councillor Bob Morrow, who first tried to introduce bike lanes in 1971, said, "I support it very strongly. I'm not worried about public input."
Ward 1 Councillor Brian McHattie noted that delaying the detailed design and implementation would risk missing the 2014 cycling season. He suggested that the demand for more consultation is "being used as a bogeyman" to put off a decision.
Ward 2 Councillor Jason Farr, sounding frustrated, noted that extensive consultation has already taken place and that the Cannon Street Study Group and the local neighbourhood associations all support it.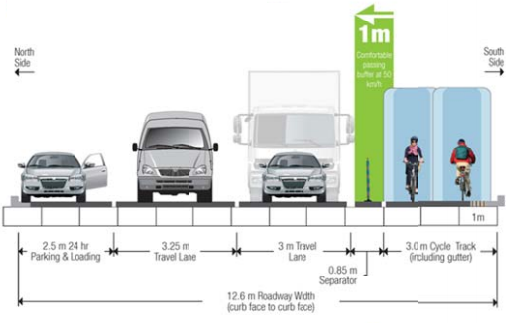 Typical mid-block cross-section of Cannon Street Cycle Track east of Victoria
Operating Costs
Councillors were also hung up on the projected operating costs, which could be as high as $728,000 over the three years of the pilot project, even though some of those costs would replace current operating costs for the south lane of Cannon Street, and the biggest component is a high estimate of $180,000 to clear windrows (piles of plowed snow) in winter.
They spent a long time agonizing over whether the City can afford to clear snow from the bike lanes. At various points, councillors considered closing the bike lanes during winter or removing the physical barriers in fall and re-installing them each spring.
Transportation Manager Don Hull promised to come back to Council if winter maintenance becomes a significant problem during the three-year pilot.
Just Do It
At one point, Ward 4 Councillor Sam Merulla took his colleagues to task for throwing so many obstacles in the path of the bike lanes. Calling Cannon "the epitome of an incomplete street," Merulla demanded, "Enough with the nonsense and the gamesmanship and the politicking and let's just do it."
Thankfully, this sentiment carried the day - but not until after a very long, drawn-out and at times painful debate. This was a clear case of bikeshedding - expending disproportionate time, energy and "angst" to what is ultimately a very small budget item with a very large return on investment.
As Justin Jones noted, studies from across North America find that every dollar invested in high quality cycling infrastructure delivers five dollars in benefits. Complete streets bring rising property values, higher retail business and improved quality of life.
Post a Comment
You must be logged in to comment.