A Narrow Focus Leads to Wide Streets
If we are to move forward in Hamilton and make real change, we must be willing to address our specific concerns in the broader context of a liveable city.
By George Sweetman
Published July 27, 2015
Today's cities are challenged with addressing a wide range of complicated and interconnected issues. The scope and complexity of issues such as infrastructure renewal, affordable housing, traffic congestion, and air quality can seem overwhelming.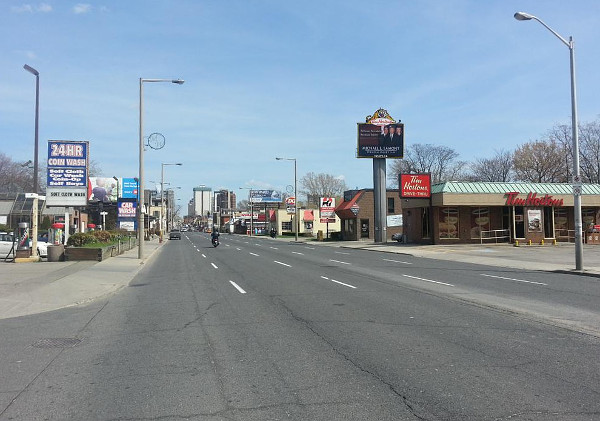 Main Street West, five lanes wide
Traditionally, the response has been for each city department (planning, public works, transit, parks, heritage, health, community services, etc.) to develop its own standards and policies to address these challenges. While at a departmental level these policies and standards make sense, cumulatively they can lead to unintended consequences.
By way of example, Jeff Speck, in his book Walkable City, designs a main street on the basis of the demands from each stakeholder:
First, we would need at least four travel lanes and a centre turn lane, to keep the transportation engineers happy. These would need to be eleven feet wide - no, wait, make that twelve feet, because the fire chief might want to pass a bus without slowing down. To satisfy the business owners, we would need angle parking on both sides (another forty feet), and eight-foot separated bike paths against each curb for you-know-who. Then we would add two ten-foot continuous tree trenches to satisfy the urban forester, and two twenty-foot-minimum sidewalks for the pedestrian advocates. ... We now have a main street over 175 feet wide, this is more than twice the normal width and about as efficacious an urban environment as a large-jet runway - and just as conducive to shopping. (Jeff Speck, Walkable City: How Downtown Can Save America, One Step At A Time, p. 207)
From the perspective of each department, the input is appropriate but the cumulative result is not. Simply aggregating each demand results in a design that completely misses the goal, which in this case was to establish a vibrant main street. A more appropriate response might be to move away from merely aggregating standards and demands from special interest groups.
Here in Hamilton, we cannot address our current challenges through strict adherence to a narrow area of concern. A narrow focus can cause divisions and draw lines between people, such as those who live on the mountain and those who live downtown, between motorists and cyclists, between long-time residents and new residents.
If we are to move forward in Hamilton and make real change, we can no longer ignore criteria beyond our area of concern. We must be willing to address our specific concerns in the context of a liveable city and that may mean widening our field of view and focusing on outcomes, not inputs.
Post a Comment
You must be logged in to comment.