Bicycle-Friendly Paris Refuses to Stand Still
The alacrity with which Paris went from being utterly inhospitable for cycling into a place where it has become widespread should light a fire of urgency under Hamilton, a city with much less to lose from letting go of the status quo.
By Ryan McGreal
Published September 25, 2015
This article has been updated.
When last I visited Paris, France in early 2011, I was really impressed with how much the city had done to encourage cycling over the previous decade. I've just returned from another visit to Paris, and I'm delighted to report that the city continues to make inspiring progress at building out its cycling network.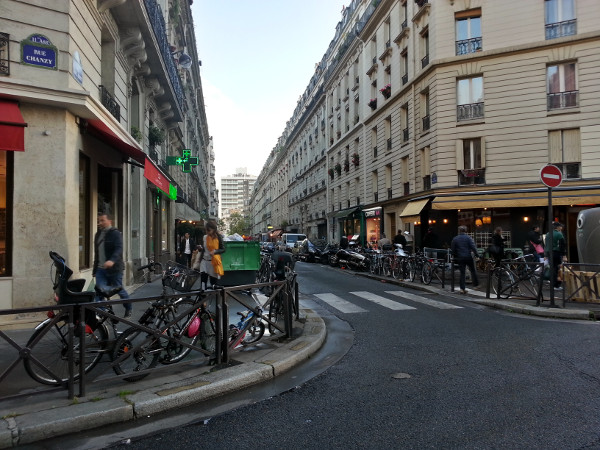 Bicycles parked at Rue Paul Bert and Rue Chanzy
There are more cyclists on the road than ever, and anecdotally I observed a refreshing diversity among the people riding bikes: young and old, male and female, dolled up and dressed down.
Before Paris decided in the late 1990s to become a bicycle-friendly city, cycling was a white-knuckle activity undertaken only by a tiny, fearless sliver of the population. Paris drivers are notoriously aggressive and erratic, and the city's comprehensive transit system and walkable streets were previously considered to be good enough for people not in cars.
But after the one-two punch of a debilitating Metro strike in 1995 and a new public health report demonstrating high levels of premature death from air pollution, the City decided in short order to get serious about providing more transportation alternatives.
Between 2002 and 2008, the cycling percentage of total trips (called the mode share) tripled from just 1 percent to 3 percent and has almost doubled again since then. The fact that cycling has increased so enormously in such a short time in a city with heroically bad traffic and highly constrained lane capacity is a testament to the effectiveness of good cycling infrastructure.
A recent article in Le Figaro notes that there are 225,000 daily bike trips in Paris. Anecdotally, I can say that I saw people riding bikes everywhere I went at all times of the day.
The city is actually accelerating its efforts to build out its cycling network. Currently, Paris has around 700 km of bike lanes, and earlier this year the City announced a plan to double that to 1,400 km by 2020 and increase the bicycle mode share to 15 percent.
Based on consultations with 7,000 residents, the planners have determined that a feeling of insecurity ("un sentiment d'insécurité") keeps many would-be cyclists from choosing to ride a bike, so the emphasis is on an axial network of physically protected cycle tracks running east-to-west and north-to-south across the city.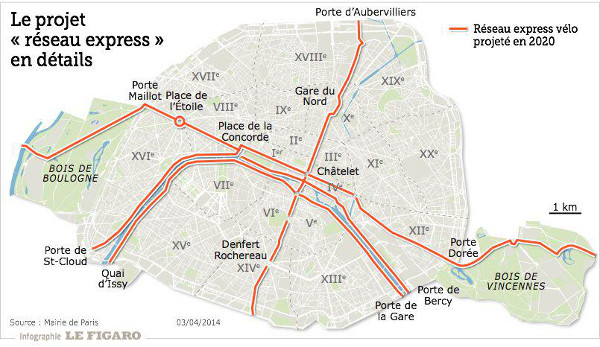 Map of planned axial protected cycle tracks in Paris (Image Credit: Le Figaro)
That includes continuous, protected arterial bike routes along both banks of the Seine - routes that currently serve as very high-volume automobile corridors.
But as Paris embarks on the next wave of infrastructure building, it is worth reviewing what they have already built.
Protected Cycle Tracks
The best cycling infrastructure is physically protected from automobile traffic, and Paris has employed several models of physical protection based on the existing street context. On some streets, the cycle track is protected by a raised curb. In others, it is protected by parallel parked cars.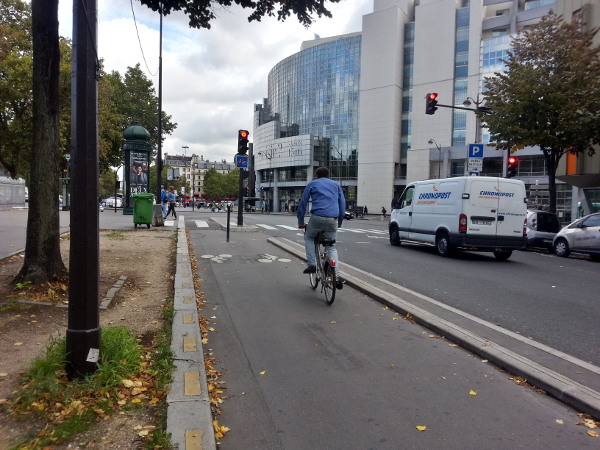 Curb-protected two-way cycle track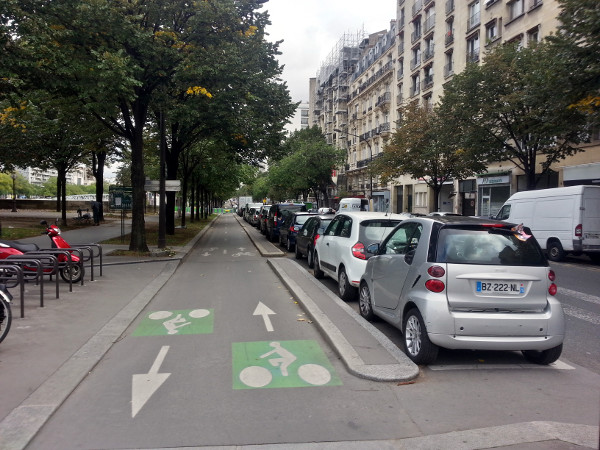 Parking-protected two-way cycle track
There were also a number of off-street cycle tracks, either running at the same grade as the sidewalk on a raised curb, on a path farther away from the street or on an otherwise pedestrian-only street.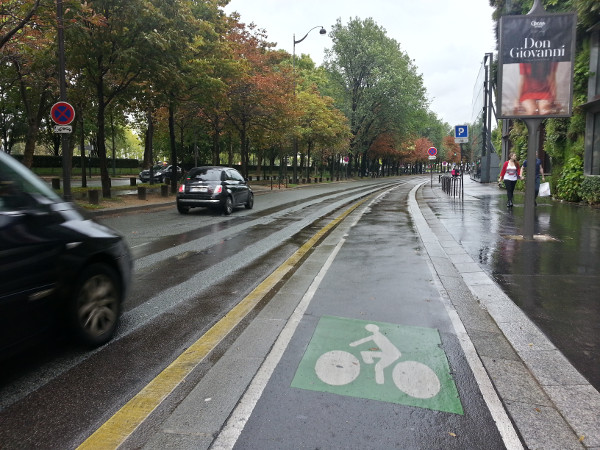 Raised-curb bike lane on Quai Banly near Eiffel Tower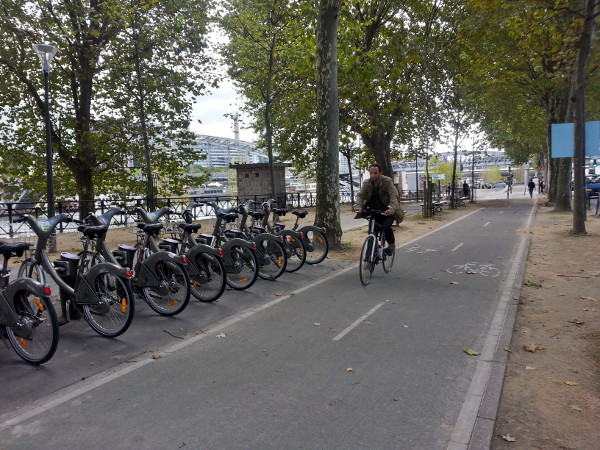 Off-street two-way cycle track past Vélib' station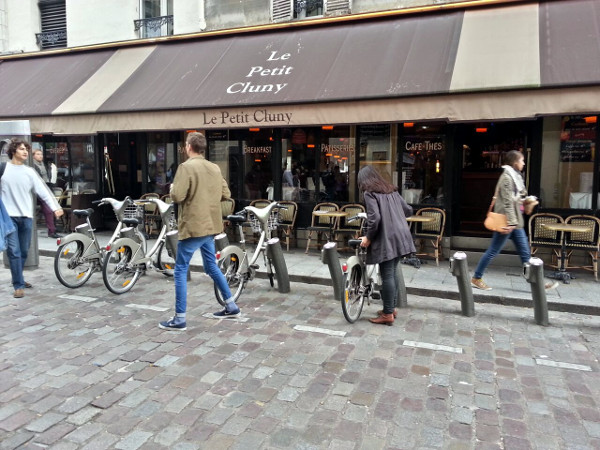 Woman locking a Vélib' rental bike on a pedestrian street in the Latin Quarter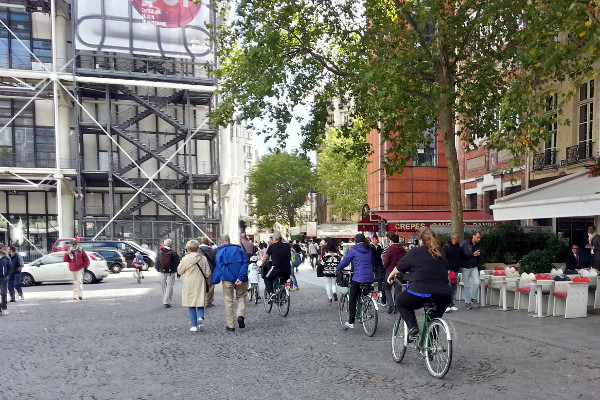 Cycling in pedestrian plaza behind Centre Pompidou
As I mentioned, there are cyclists everywhere in Paris these days.
Transit Lanes
Paris is renowned for its baroque Metro subway system, but it also operates an extensive network of express bus routes on dedicated transit lanes. Indeed, every boulevard I saw had dedicated transit lanes. Interestingly, a common pattern I observed was for the street to have one lane in each direction for automobile traffic, a raised median, and then one lane in each direction for transit.
But the kicker for cycling is that the transit lanes can also be used as bike lanes, as clearly marked with green-painted bicycle markings (and, of course, lots of use by actual cyclists):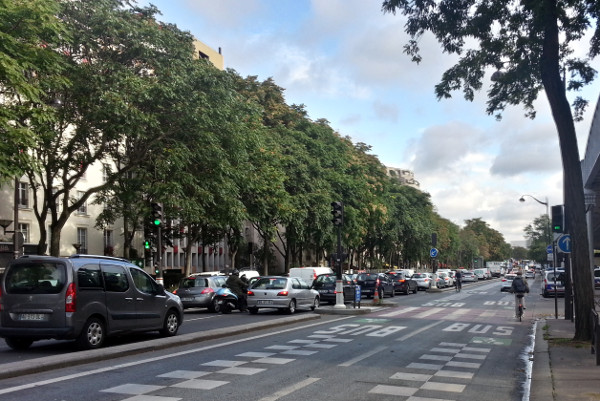 Curb-protected two-way transit lane with cycling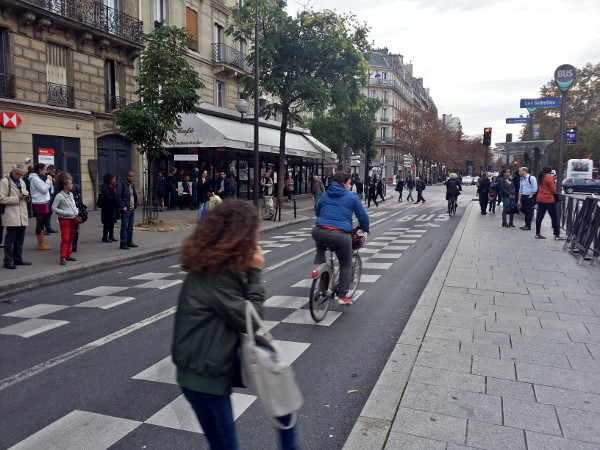 Cycling on two-way transit lane
Even on streets where the transit lane is not physically protected from the adjacent vehicle lanes, cyclists are still allowed to ride - and the extra-wide transit lanes mean they are at a physical remove from automobile traffic.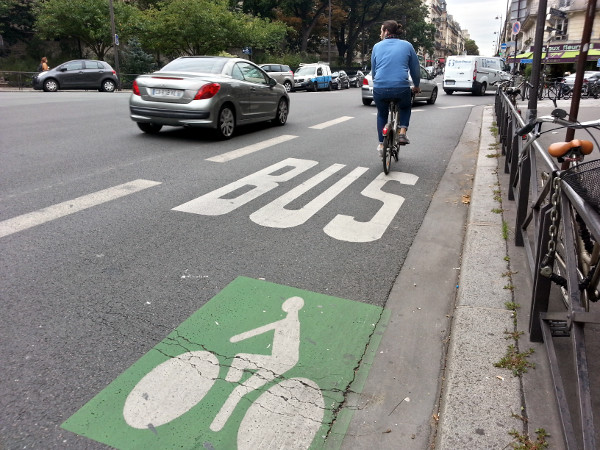 Cyclist riding on unprotected transit lane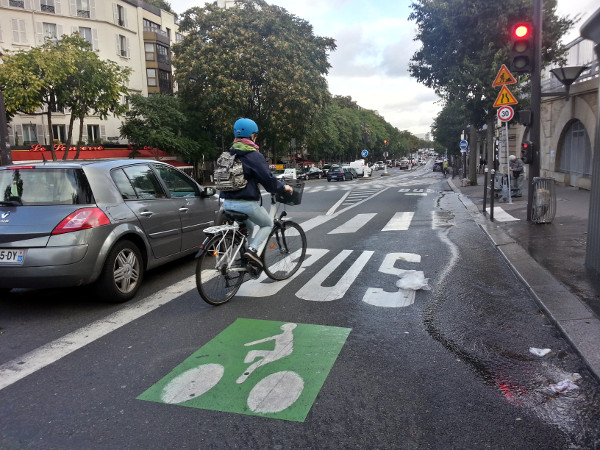 Cyclist riding in transit lane, bundled up on a cold day
It was impressive to see the wide variety of uses for bicycles, including these two cheery bicycle cargo transporters, who grinned at me after I took their photo and gave a thumbs-up.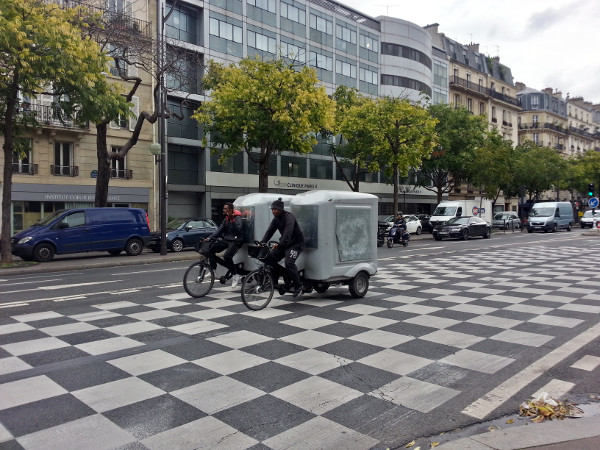 Bicycle cargo carriers riding in transit lane
After Hamilton's recent facepalming experiment with a transit lane, in which staff were adamant that it should not be allowed to include cyclists during the trial and then Council voted to kill it (against public will and the evidence) instead of making the obvious changes that would have improved how it functions, it's clear we have a lot to learn from cities that already get it right.
Intersections
One of the big challenges when creating dedicated space for cycling is how to manage intersections. By definition, an intersection is a "conflict zone" where people moving in several different directions come into contact and must navigate past each other.
In Hamilton, we tend to let our bike lanes peter out as they approach intersections: the solid white line turns into a dashed line (for right-turning vehicles) and disappears completely through the intersection itself.
The Cannon Cycle Track improves on the status quo with advanced stop lines, or "bike boxes", which allow cyclists to pull ahead of motorists when making a turn, and with painted markings through intersections to remind turning drivers that they are crossing a bike route.
But the state of the art for intersection design goes to the Netherlands, which has iterated its way to an elegant design that fits into a standard intersection and minimizes the potential for a vehicle to crash into a bike.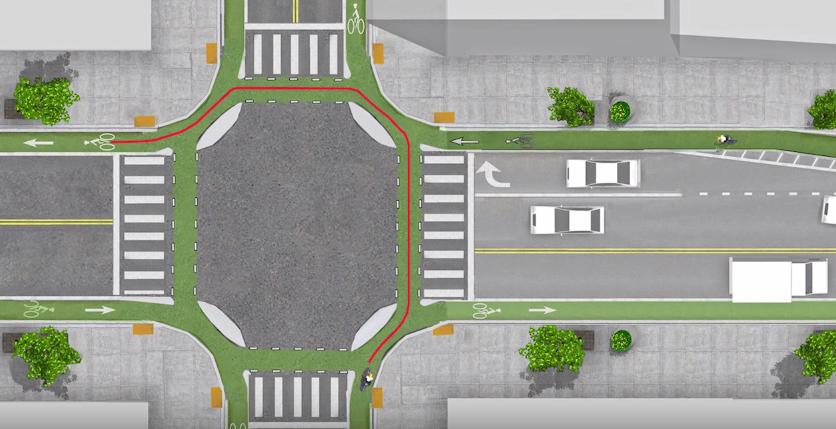 Netherlands intersection design (Image Credit: screen-capture from YouTube video)
In effect, the Dutch model transforms a normal junction intersection into a roundabout for cyclists. A number of carefully-calibrated design elements maximize visibility between cyclists, drivers and pedestrians and minimize the potential for conflict.
In Paris, where the streets do not run in a grid and intersections are hairy at the best of times, I saw a similar reasoning at play in how protected cycle tracks navigated through them. (Even on foot, it often feels like you're circling a pedestrian roundabout when crossing through complex intersections.)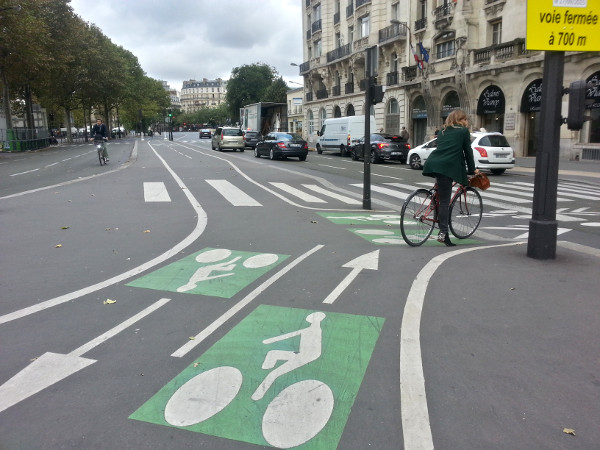 Raised curbs, clear markings for bike lanes through an intersection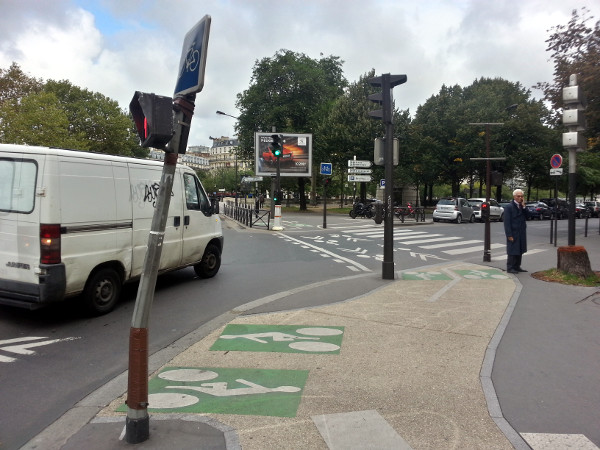 Bike lanes continue through complex intersection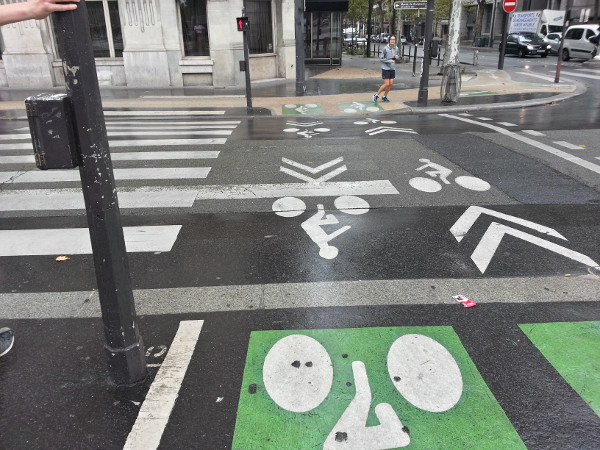 Pavement markings for off-street cycle track next to crosswalk markings
Most of the intersections I saw had the white bike stencil with a green background, but some didn't include the white background: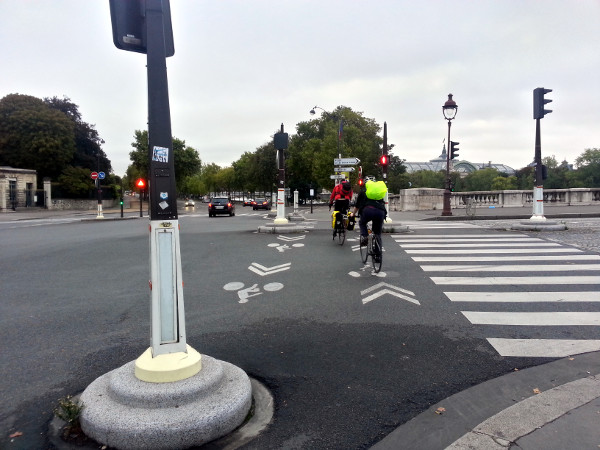 White painted bike lane stencils across intersection
The bike lane intersection designs I saw in Paris were not as sophisticated as the Netherlands model, but I watched them in action and they provided clear elements of visibility and predictability for all road users.
Painted Lanes and Contraflow Lanes
Of course, not every bike lane in Paris is physically protected. Like many cities making the transition toward being more bicycle-friendly, Paris started with relatively low-value bike lanes before recognizing that higher-quality bike lanes are better at attracting new riders.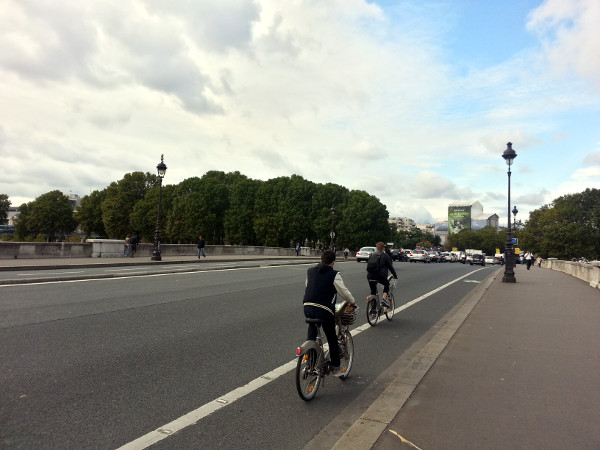 Painted lanes on Pont d'Austerlitz, a very high-traffic bridge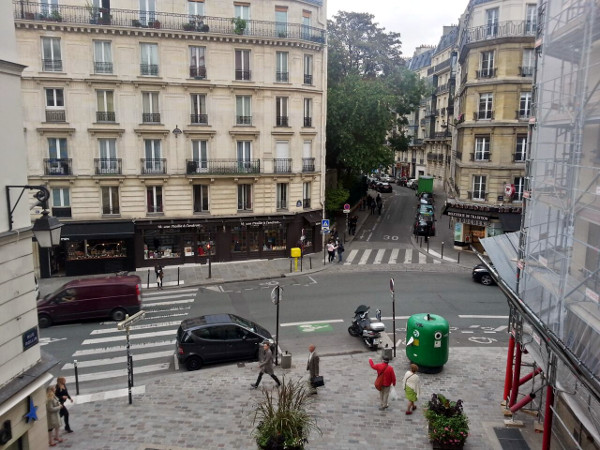 Overlooking painted bike lanes on Rue Monge
Many Paris streets, especially in the older Left Bank, date back to Medieval times and are very narrow, one-way lanes. There is simply no right-of-way for two-way automobile traffic, let alone physically separated bike lanes. Wherever possible, these streets also shoehorn curbside parking, further eating into the available space.
The City's solution in this context has been to add speed bumps to slow automobile traffic and to paint contraflow bike lanes so that cyclists can ride in either direction.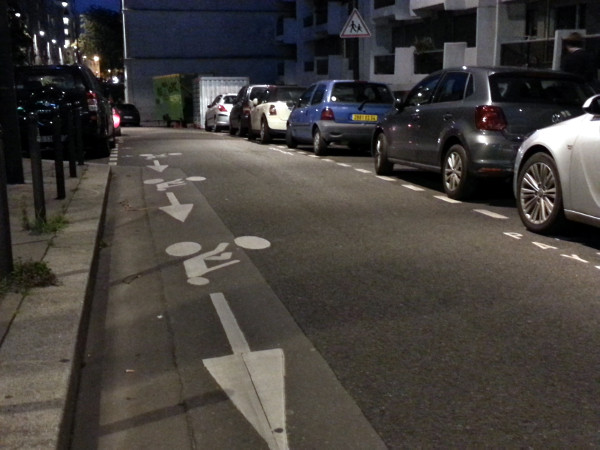 Left-side contraflow bike lane with cars parked on right side
On some streets, the cars are parallel parked on the left side of the street, not the right. In these cases, the contraflow bike lane is painted just outside the paralled parked cars.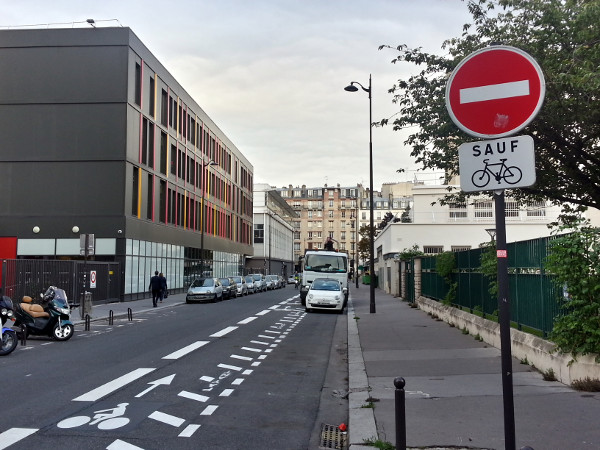 Contraflow bike lane with cars parked on the left side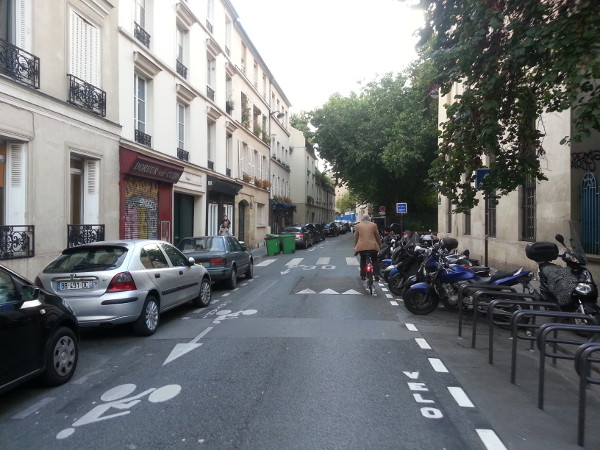 Contraflow bike lane on narrow street
My first thought on seeing these was shock that the bike lanes are right in the "door zone" of the parked cars. However, the situation is quite a bit better than, say, the door-zone bike lanes on Dundurn Street South in Hamilton:
The contraflow bike lane runs next to the passenger side of the cars, not the driver side, so the risk of a door opening is reduced.
The cyclist and any passenger will be facing each other, increasing the chance that they will notice each other.
If a cyclist does hit a door, the orientation is such that the door will be knocked closed rather than all the way open.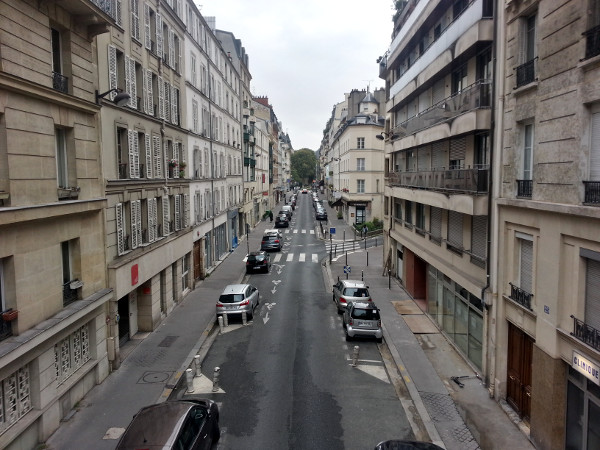 Contraflow bike lane on Rue Pascal
Contraflow Lanes for Hamilton
I can think of at least one narrow, one-way Hamilton street with a contraflow bike lane: Markland Street between James Street South and Queen Street South. Markland is one-way westbound with curbside parking on the north side and an eastbound contraflow bike lane on the south side.
Recent changes to the Highway Traffic Act under Bill 31, the Making Ontario's Roads Safer Act, make it easier for municipalities to add contraflow bike lanes on one-way streets.
We should be looking to take advantage of this and add contraflow bike lanes on every one-way street that is low-volume for automobile traffic and would make a good bi-directional bike route.
A no-brainer is Hunter Street between Queen Street South and Locke Street South. The (frustratingly unprotected) two-way bike lane on Hunter ends at Queen, and Hunter continues as a narrow one-way street westbound from Queen to Locke.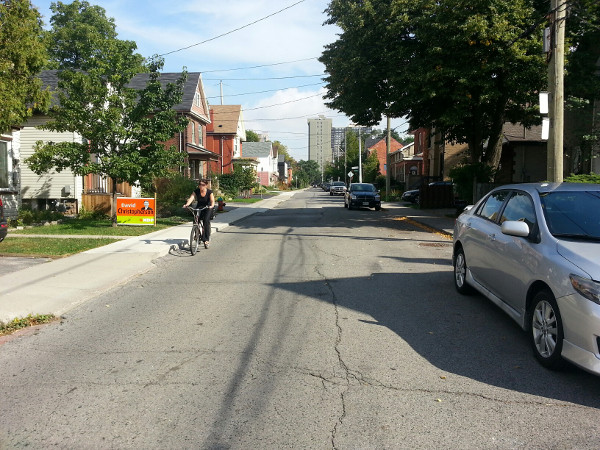 Looking east on Hunter Street west of Queen
As it is, it is only possible to proceed west on Hunter - and in mixed vehicle traffic at that. Short of just making this section two-way, a contraflow bike lane coupled with traffic calming measures - permeable bumpouts, signage and so on - would make Hunter more usable for cyclists, safer for all road users and calmer for people living on the street.
Hess Street also comes to mind as an obvious choice. At York Boulevard, the one-way northbound Hess is so overbuilt that the City literally painted out an entire lane with diagonal hash marks.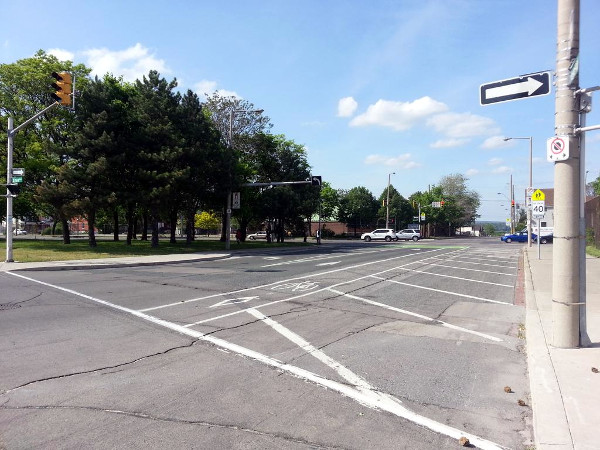 Hashed-out lane on Hess Street between York and Cannon (RTH file photo)
Talk about a painless opportunity to add southbound cycling infrastructure!
I leave it as an exercise for the reader to identify other prospective sites for contraflow bike lanes.
First-Class Mode
The City of Paris clearly treats cycling as a first-class transportation mode. For example, when a section of street is closed for road work and the closure affects a bike lane, the City makes sure to include a detour for cyclists: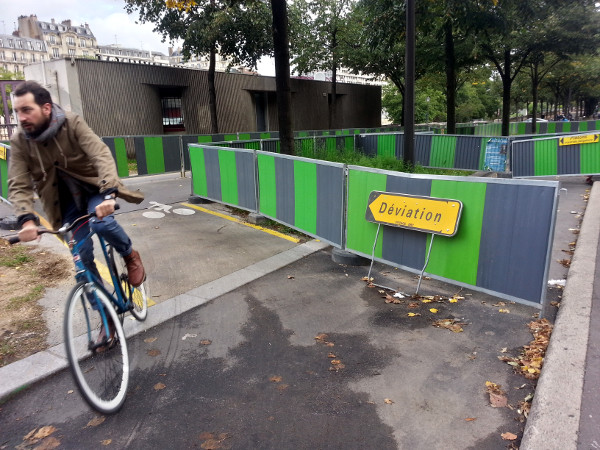 Cycle track gets a detour
Paris takes cycling seriously - the goal is to make it so easy, convenient and safe to ride a bike that it becomes a viable choice for a significant share of trips. And this is in a city that already has an excellent transit system and is highly walkable, with many locations clustered in close proximity.
A number of other policy measures also support cycling in Paris. The City recently adopted a city-wide 30 km/h speed limit, supported by traffic calming measures to make it psychologically uncomfortable to drive at dangerous speeds.
Paris has also recognized that bicycles and cars are different things and that it does not make sense for them to be regulated by the same rules. Cyclists are now allowed to treat red lights as yield signals for right turns and at T-junctions.
Vélib'
I can't write about cycling in Paris without giving a nod to the city's famous bike share system. Vélib' - a portmanteau of vélo (bicycle) and libre (freedom) - is a nework of around 20,000 bicycles and 1,200 stations across the city. The system is operated by JCDecaux, an advertising company, in exchange for revenue from on-street billboards and ad signs.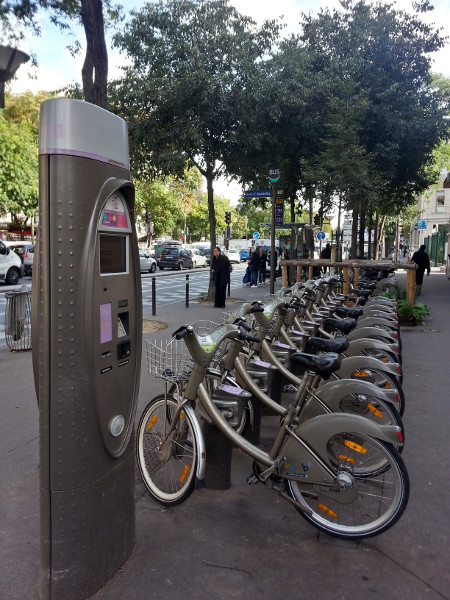 Vélib' station with kiosk
Subscriptions cost €1.70 ($2.50 Cdn) per day, €8 ($12 Cdn) per week or €29 ($43 Cdn) per year, and a subscription covers up to 30 minutes of continuous cycling per trip for an unlimited number of daily trips. After 30 minutes of riding, the cost increases exponentially in order to incentivize people to return bikes into circulation.
This pricing model is slightly different from Hamilton Bike Share's pricing model, in which a subscription covers up to a cumulative total of 60 minutes of riding per day, with additional charges beyond an hour pro-rated to the minute.
As Nicholas Kevlahan noted earlier this summer, Vélib' has a truly impressive market share, with 274,000 annual subscribers and around 110,000 trips per day on average. Certainly a huge proportion of the people I saw cycling were riding on Vélib' bikes.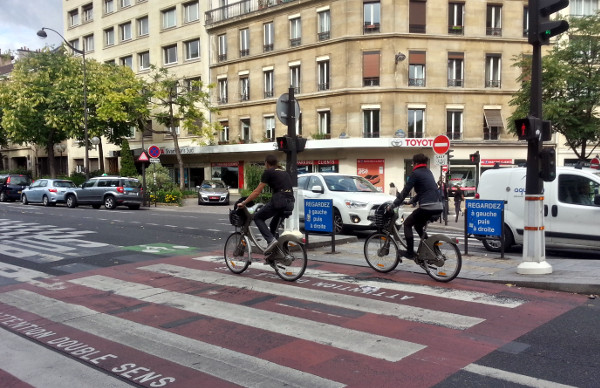 Couple riding Vélib' bikes in transit lane
Paris is a dense, compact city and you don't have to walk far before encountering a station. This makes the system flexible and easy to use. And in a city where most people live in apartment buildings with small (or no) elevators, using a bike share can be a lot more convenient than using your own bike.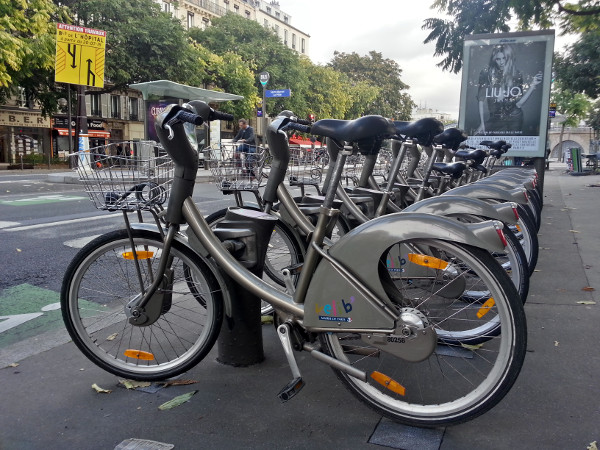 Vélib' station with advertisement in background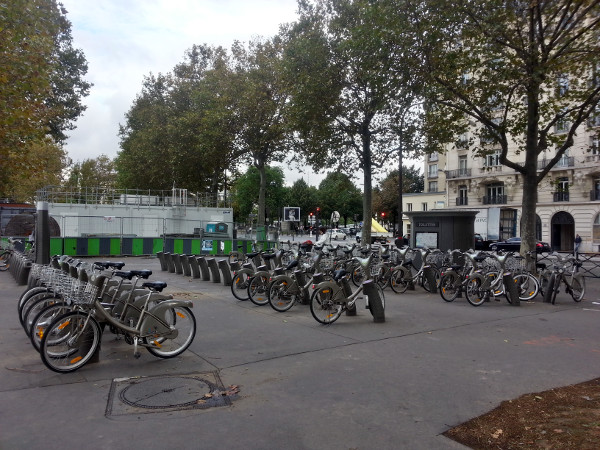 Huge Vélib' station near Boulevard de la Bastille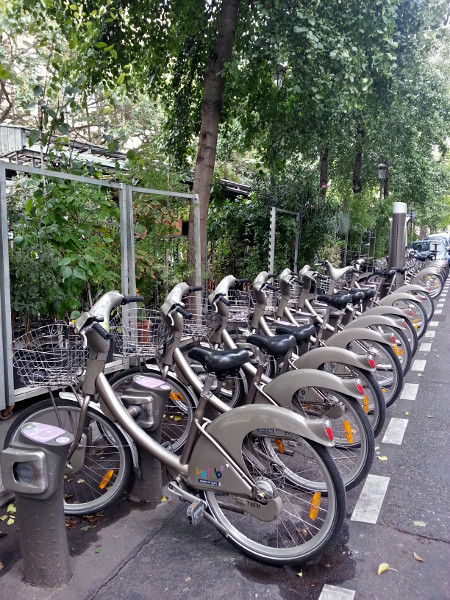 Vélib' station on Île de la Cité
One of the biggest changes in Hamilton since the last time I went to Paris is that we have a bike share of our own. Hamilton Bike Share is only six months old but has already proven that bike share can provide the same convenience, flexibility, affordability and comfort in a young, mid-sized city as it does in a larger, older city like Paris.
The Courage to Change
On a closing note, I have to address the inevitable cries from the naysayers of "But this is Hamilton, not Paris!" There is no excuse for Hamilton to sit back and accept middling goals and mediocre implementations. In fact, it is harder for a very large, very old city like Paris to change than for a much smaller, younger city like Hamilton.
Every single change in Paris must force itself against the inertia of a huge population and a huge municipal bureaucracy, a physical built environment that literally spans back a thousand years, and a profound sense of reverence for the city's priceless cultural and architectural heritage.
Yet Paris refuses to be a museum piece, locked into past ways of doing things. The city is a living, breathing, evolving dynamic entity that continues to reinvent itself in response to new information and changing values. This is the same city, after all, in which the I.M. Pei Pyramid in the Louvre courtyard was a surface parking lot for government employees as recently as the 1980s!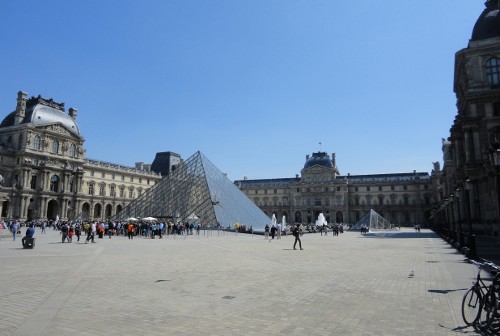 Louvre Courtyard (RTH file photo)
The alacrity with which Paris went from being utterly inhospitable for cycling into a place where cycling has become widespread and normal should light a fire of urgency under Hamilton, a smaller, younger city with so very much less to lose from letting go of the status quo.
To borrow an inspiring line from RTH contributor Kevin Love: Paris changed. We can too.
---
Update: this article originally stated that a street only had transit lanes on it, but an alert reader who lives in that area of Paris wrote in to point out that it is actually a boulevard that also has vehicle lanes on the other side of the centre median. RTH regrets the error. You can jump to the photo.
Post a Comment
You must be logged in to comment.