GO Part 2: Weekend All-Day GO Trains Possible In Hamilton 2016
An existing Niagara GO train passes West Harbour GO without stopping: 16 trains per weekend, eight toward Toronto and eight toward Niagara. Can they stop in Hamilton in 2016?
By Mark Rejhon
Published October 07, 2015
Part 1 of the GO series photographed three different active GO construction sites for Hamilton. For readers not aware, see GO Part 1: Major GO Train Construction for Hamilton.
This second article of the GO series shows an easy way to potentially bring all-day weekend GO train service to Hamilton in the very near future, at potentially no extra taxpayer dime. It will require CN, City of Hamilton, Metrolinx, and LIUNA Station, to efficiently co-ordinate work that is already funded.
Toronto-Niagara GO trains already pass Hamilton today
Every summer weekend, and this Thanksgiving weekend as well, 16 trains for Niagara Seasonal GO Service pass Hamilton's new West Harbour GO station without stopping:
By having this existing train stop at West Harbour, Hamilton immediately gains all-day two-way summer weekend and holiday GO train service to/from both Toronto and Niagara Falls!
Of 16 trains in one weekend, there are eight trains Toronto-to-Niagara and eight trains Niagara-to-Toronto. Even St. Catharines got all-day two-way summer weekend service.
Why don't these Niagara trains stop in Hamilton already?
The incomplete West Harbour station track is a dead end. The CN-owned freight trackage cannot service the station: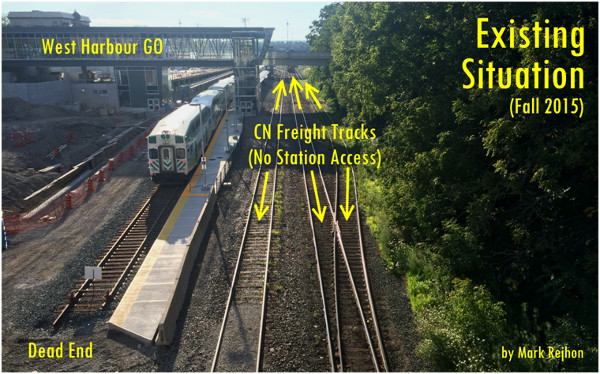 The existing tracks at West Harbour GO
A portion of the still-under-construction West Harbour GO station was partially opened on time for Pan Am games. More is covered in the GO series Part 1.
Construction Phase two of West Harbour GO will take until 2017 (this date was known as early as 2012). This includes extension of the spur track to reconnect to the CN main line. This is already fully funded in the current secondary phase of the West Harbour GO construction.
It will turn West Harbour into a through-station, making it easy for Niagara GO trains to do a Hamilton stop.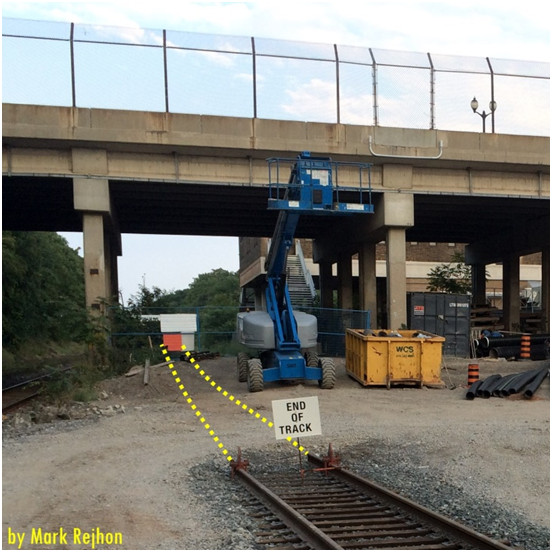 Track Needs Extension at West Harbour GO
Possible Solution
One possible solution is a 100 meter railroad track extension. This allows West Harbour GO station into a pass-through station, using the shortest possible amount of trackage.

All Hamilton needs in order to get all-day summer weekend GO train service. Or is it?
There are many variants of this possible solution. For example, the switch may be built further east (instead of between James Street North and John Street North).
The actual Metrolinx professionally-vetted solution may be very different from the solutions suggested in this analysis article. However, this article may still double as a useful reminder to multiple stakeholders to prevent "party-waiting-for-another-party" delays.
Complex Inter-Agency Co-Operation
There are very complex negotiations between multiple parties involved, even for a 100-meter railroad extension. These graphics tells a simplified version of a big story: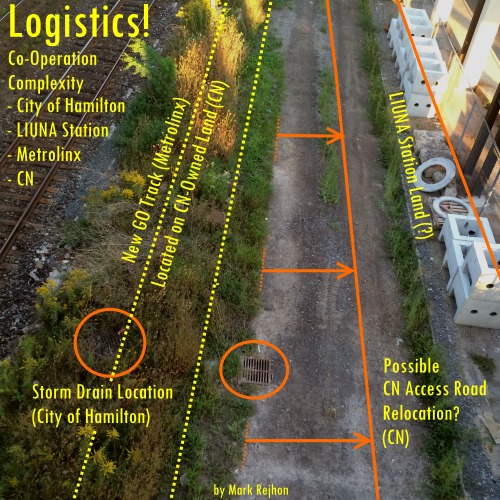 I'll need Tylenol or an Aspirin for this headache.

Overhead view. Either an overheadache or a good challenge!
The Metrolinx-built spur extension will need to go under city-owned road overpasses, skim near the old LIUNA station, and then reconnect via a new CN-signaled crossover to the CN mainline near or past the old LIUNA station.
Is this infrastructure really going to happen?
Yes. A short extension is also necessary to service the Lewis GO Layover Facility (covered in GO series Part 1). For the previous article, Alex Burke of Metrolinx provided this statement:
In terms of including West Harbour GO Station as part of Niagara seasonal service, the infrastructure required to transfer trains from the rail corridor in Hamilton to the corridor used to get to Niagara (both of which are not owned by Metrolinx) is part of a secondary phase of construction at West Harbour GO Station. This next phase of construction is expected to begin later in 2015.
[...]
Please note the planning for our 2016 service is ongoing and the details are yet to be determined. We expect that complete information will be available by spring 2016.
However, it is important to note that this is in regards to infrastructure work, and not a definitive confirmation of the Niagara train stopping in 2016.
When can this be completed?
It's possible as early as 2016. However, West Harbour GO station has multiple construction phases lasting through 2017. Construction delays and crew scheduling lead time potentially mean Niagara timetables won't show Hamilton until 2018. This results in a probable date range of 2016-2018.
Improving local goodwill is very important for a new Metrolinx project, the upcoming Hamilton LRT.


New logo of the local LRT advocacy run by Hamilton residents
Approximate calculations of operating costs (seen later in this article) indicates West Harbour GO could operationally break even (and becomes profitable) after a mere three new Hamilton passengers per train.
This could reduce taxpayer costs of running the Niagara GO train route and contribute to continued GO expansion.
Thus, completing this by 2016 could reduce taxpayer costs and benefit local goodwill.
Can the existing Niagara trains stop in Hamilton by 2016?
Stopping the Niagara GO trains in Hamilton should be a complete no-brainer.
For this to happen by 2016, it is extremely critical that the right people at Metrolinx, at CN, and at City of Hamilton aren't left waiting for each other on a critical 100-meter piece of railroad. For example, is CN waiting for City of Hamilton to finish storm drain work? Is Metrolinx waiting for CN? Do we need to involve LIUNA Station? Etc.
Any work that needs to be completed (e.g. storm drain adjustments), before the ground freezes, may need to be completed this fall where possible. Construction scheduling/ staging, resource allocation, pre-requisites, crew scheduling, should all be verified by all stakeholders to allow this happen by 2016.
Possible Solution #1
These diagrams illustrate a possible solution for the West Harbour GO dead-end track. This can be completed far before the Stoney Creek GO extension.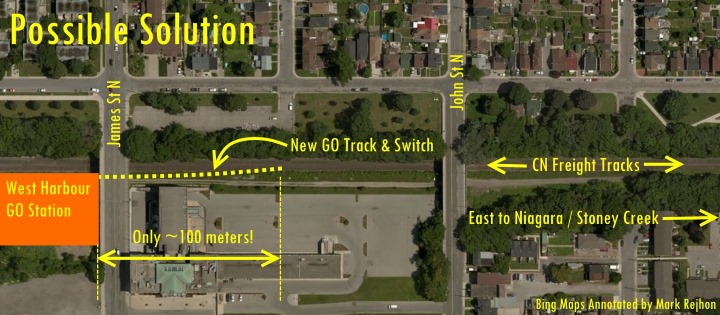 The overhead view again, for context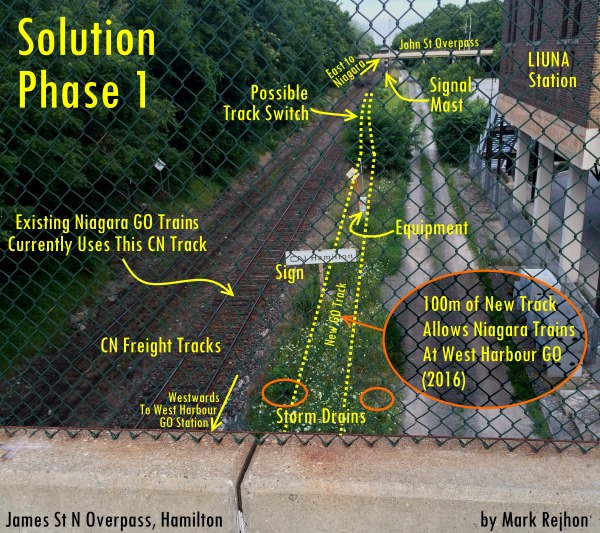 An annotated view facing east from the James Street North overpass, 100 meters of new track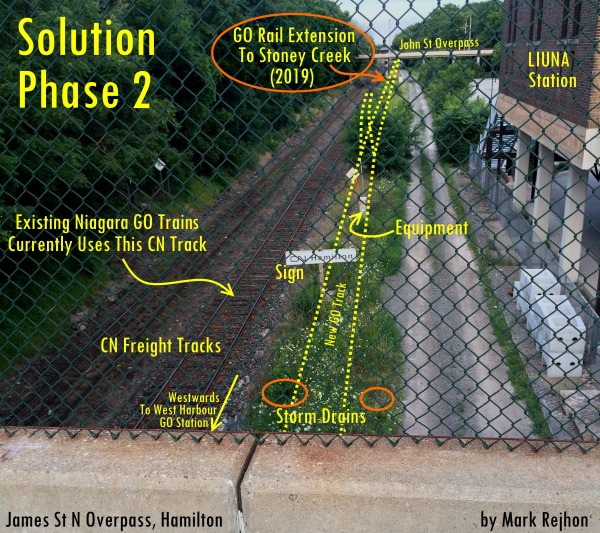 Stoney Creek GO extension (2019), while keeping the existing switch
Alternate Solution #2
The below diagrams illustrates an alternative solution, if it is not practical to install a switch track between James Street North and John Street North.
Metrolinx sometimes uses longer, higher speed rail switches, even on tracks with low-speed limits. This may not necessarily fit between James Street and John Street overpasses, as there are overpass pillars in the way of a diagonal 'switch' track.
The next overpass east of John Street (pedestrian bridge) has no pillar, permitting a longer switch.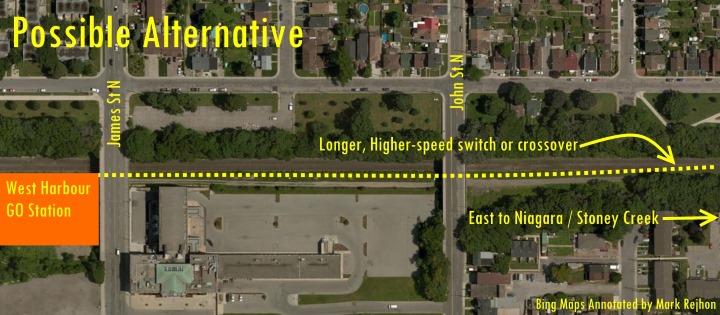 An overhead view of the alternative solution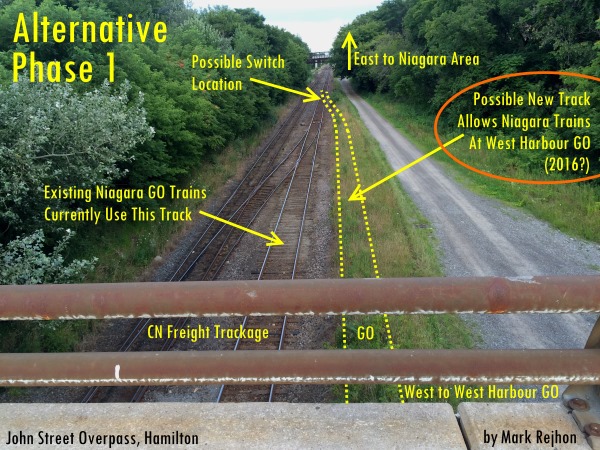 An annotated view facing east from the John Street N overpass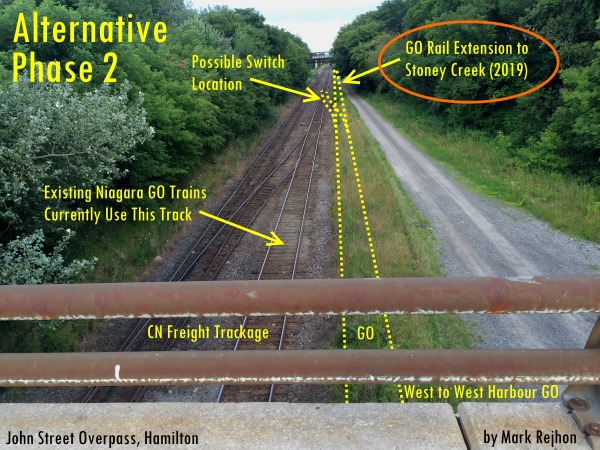 The same view, but with the Stoney Creek GO extension added
What is the length of a railroad switch?
This diagram illustrates a typical low-speed track switch, which is approximately three railroad cars long.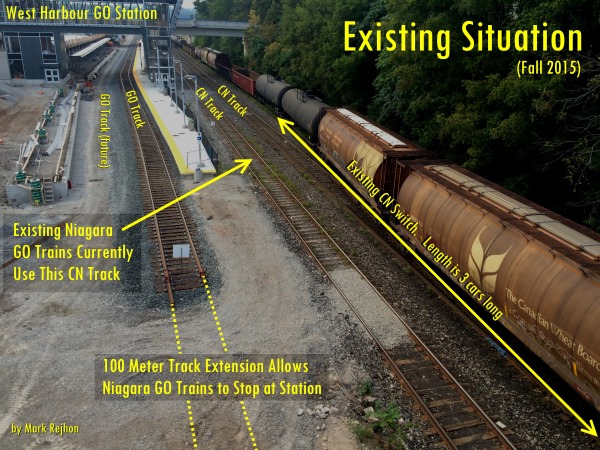 A freight train switching between tracks
A switch, similar to this one, will easily fit between the James Street North and the John Street North overpasses.
This type of lower-speed switch (or slightly faster and longer) is probably all that is needed for a station that's inside a permanent low speed limit due to the nearby Lake Ontario curve. In the railroading world, this is also called a Permanent Slow Order (PSO).
Niagara GO Trains are as fast as Hamilton 16 Express GO Bus
Many Hamiltonians like the Hamilton 16 Express GO bus because it is fairly quick.
However, the Niagara GO train is more express than the weekday express commuter trains. The Niagara trains go from Union-Burlington in only 40 minutes, and coast past Hamilton's West Harbour GO in only 55 minutes after Union.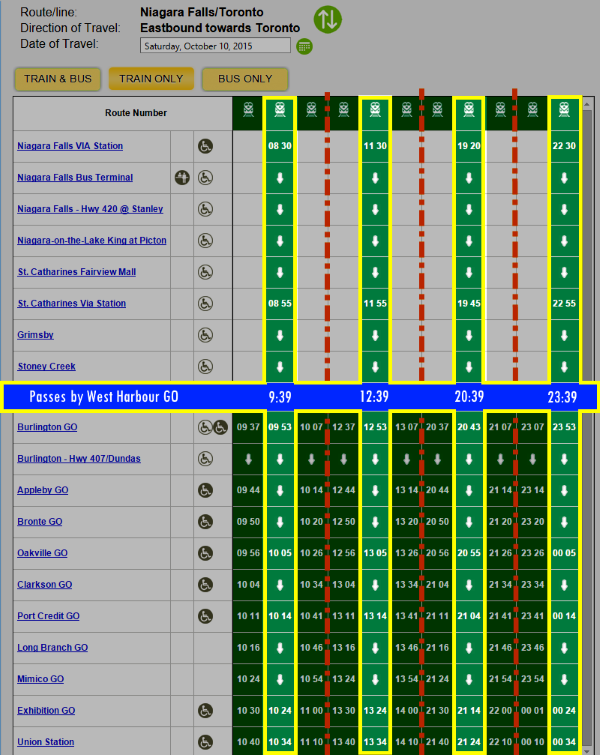 Annotated version of existing Niagara GO train timetable for this Thanksgiving
Taking only 55 minutes West Harbour to Union, this is very competitive the Hamilton 16 Express GO bus while providing a more comfortable ride. In fact, the train can be faster during heavy long-weekend or event traffic.
The Niagara trains run in both directions, so Hamiltonians can also visit Niagara Falls too as well, not just Toronto. This is a fairly quick 1-hour trip, faster than by bus to Niagara Falls today.
Hamilton stop is insignificant on existing Niagara trip time
The West Harbour stop would add only two minutes to an existing two hour train.
This length is observed when GO adds extra stops to existing GO lines (e.g. Bloor station). However, other efficiencies will occur, that could erase this stopping delay completely.
The Niagara train already runs extremely slowly next to West Harbour GO due to speed limits from the nearby CN railyard and Lake Ontario curve. This will make West Harbour a quicker-than-average stop, with minimal braking and acceleration time needed.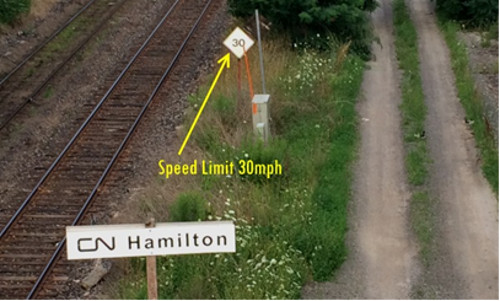 North American railroad speed limit signs are in miles per hour, even in Canada
Stopping at West Harbour GO may potentially speed up train
West Harbour GO could also double as a siding track, picking up Hamilton passengers while simultaneously waiting for a freight train to pass. This could decrease freight contention.
This is better than having the train waste time stopped between stations. This often happens, to let freight trains pass. Instead, the GO train is productively picking up new revenue passengers, while CN is productively passing the station toward the railyard or Hamilton/Bayview Junction. CN even benefits too, so they also would want to expedite this work too.
With less waiting for trains to pass each other, Niagara seasonal service may actually speed up on average, cancelling-out the two minute stopping time on a two hour route.
In the future, the funding for Stoney Creek GO (near Centennial Parkway for 2019) includes extra GO track infrastructure. This will speed up GO service further, and will likely far more than compensate for stopping at West Harbour GO.
Niagara Seasonal GO Train should be extended later in season
Typically, Niagara GO trains only last until the beginning of September, with the exception of the Thanksgiving weekend.
However, for 2016 and beyond, the Niagara GO train service should be extended all the way to Thanksgiving to accommodate many events that occur between Labour Day and Thanksgiving.
This allows the trains to double as James Street Supercrawl trains for outside visitors to Hamilton, and double as Nuit Blanche trains for Hamiltonians and other Golden Horseshoe residents. There are already late departure times on Niagara GO trains, which can serve Nuit Blanche well!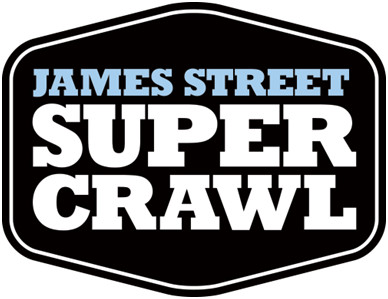 One of Ontario's biggest events - over 165,000 visitors in 2014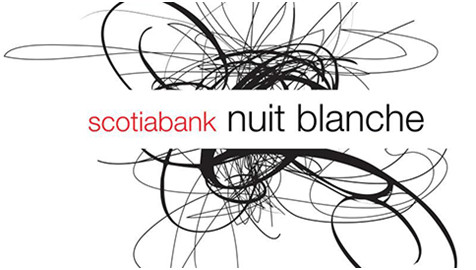 Another one of Ontario's biggest events - over 1 million visitors in 2014
Imagine inviting residents from Niagara and Toronto to come to Hamilton for Supercrawl, with all-day two-way weekend GO service. And Hamiltonians would easily be able to visit various big weekend events all along the shore of Lake Ontario. This would be spectacular.
But what about year-round? And weekdays?
It is anticipated that this could eventually happen. The question is when.
For more information about issues currently preventing all-day two-way service, see Part 1 of this GO Series.
In short, freight trains and the Welland canal drawbridge will often delay GO trains. Delayed trains are late for the remainder of the Lakeshore stations nearer Toronto. This also can cascade severely into delaying multiple commuter trains.
The train schedule is less critical for weekend excursion trains, than for weekday commuter trains.
It is better to initially begin expanding the Niagara seasonal GO train service to a year-round weekend service, before introducing all-week service for the Niagara route.
There are benefits for cyclists too
Niagara Seasonal GO trains also have a bicycle coach.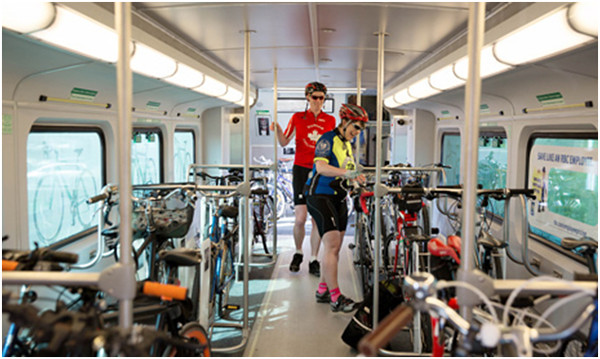 The Niagara seasonal GO trains have a bike coach (Image Credit: GO Transit)
Imagine easily riding your bike down the new Hamilton bike infrastructure (e.g. Cannon bike lane) to West Harbour GO, and then bringing your bike to either Toronto or Niagara for a day trip.
Hamilton stop business case appears economically justified
The Niagara train is an existing train, with an existing crew, that passes a brand new GO station in Hamilton, a major city along the Niagara GO corridor. The train also goes slow due to the speed limit near the Lake Ontario curve and the rail yard. Thus, the cost of the added stop will be very low.
Assuming crew time of $100/hour total, we conservatively assume $4. This assumes the stop takes any extra crew time at all, considering the long dwell at Niagara Falls.

Assuming a conservative three gallons/minute fuel (older FP40 locomotive), we assume $20 at typical government diesel prices.

Assuming 1 staff for the station (wicket/security), average 16 hours of staffing per day for eight trains (4 per direction), $15/hr represents about $30 of staffing cost per train.

Unmanned station total: $24 (With ticket/Presto kiosks only)

Manned station total: $54 (With wicket/security staff)
At an average of $11 fare per Hamilton passenger going to either Toronto or Niagara Falls, a mere three extra passengers per train ($33) would make an unmanned West Harbour stop profitable! If the station is staffed by 1 person, we still only need 5 extra Hamilton passengers to be profitable.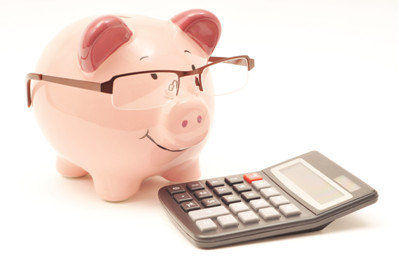 Let's see, the square root of infinity divided by zero, equals...
Due to the number of Hamilton residents observed using Aldershot GO even on weekends, Hamilton demand for weekend trains appears far higher than three passengers needed to break-even, likely in the region of an order of magnitude (e.g. about 30 passengers per train instead of 3). Given this observation, even any major error in my approximate amateur numbers above should still be insignificant.
For Metrolinx, demand for incoming event trains (e.g. Pan Am trains) is unrelated to Hamiltonians wanting outgoing access to Toronto by GO train. Any possible poor demand (if any) for extra event trains should not affect the business case of expediting a West Harbour GO stop for an existing train.
Even with the very incomplete and rough approximate numbers above, the business case appears to be justified for the West Harbour stop.
Construction staging and inter-agency communications need to be optimized and expedited for this to happen on time for spring 2016 or for Supercrawl 2016 at latest, rather than 2017 or 2018.
It will immediately begin providing taxpayer return sooner, and also immediately benefit Hamiltonians.
Future Vision
For years, Niagara Falls has been clamoring for year-round GO service.
One popular idea is the Niagara Express concept. In this scenario, two different GO train routes (Niagara-Hamilton and Hamilton-Toronto) do connecting service at an interchange station in or near Hamilton.
Building a tunnel under Welland Canal, to avoid drawbridge delays, has been reported to cost almost a billion dollars. Just to avoid unexpected delays for Lakeshore West commuter service!
Instead, connecting service is run instead. 15-minute electrified RER service would provide a short wait for connecting service between the Niagara Express and the Toronto train.
Initially, Niagara Express could connect at Aldershot/Burlington, as electrification will arrive there first within 10 years: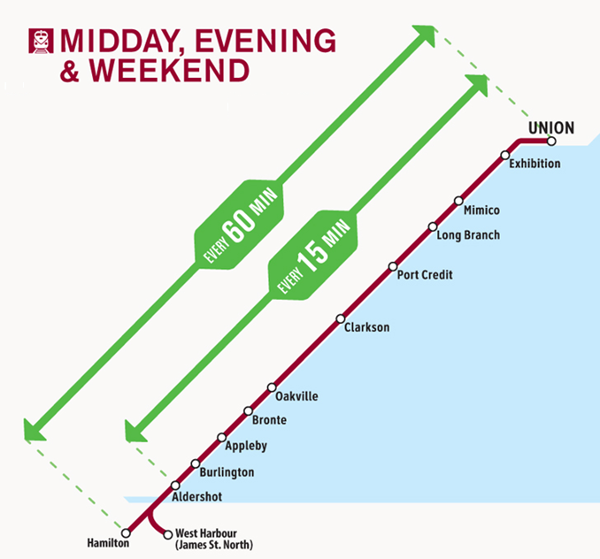 Planned RER service to Burlington/Aldershot, from GO Series Part 1
Later, RER service could be extended from Burlington to Hamilton West Harbour GO (as part of a Phase two of RER, after initial electrification to Burlington).
At this stage, Hamilton could become a major transfer between Niagara trains and Toronto trains, at a cost far lower than $1 billion. This includes the cost of extra infrastructure (including a rail-to-rail grade separation) between Burlington and Hamilton, with parallel GO tracks for full separation from freight tracks.
This could permit 15-minute RER service to West Harbour GO, for any RER Phase two after the current 10-year plan.
A special regular train between Niagara Falls and Hamilton would be provided, connecting to the RER service with a consistently short transfer wait regardless of delayed Niagara Express trains. Some of these transfer passengers could linger in Hamilton, boosting Hamilton's economy.
Doing the Niagara Express idea could cost a lot less than a Welland Canal grade-separation, even when including a rail-to-rail grade separation between Aldershot and West Harbour necessary to achieve complete freight separation.
This also assumes that West Harbour GO eventually gains the role as the all-day 15-minute GO station (instead of Hamilton downtown GO). The possible future role-switching of all-day service, between Downtown Hamilton GO and West Harbour GO, is already covered in GO Series Part 1. This can depend on the infrastructure evolution of both the GO network and the Hamilton LRT.
Please note, however, this is a long-term vision among many possibilities. While actual Metrolinx plans for Niagara GO may differ, it is noteworthy that the Niagara Express idea was warmly received by Metrolinx.
Conclusion: Low cost no-brainer with massive benefits
Hamilton is one of the biggest cities that the Niagara seasonal GO service passes through.
Adding the West Harbour GO stop to this existing train should have immediate payback just a few extra passenger boardings per existing train.
This already-funded project is potentially as small as a 100 meter track extension + switch, to turn West Harbour into a through station.
While researching this article, I consulted many people in Hamilton over the last few weeks, including Ph.D. students, transit advocates, middle class residents, industry professionals, and a former train driver. They all came to a unanimous agreement on the economic case for the West Harbour GO stop.
From our collective opinion and analysis, the priority of this extension needs to be raised to the highest possible priority among existing ongoing Hamilton GO construction projects. three different Hamilton GO construction sites were photographed in GO Series Part 1.
Hamilton now has a beautiful new GO station that is now operational, yet only has two trains in the morning.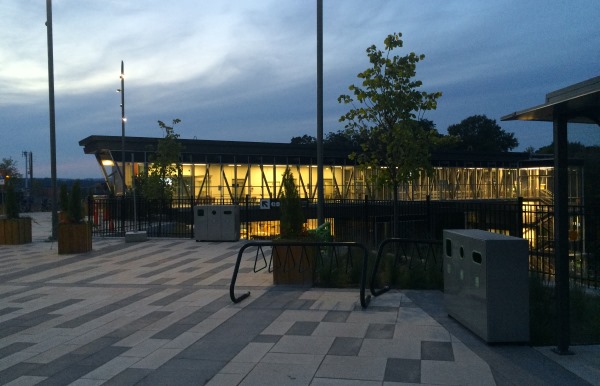 The West Harbour GO station after sunset (Photo by Mark Rejhon)
All parties including Metrolinx, City of Hamilton, and CN, need to co-operate speedily as there are immediate benefits for everyone.
Benefits for Metrolinx & Province of Ontario
Stopping the train at West Harbour GO reduces the taxpayer costs of the Niagara Seasonal Service & makes it more profitable. Extra revenue occurring sooner can be reinvested into continued expansion and reduce Ontario budget pressure.
Goodwill for Hamilton LRT
The ability to quickly and inexpensively introduce new Hamilton GO service will increase goodwill for the upcoming Hamilton LRT, another important local Metrolinx project.
Benefits for CN & freight
CN benefits by allowing GO trains to use West Harbour GO station as a siding/passing track, to easily allow freight trains to pass while GO picks up passengers. This improves operational flexibility and speed up GO service and freight service. It is in CN's interests to make this quickly happen, by coordinating quickly with Metrolinx and City of Hamilton.
Benefits for City of Hamilton
Hamilton residents gain the ability to travel to & from Toronto and Niagara Falls. The addition of many new fast trips in both directions is a big boon (including multiple destinations in between, including Burlington, St. Catharines, and others). This also becomes the fastest way to travel to Niagara Falls by public transit, as there is no speedy Niagara bus option for Hamilton.
Benefits for visitors
A great number of Hamiltonians have friends and/or family throughout the GTHA region. Also, tourists are increasingly interested in major Hamilton events such as Supercrawl, World Music Festival, and sports events including TiCats games. McMaster University students, who live outside of Hamilton, can commute more directly to Hamilton. Inexpensively introducing weekend GO service as quickly as 2016, would enhance Hamilton as a destination.
Benefits for car drivers
Imagine parking for free at West Harbour GO (upon parking construction completion) and having a relaxing, quick train trip into Toronto. With so many amenities close to the Toronto and Niagara Falls stations, a train is often a fun and relaxing ride, especially for a family. One can also avoid parking stress during major downtown destinations, sports events & Exhibition events including the Ex.
Niagara GO train needs to stop in Hamilton ASAP
It's worth repeating: This is an existing GO train. Passing West Harbour GO. Without stopping.
It is our collective opinion and analysis, that work must be prioritized among Metrolinx, CN and City of Hamilton to allow this train to stop at West Harbour during the 2016 season. The work is already funded. It provides immediate taxpayer return, raises goodwill, and benefits all parties. Let's do it ASAP.
Post a Comment
You must be logged in to comment.