HSR Ridership Drop is No Mystery
It is no surprise that imposing steep fare increases and moving service from abysmal to just bad have failed to produce the desired results.
By Nicholas Kevlahan
Published February 06, 2017
Last week, Hamilton Spectator columnist Andrew Dreschel wrote an article reporting that HSR transit ridership "dropped dramatically ... by about 435,000 trips" in 2016 despite service improvements.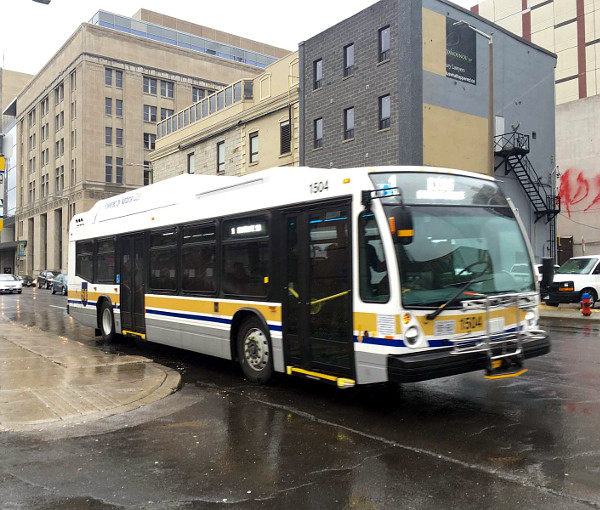 HSR bus (RTH file photo)
He also reported that bus ridership is "either flatlining or declining" from "Toronto to Halifax and from Calgary to Vancouver" and "across the United States", but without giving any figures or dates.
The casual reader would get the impression that transit ridership is in crisis everywhere, despite big service improvements, and no one really knows why.
Those inclined to oppose investment in transit, and particularly those opposed to to the LRT project, will feel vindicated in their opinion that transit is just an unpopular waste of money.
However, this impression would be deeply mistaken. The article gives no context or proper analysis of either the local situation or the longer term trends in transit use.
Decades of Under-Funding
First, although any decline in ridership is disappointing, the proportional drop is only about 2 percent. This is hardly dramatic, but stagnant or dropping ridership is not a new problem for the HSR.
The HSR has suffered from decades of under-funding and repeated vicious cycles of service cuts and fare increases.
In fact, HSR service levels by all measures are far lower than they were 30 years ago, despite population growth and amalgamation. In the 1980s, the HSR carried 29 million riders (38 percent higher than today) and had 50 percent more buses on the road than in 2014.
Not only has service on existing lines been cut dramatically since the early 1990s, but the fast-growing suburbs are not properly serviced, or not serviced at all, because Hamilton's unique area rating formula for transit makes adding new lines to under-served areas politically impossible.
The scale of under-investment is clear from the fact that tax levy funding of the HSR was actually 42 percent lower in 2016 than in 1994 (inflation adjusted).
Last year, former HSR Director David Dixon explained to Council that service was abysmal along the major routes and unable to match demand, with frequent over-capacity buses and drive-bys.
Dixon pointed out that the "city is lagging behind in all targets" and urgently required new investment.
Steep Fare Increases
Council decided to start with steep fare increases and then gradually improve service, with the entire cost borne by the ridership.
In just one year, between September 2015 and September 2016, cash fares rose by about 18 percent from $2.55 to $3.00.
To put this in perspective, over roughly the same period, hydro rates increased by "only" 15 percent for the average consumer - and this has led to widespread outrage and may lose the government the next election! It is not all surprising that HSR lost riders.
On the other hand, the service improvement figures cited by Dreschel might sound impressive, but as Dixon pointed out, they only begin to address the status quo of terrible service levels, let alone decades of under-funding.
They don't provide the sort of real improvements that might actually attract new riders with the option to drive: new lines, extended lines, increased frequency (say, to 15 minutes from 30 minutes), or better service in fast-growing suburbs.
And remember that those new riders would likely be paying the $3 cash fare that jumped 18 percent in one year.
Reasons are Clear
So the reasons for Hamilton's dismal track record over the last three decades are clear: repeated cycles of service cuts and fare hikes, no service to fast-growing suburbs and an unsatisfactory, crowded customer experience on the Main/King corridor that accounts for over 40 percent of all trips.
Added to that is the HSR's poor customer service: no social media presence until late last year, and a website with little information about the organization and a general attitude that riders are not valued customers.
This is echoed by a Council that views transit as a minimal social service for those who can't afford to drive, rather than an essential piece of civic infrastructure that can boost our economy.
We must also not forget that the HSR has no reliable way of measuring ridership. The last comprehensive physical count of riders was done by IBI in 2008-2009 for the 2010 HSR Operational Review.
Basing ridership estimates on revenue could underestimate student pass rides, senior passes and others who don't pay with cash, tickets or presto.
Other Systems Have Been Growing
But isn't this the same story everywhere? Not at all: Hamilton is more or less unique in the deliberate long-term neglect of its transit system.
Over the past decade, other systems have grown their ridership dramatically.
In the period of 2006-2014, St. Catharines, London, Mississauga, York Region, Brampton, Waterloo, Durham saw ridership increases between 21 percent and 101 percent. Hamilton grew by only 5 percent.
While it is true that growth in ridership has levelled off in the last couple of years in many cities, this follows big increases in the previous decade. Even the TTC, which has not significantly improved service levels, saw ridership increase by about 21 percent between 2006 and 2016.
Despite the impression left by this article, other transit systems have seen big ridership increases when they make significant investments in improving and increasing service.
Brampton saw a 101 percent increase in ridership between 2006 and 2013 and Waterloo Region saw a 60 percent increase. Calgary's transit use grew by about 45 percent between 2005 and 2013 - faster than its population.
The reasons for the levelling off of ridership growth in other transit systems in the last couple of years after many years of strong growth are indeed unclear, and it is also unclear whether it is a blip or a long-term trend.
However, real service improvements in Hamilton, especially to the under-served suburbs and in response to demand along the Main/King corridor with the B-line LRT, will definitely lead to increased ridership.
What is no mystery is that imposing steep fare increases and moving service from abysmal to just bad have not produced the desired results.
Post a Comment
You must be logged in to comment.