Television City Development Part of a Successful, Growing City
I honestly never expected that someone would propose such a fantastic urban housing project in our core in my lifetime. But I really never expected that it would be my city administration that would turn it down.
By Jason Leach
Published March 20, 2018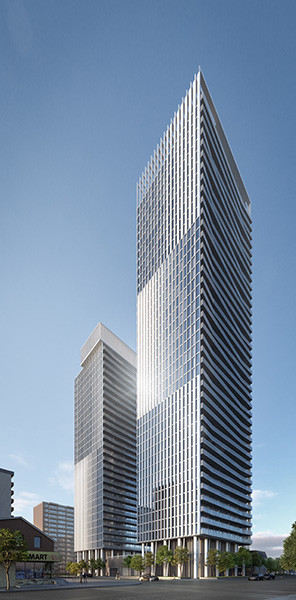 Rendering of Television City proposed development (Image Credit: Lamb Development Corp.)
I never thought I would have either the opportunity or the need to do this, but I need to state my support for the new housing project proposed in our downtown core on the CHCH site.
First of all, we need more housing in this city. Period. It gets tiring to read local development news and see City Hall constantly opposing or trying to shorten new urban development projects. Urban cities either grow or stagnate.
We have sprawled across the countryside for decades and are already paying a steep price for the poor planning: high taxes, way too many kilometres of roads we can't afford to maintain, and a hollowed-out central city.
As a taxpayer living in one of the highest-taxed cities in Ontario, I want many more $300 million, 600-unit investments in my downtown core. I welcome more resident ratepayers sharing the cost of running this city without having to build miles of new suburban roads.
More housing will also help our affordability problems. Anyone who complains about affordability can't in clear conscience turn down an additional supply of homes. And that's what these are: homes for people who want to live in our city.
Perhaps the most important fact of all surrounding new investment in our core can be found by looking at the older high-rises that were built during the last building boom downtown in the 1970s. Every building is full of residents, most have waiting lists, and the prices to purchase or rent are much cheaper than detached or semi-detached street level housing in Hamilton.
Reverse the Decline
I have looked through the letters of opposition to this project (very few considering over a thousand notices went out) and of the ten letters that had a mailing address on them, six are from very nice condo buildings nearby - Bentley Place, Village Hill and Core Lofts. Three are from home owners and one is from a renter.
It's frustrating to see people who already have homes in our city trying to prevent other people from moving in. This is one of the biggest problems underway in Hamilton today: people who already own their nice luxury condo or Victorian home trying to block others from moving into their neighbourhood.
Hamilton's lower city population is 25,000 people fewer today than it was in 1971. I purchased my home in the downtown core with the belief that City Hall wanted to reverse that decline and revitalize the core.
I have long hoped that we would add a hundred thousand people to the core, not keep it depressed and with a shrunken population. I would have invested elsewhere had I known my civic administration is happy with the the economically stagnant status quo.
Cities Grow Over Time
In the vibrant downtown of a major city, there is no such thing as "over-intensification" of a site. This concept is a peculiar Hamilton thing because we reflexively oppose anything more dense than single-family sprawl neighbourhoods.
The neighbourhood around this development is already full of high-rise buildings. The staff report conveniently omits the fact that one block from Television City there is a 28-storey and a soon-to-be-finished 32-storey building.
Why are a few homes on Wesanford taking precedent over the existing tall-building character of the neighbourhood? This would be like the ten-storey building on Rymal near Upper Wentworth now taking precedent every time a new home is proposed in that part of the city.
Here's the thing: cities grow larger over time. The idea of a new building needing to match the buildings next door is a recipe for stagnation. Consider the following:
The Pigott Building, Hamilton's first skyscraper, was far taller than anything else around it when it was built.

When City Hall was built, it was like a spaceship plopped into an old Victorian downtown. Now it's a protected heritage landmark.

The famous Hambly House on Longwood Road North doesn't match the old brick bungalows that surround it on all sides.

The Red Hill Valley Parkway certainly didn't match the trees and river surrounding it.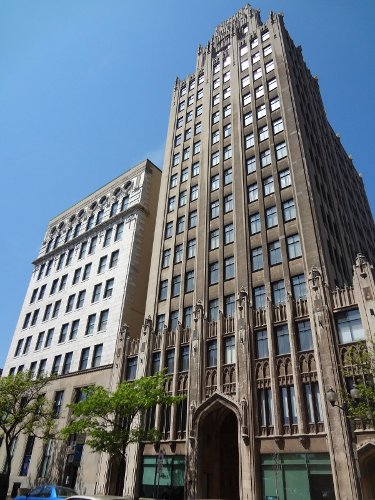 Pigott Building (RTH file photo)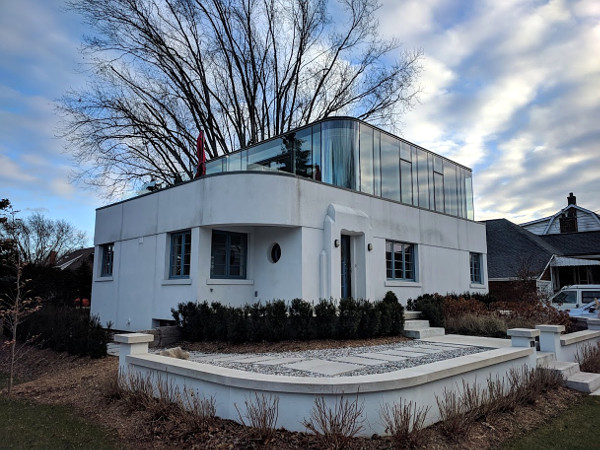 Hambly House on Longwood Road North (RTH file photo)
In none of those cases was there a successful argument that the new development should not be allowed because it didn't match the existing neighbourhood character.
Nothing will ever be built again if we honestly adopt this notion of matching to the current conditions next door. Even suburban homes with two-car garages don't match the grassy farmers fields next door.
As the staff report points out, this project conforms with the most important planning boxes: the Regional Growth Plan (Places to Grow), the Provincial Policy Statement, and the City's Official Plan. It is transit-oriented, pedestrian- and bike-friendly, mixed use, adds new residents, and has a variety of units from studios right through to three-bedrooms.
Cities Grow Over Time
We need to address the Escarpment red herring. Buildings that are taller than the escarpment have already existed for decades and nobody noticed or cared. This proposed building is shorter than our tallest building, which was built 45 years ago. Are we really 'ambitious' or 'unstoppable'? Or are we going backwards?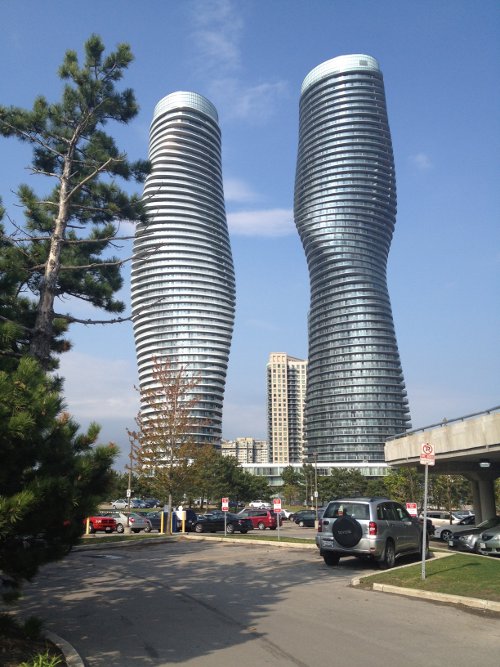 Absolute World, Mississauga, at 56 and 50 storeys (RTH file photo)
Most cities crave for a new tallest building to show that they're alive and building a modern city. Mississauga hosted a world-wide competition for their new tallest. It's now an international landmark. That city is now seeing buildings of 65 storeys.
Little Vaughan, Ontario is seeing buildings of 55 storeys. Edmonton, Alberta just approved 80 storeys. Brooklyn, new York just approved a 1,000 foot tower, equal to 100 storeys.
In all of these cases, these buildings are far taller than anything else ever built in those cities - just like the Century 21 on Main Street East was here back in the 1970s.
Why is it that the least dense urban form is always the one given the most clout in Hamilton's planning decisons? We already have buildings in the 30-43 storey range in our downtown core. Based on recent development applications, this seems to be where most builders are looking to max out their heights: the 30-40 storey range.
What exactly are we accomplishing by allowing 25 or 30 stories, but not 35 or 40?
Some folks suggest that we should be more like Paris or Vienna with a 6-8 storey height throughout the city in order to achieve density without tall buildings. That is fine in theory, but it would require the purchase of all properties from Dundas to Stoney Creek, full demolition, and a total rebuild on every block at 6-8 stories.
Who is volunteering to put their home on the market first?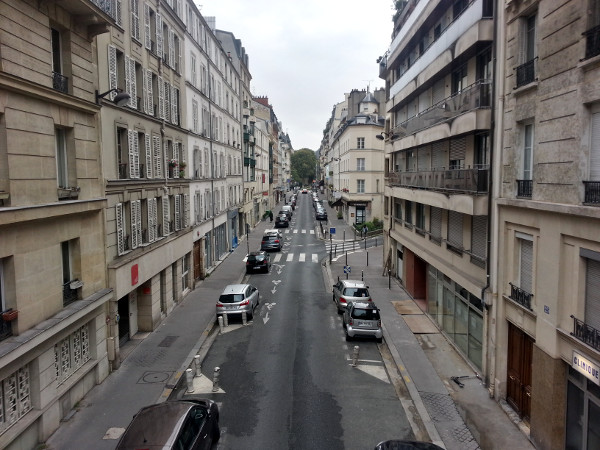 Six-storey streetwalls in Paris (RTH file photo)
Finally, look at the new development zones outside of the historic central cities of places like Paris and Vienna. Dense, modern high-rise towers with mixed-use streetscapes. In North America, we need to add the density where we can: mostly in the city centre, but also along all major thoroughfares city-wide.
The only way to raise our average density is to go tall where we can to make up for the existing stock of low-density housing.
Post a Comment
You must be logged in to comment.