Suburban Councillors Don't Understand What Cities Need
By Jason Leach
Published November 12, 2009
Check out the following list and map of how our City Councillors voted last night on the 15 cent HSR fare increase.
For the Fare Increase: Fred Eisenberger (Mayor), Tom Jackson (Ward 6), Brad Clark (Ward 9, Stoney Creek), Maria Pearson (Ward 10, Stoney Creek), Dave Mitchell (Ward 11, Glanbrook), Lloyd Ferguson (Ward 12, Ancaster), Russ Powers (Ward 13, Dundas), Robert Pasuta (Ward 14, Flamborough), Margaret McCarthy (Ward 15, Flamborough)

Against the Fare Increase: Brian McHattie (Ward 1), Bob Bratina (Ward 2), Bernie Morelli (Ward 3), Sam Merulla (Ward 4), Chad Collins (Ward 5), Scott Duvall (Ward 7), Terry Whitehead (Ward 8)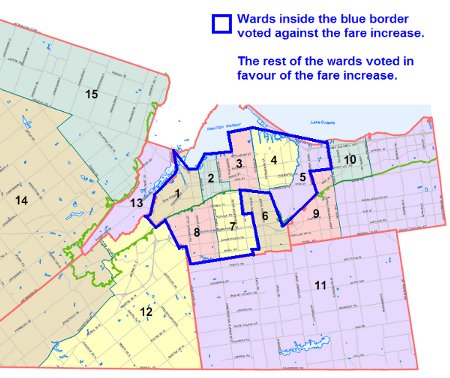 Click the image to view full-size
Council votes on fare increase by ward: wards inside blue border voted against the fare increase. (Image source: City of Hamilton [PDF link])
This is exactly why we need to get rid of area rating. The suburbs don't pay their fair share to begin with, and then they all vote together against the urban councillors to keep jacking up the fares.
I warned of this after amalgamation. We have more suburban wards in Hamilton than urban: what a great way to run a city of half a million people.
People who don't actually live in the city and don't know a thing about cities are voting on critical urban issues.
Post a Comment
You must be logged in to comment.