James North Faultlines Reflect Ambivalent City
If we're serious about providing pathways for people to move out of poverty, we need to get better at supporting and cultivating the kinds of business startups that radicals fear are the vanguard of a yuppie invasion.
By Ryan McGreal
Published December 14, 2010
An op-ed in today's Spectator confronts the clash of values that has been brewing over the fate of James Street North. Roger Abbiss, the founder of Westdale cafe My Dog Joe and the Mulberry Street Coffeehouse on James North, argues that economic development is what alleviates poverty.
The unfortunate places where poverty still persists on a large scale are a direct result of a lack of economic development. This is true regardless of the reason that economic development did not take hold. That Hamilton's economy is in shatters and that there are too many poverty stricken neighbourhoods in Hamilton is no coincidence.
Of course, not everyone sees it that way. While many people celebrate the slow, steady reinvestment into our downtown core and specifically James North, others see only the threat of "yuppie condos" displacing the poor.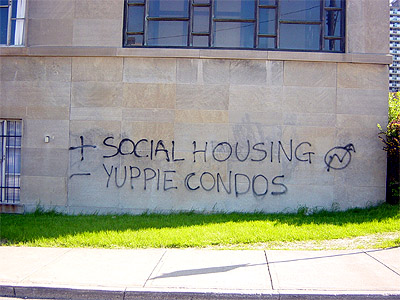 Anti-gentrification graffiti (RTH file photo)
A recent essay in Mayday Magazine, the flagship publication of the Sky Dragon Centre on King William, articulates the case against gentrification:
Let's cut the crap - what's happening on James Street North is gentrification. Phrases like "economic development" and "revitalizing the core" are just euphemisms for the stark reality of replacing one group of people with another, more desirable group.

We in the arts scene, along with politicians and business owners, often talk about improving the downtown community. But too often that phrase means "we want our community to exist in the space where yours used to be".
Calling artists the "foot-soldiers of gentrification", Daniel O'Rourke argues that the owners of art galleries organize shows and events to attract more affluent customers. Their presence then creates a market for more permanent upscale amenities - cafes, clubs, renovated apartments and condos - which drive up the cost of living and displace the poor people who were living there before.
O'Rourke concludes that the artists themselves are duped:
The way this story usually ends is that the arts community will be driven out in turn. Slowly, the grants will dry up, the prices will keep increasing, and rezoning applications will be approved. Then the ultimate goal of the gentrification project will become apparent: to fill the downtown neighbourhood with young professionals...
A downtown full of young professionals: quels horreurs.
More Nuanced
Other artists are more sanguine, or at least more nuanced, in their assessments of the gentrification threat. A recent essay in H Magazine, the arts and urban culture journal based out of Dave Kuruc's Mixed Media shop at James North and Cannon, draws a distinction between urban reinvestment by foreign-based corporate entities and urban reinvestment by local entrepreneurs.
In Hamilton, we have to ask how much of the inner city improvement is thrust upon us by outside forces? Thus far, outside investors remain relatively disinterested in downtown Hamilton. Meanwhile, local entrepreneurs are seeing opportunities in areas such as James Street North. Many of the studios on James North are artist-owned and operate as live-work spaces, which means that the owners are also residents and therefore have an interest in promoting a vibrant yet affordable environment. The impetus of the James North revitalization is small business – a group that is usually classified as a victim of gentrification.

The Hamilton Spectator recently reported on local entrepreneurs such as Brad Chichakian, Heather South, Jeremy Greenspan of The Brain, and Roger Abbiss of My Dog Joe Coffeehouse, who are answering the call from local residents for more social gathering places on James North. This is not a case of big business imposing its will; the changes on James North are developing organically out of the growing arts community and the subsequent need for art space, cafés, bars and retail stores to serve that community.
The author of the essay, Julie Gordon, concludes: "At this point in time, our gentrification fear is premature. Downtown Hamilton remains largely unattractive to outside real estate investors because the setup cost is substantial and the economic return is minimal."
In Defence of Gentrification
A couple of years ago, in an article about James North, I argued that gentrification is not as cut-and-dried as its opponents make it out to be. Notwithstanding the anecdotes about poor people being crowded out of emerging yuppie enclaves, the actual data on gentrification are more complex.
Poor people tend to have high rates of movement, and there is some evidence that economic reinvestment actually produces a modest anchoring effect - that the higher costs are offset by increased employment opportunities and improvements in neighbourhood safety.
Partly on the strength (or weakness) of that essay, I was invited to sit on a panel discussion on gentrification that was organized by Common Cause and held at Sky Dragon. I argued that suburban sprawl is an ecological, social and economic disaster-in-slow-motion and that we need to find ways to integrate large numbers of people back into cities.
I suggested that it's better to have to deal with the problems associated with urban property values increasing because of increasing demand than with the problems of urban property values falling through middle-class flight and disinvestment.
The other panelists - and most of the audience - took a much different view. At one point I was listening to an activist rail against "bourgeois" cyclists demanding bike lanes when they should be demonstrating against poverty instead.
Economic Development
Of course, this brings us full circle to Abbiss's op-ed: the way to eliminate poverty is through economic development. All ideology aside, this is the only thing that has ever worked.
Cities, of course, function as tremendous engines of economic development by the sheer fact of their organization: bringing large numbers of people in close proximity increases the rate of innovation while simultaneously increasing the productivity of public infrastructure.
As long as the regulatory environment doesn't get in the way of business creation, cities will inevitably create wealth through the actions of large numbers of entrepreneurial individuals and partnerships trying things out, listening to customers, looking for unrealized efficiencies and untapped niches.
The biggest obstacle facing Hamilton is not the threat of economic development and wealth creation; it's an ingrained regulatory system that might as well have been designed to make this kind of entrepreneurial development impossible.
As Gordon argues in her H Mag essay, the people investing in urban neighbourhoods like James North are doing it not to turn a fast profit but to contribute toward improving their own community in a manner reminiscent of Jane Jacobs' "unslumming" mode of urban revitalization.
This kind of creative, bootstrapped, small-scale business development is precisely what Hamilton needs. As Adrian Duyzer pointed out not long ago, while large, established corporations have been net job destroyers over the past few decades, nearly all net new jobs have come from young, small businesses.
If we're serious about providing pathways for people to move out of poverty, we need to get better at supporting and cultivating the kinds of business startups that radicals fear are the vanguard of a yuppie invasion.
Instead of romanticizing abject poverty and despair, we should focus our energies on clearing away the arbitrary and infuriating obstacles that deter people from trying to combine vacant properties and innovative ideas into productive centres that anchor neighbourhoods and create wealth.
Post a Comment
You must be logged in to comment.