A Work in Progress: James North in Transition
Three new projects on James Street North showcase a neighbourhood coming back to life.
By Ryan McGreal
Published September 11, 2008
The Google philosophy for application development is launch early and iterate. That also seems to be a good motto for the revitalization of James Street North.
Artists have been taking root on the street for the past few years, including The Print Studio, The Factory, Hamilton Artists Inc, Hamilton HIStory and HERitage, and Under The Moon, among several others.
One of the most visible faces of that revitalization is Dave Kuruc, owner of the Mixed Media art shop and the publisher of H Magazine, a monthly exploration of art, architecture, and urban culture.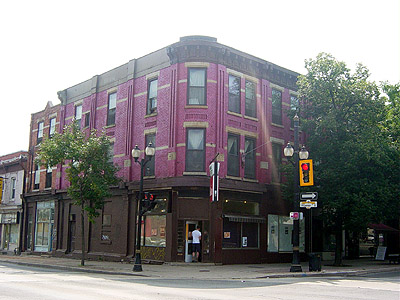 New location for Mixed Media: 174 James North (at Cannon)
Mixed Media just moved a block south to the building at the 174 James St. North (at Cannon), next to Loose Canon Gallery. Dave and his wife Teresa put their money where their mouths were and bought the building, for $400,000 from a Toronto landlord.
The mighty Paul Wilson wrote an excellent piece on the move in his August 29, 2008 column in the Spectator, noting their discovery of some amazing architecture preserved behind drop ceilings, accumulated signs and layers of linoleum.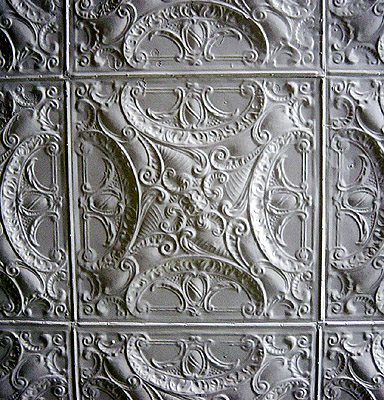 Beautiful tin ceiling in new Mixed Media store
I was there last week and the store was nominally open, but boxes still sat on the floor and the door in the process of being painted (by fellow James North resident Gary Buttrum, about whom more below).
Dave pointed out that the building is a work in progress and said he thinks people are happy to be able to come in and see the progression.
"If this were just an art shop and nothing else, then we might as well locate in a strip mall on the Mountain," Dave explained. "It's more than that - we're trying to help build a community, and I think people respect that."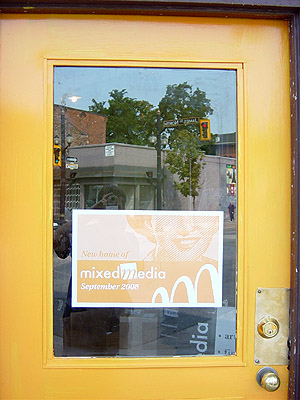 Freshly painted front door
Dave and Teresa, who are expecting their first child later this year, plan to convert some of the upstairs space in their building into rental studio space and leave a couple as apartments.
Downtown Bike Hounds
RTH contributor Sean Burak will occupy the other storefront space in the building, around the corner on Cannon. He's busy getting ready to open Downtown Bike Hounds, a new bike store that will offer repairs and tune-ups, essential accessories (lights, bells, fenders, locks), other parts, and refurbished bikes for sale.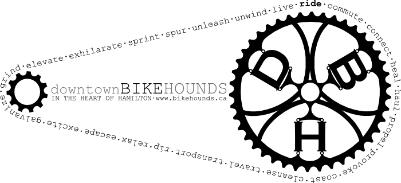 Downtown Bike Hounds logo
At first, new bikes will only be available through special order, but Burak isn't casting anything in stone until he has a chance to assess demand.
Burak plans to focus not on high-end or niche markets, but rather on "the everyday cyclist who needs to get around the city in all weather, and has fun doing so by bike."
He feels this demographic is under-represented, and wants to give utility cyclists a better customer experience than merely buying a bike from a department store.
Burak has a passion for cycling, not only for fun but also for utility. "The bike is a simple solution to a huge problem - moving people and goods quickly and efficiently, while minimizing both monetary and social costs."
He notes that there are no bike stores between the east end and Westdale, but downtown has a dense population and a large proportion of residents who need affordable transportation options.
"When I started to seriously think about opening a shop, there was no question in my mind about where it was going to be."
He adds, "As far as the specific corner, there was a great opportunity for me to move into a fantastic space, and even more importantly, James North is doing quite well, and is one of the best places in the city to expose a business to foot traffic."
Noting his frustration with bike shops that keep regular business hours, he also plans operate during the afternoon and early evening - when bike commuters actually need repairs.
"Full time employment often means you can't get to a shop unless you go on Saturdays or during later hours on Fridays if available."
Getting into the community building spirit, Burak plans to donate salveaged and rehabilitated children's bikes, offer free workshops at community events, and host group rides to explore burgeoning downtown neighbourhoods.
He believes a bike shop will add to the mix of amenities an a street that is evolving beyond the arts scene that spurred it back to life.
Burak plans a "soft opening" on October 1 and a grand opening to coincide with the Friday, October 10 James North Art Crawl.
Renovations Above La Petite Spa
Two doors down, at 146 James North, Gary Buttrum and his business partner are busy renovating the the apartment above La Petite Spa, a boutique specializing in manicures, pedicures, hair removal, and general pampering.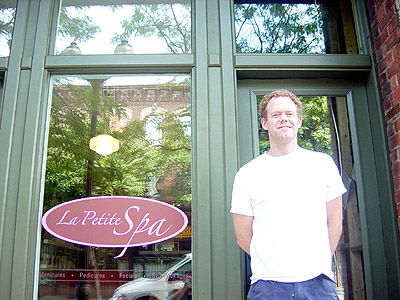 Gary Buttrum stands in front of the new facade for La Petite Spa
Buttrum completed the new storefront facade a few months ago, and is now working on converting the second and third floor into a single two-story apartment.
He's completely gutted the building and replaced the staircases, framing and insulating every room, installing radiant floor heating and replacing the plumbing and wiring.
The third-floor kitchen opens into an approximately 8' by 16' balcony that looks out into the quasi-private rooftop space inside the block, recently decked in cedar boards. It includes a gas hookup for a barbecue.
Buttrum wanted to create a high-quality urban living space, so he's putting a lot of effort into the details. As he jokingly put it, "I don't want it to be apartment building living where you can hear your neighbour fart."
Hence, the unit is fully insulated instead of leaving exposed brick walls. This will keep it both warmer and quieter.
He also decided to go with radiant floor heating instead of the more conventional forced air furnace. Rather than heating up the air just below the ceiling, heat radiates off the floor from radiant pipes, delivering warmth where people actually live. With the vaulted ceilings, this just makes sense.
Buttrum wouldn't be drawn on when the renovation will be complete, citing a seemingly endless string of those niggling problems that always accompany ambitious renovations, but he was clearly proud of the work he's done so far.
As the street continues to turn around, such projects will become more and more common and people restore vacant buildings, reinvest in run-down properties and carve out a vibrant neighbourhood.
Sidebar: Gentrification
The arts are a well-known vector of urban revitalization. Artists and other bohemians are often willing to move into 'edgy' urban neighbourhoods with great buildings, lots of character and unconventional local cultures.
Such neighbourhoods are often impoverished, usually disinvested and frequently run down. The artists are the first ones to try and take back the neighbourhood from despair and dissolution, one building and then one block at a time.
As the neighbourhood starts to draw arts patrons, the presence of potential customers begins to attract other investors and business entrepreneurs. They gradually start to fill the void in local amenities, accelerating the pace of revitalization.
The artists help create a space for other creative professionals, who in turn help create a space for affluent post-boomers and downsizing empty-nesters in general, attracted by the charm, density and close proximity to urban amenities.
Crime rates go down (at least locally) when more "eyes on the street" take an interest in neighbourhood safety and criminal operations are exposed and shut down.
At the same time, long-time residents may be displaced and dispersed to non-gentrified areas as rents and property taxes go up to reflect the rising value of the buildings.
This causes friction and conflict, not only between the new urbanists and the brokers of misery (drug dealers, pimps and so on), but also between affluent property owners spending money to upgrade their buildings and the long-time residents who often cannot afford to stay.
Eventually, the "bourgeois" values of the gentrified neighbourhood may start to close ranks politically against the poor, with stricter laws against homelessness, conversion of apartments to condos, zoning by-laws to shut down undesirable businesses and building uses, and so on.
However, this thesis is controversial among social scientists. A number of studies have suggested that the migration rates of gentrifying neighbourhoods are not significantly different from those of non-gentrifying neighbourhoods.
A published study by Lance Freeman, an urban planning professor at Columbia University, actually suggests that gentrification makes it less likely that a poor resident will move out of a neighbourhood.
The higher costs are offset by improving job prospects, increased safety, and better local amenities, both public and private.
Contributing to the perception of displacement is the fact that urban neighbourhoods have high rates of turnover anyway, but that the people moving into a gentrifying neighbourhood are more likely to be affluent.
At the same time, gentrification leads to increasing density. While less-affluent residents continue to follow their existing patterns of high turnover, affluent newcomers move into otherwise vacant buildings without having to displace anyone, but start to compose a higher proportion of an (also growing) total population.
Mixed Use Makes Liveable Neighbourhoods
In addressing the issue of neighbourhood affordability and accessibility, it's important to remember first, as James Howard Kunstler points out, that it is an historical abnormality that in North American cities, the poor people are mostly concentrated in the downtown core.
Cities have always had rich and poor residents, but historically in North America, and currently in most of the world, the rich live downtown and the poor live in the periphery.
During the heyday of cheap, abundant gasoline and widespread auto-mobility in North America, this pattern has reversed itself, with everyone who can afford it leaving the core and moving to a suburban house.
This is going to change as the century-long heydey of cheap, abundant petroleum winds down and demographic shifts start to move people back into urban centres.
That shift will be painful for poor and working class people trying to find somewhere they can afford to live. Today, the phenomenon of "driving 'til you qualify" is already well-known in the mortgage and real estate industries; but it will no longer be feasible to live far from where you work as fuel prices continue to rise and become more volatile.
Gentrifying urban neighbourhoods need to promote mixed use through their development to ensure that the city has room for everyone.
Neighbourhood plans should require or strongly encourage the principle that buildings and blocks should have a variety of housing types: small houses, big houses, condos, apartments, and subsidized units, as well as various non-residential uses.
This accomplishes several goals simultaneously, including bringing rich and poor people into contact, allowing people to remain in the same neighbourhood when their family circumstances change, and preventing the ghettoization of poor residents. It also reduces the need for costly automobile tranasportation.
Urban planning won't solve the problem of poverty and income disparity, but it can be part of a successful strategy or ensuring that even the poor have safe, healthy neighbourhoods and opportunities for employment, community engagement and social interaction.
Post a Comment
You must be logged in to comment.