There are Better Solutions Than Demolition
City Council needs to call a halt to the planned demolitions on Gore Park, at least until the developer can present a real plan for the site and get input from the public.
By Connie Kidd
Published June 25, 2013
It is a terrible shame that City Council would allow the demolition of heritage buildings without any knowledge of what will replace them, or when.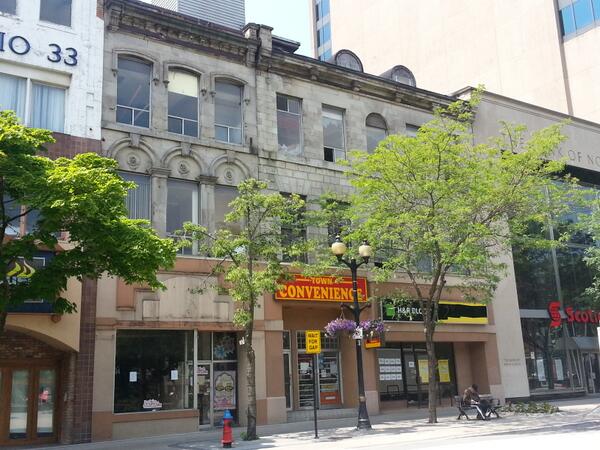 18-28 King Street East (RTH file photo)
We don't really need another demolition mudhole facing Gore Park like the one Wilson-Blanchard already created at 30 King Street East. Nor do we need another tasteless concrete-and-glass monstrosity where beautiful historic buildings used to be.
City Council needs to call a halt to this demolition at least until the developer can present a real plan for the site and get input from the public. This is not simply a 'business' issue: It's a matter of civic responsibility.
Unfortunately, the developers do not feel this way. Robert Miles, senior propery manager for Wilson-Blanchard, recently sent me an email reply stating they are "waiting for people like you to put your money where your mouth is if you want to pay to maintain these relics".
He added, "If we could make money with them we would not be going to all the headaches to take them down," but that they are going to maintain the facade of 18-22 "if possible".
I encourage Wilson-Blanchard to consider the business case as experienced in Toronto and reported by CBC Hamilton's Paul Wilson in May.
He quotes Ryan Love of E.R.A. Architects, referring to a row of vintage storefronts: "From a sales standpoint, it's a large benefit to have these authentic structures."
I encourage City Council to reconsider heritage designation for 24 and 28 King Street East and halt demolition, especially in light of Wilson-Blanchard's intent to leave the site vacant for several years, and their lack of clarity on what we can 'eventually' expect in that critical Gore Park streetscape.
The vacant lots will actually interfere with the City's current efforts to populate the Gore Park Promenade and activate the city centre.
These early Canada facades should be saved, and the buildings facing Gore Park should not be left empty for several years at this critical time.
City Councillors need to fully consider the reality of their 'legacy' of demolished heritage buildings and vacant lots where there used to be heritage buildings in the very heart of the city ... as they go into an election year.
Frankly, I wouldn't want to be in their shoes, and I can't quite comprehend how they've allowed this to evolve in this manner so totally counterproductive to what they're otherwise actively trying to accomplish in the Gore.
I am sure there must be better solutions.
Post a Comment
You must be logged in to comment.