New McMaster Report: Shaping Hamilton with Complete Streets
A new report by the McMaster Institute for Transportation and Logistics reviews the opportunities for Hamilton to adopt a street design approach to make our streets safer, more inclusive and more economically prosperous.
By Ryan McGreal
Published June 15, 2015
A new report by McMaster Institute for Transportation and Logistics (MITL) reviews the opportunities for Hamilton to adopt a street design approach to make our streets safer, more inclusive and more economically prosperous.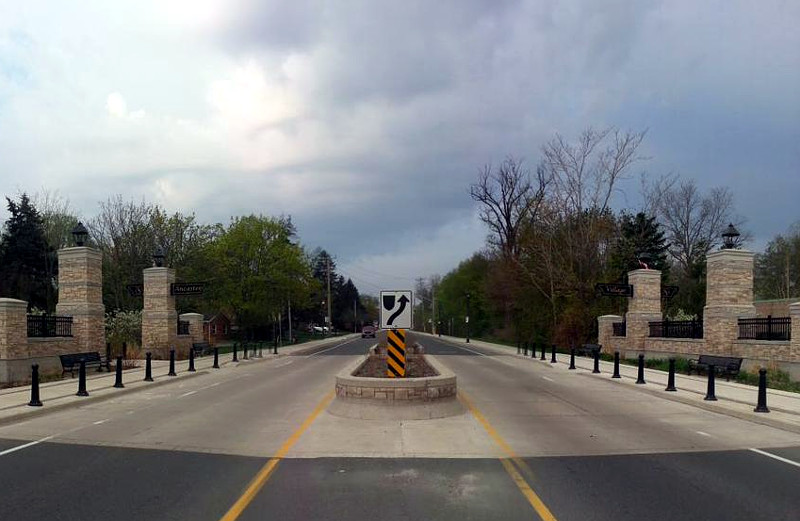 Wilson Street in Ancaster (RTH file photo)
The report, titled Shaping Hamilton with Complete Streets [PDF], reviews the concept and research on the "complete streets" philosophy of road design and applies it to the specific Hamilton context. (Disclosure: last year, I reviewed an early draft of this report.)
A "complete streets" approach to roadway design is an approach that seeks to do two things: 1) regulate and calm dangerous automobile traffic; and 2) increase accessibility and connectivity for other transportation modes like walking, cycling and transit.
The conclusion suggests that the first objective is arguably more critical than the second, since calming automobile traffic naturally makes a street more accommodating to other modes.
The report cites Wilson Street in downtown Ancaster as a good local example of a complete streets approach. Wilson is a two-way street that carries 19,000 automobiles a day with one lane in each direction. It recently enjoyed a makeover that incorporated bike lanes, a centre median, turn pockets and other traffic-calming amenities.
There are several design tools that traffic engineers can use to achieve these goals on a given street, including:
Road Diet - reducing the number of automobile lanes to provide more space for walking, cycling and vehicle turns.

Lane Narrowing - reducing the width of each automobile lane in order to reduce vehicle speeds.

Green Landscaping - planting trees close to the street to create visual cues to slow down, improve aesthetics and raise property values.

Roundabouts - changing the design of high-conflict intersections to reduce conflict and smooth traffic flow.

Two-Way Conversion - turning a multi-lane one-way street into a two-way street.

Deflection Measures - physical structures on the street that force drivers to slow down, like speed bumps, speed humps, speed tables, bumpouts, rumble strips and chicanes.
The report also reviews the data on safety outcomes from traffic calming measures, including this impressive summary of 50 studies:
Pedestrian Safety Interventions and Resulting Safety Effects
Safety Measure
Types of Pedestrian Crash under Influence
Attained/Estimated Safety Effect
Source: Jensen, S. U. (1999). Pedestrian Safety in Denmark. Transportation Research Record: Journal of the Transportation Research Board (1674), 61-69.
Speed reduction of 0.5-18km/h
All pedestrian crashes
-17% to -92%
Sidewalk
All pedestrian crashes
Crash reducing
Combined, two-way foot- and cycle path
All pedestrian crashes
-37%
Pedestrianization of street
All pedestrian crashes
-82% to -100%
From two-way to one-way street
All pedestrian crashes
-34% to -62%
Zebra crossing on road link
Crashes with crossing pedestrians
+50% to -50%
Zebra crossing at non-signalized junction
Crashes with crossing pedestrians
+127% to -35%
Footbridge
Crashes with crossing pedestrians
-85%
Side road pedestrian refuge with curb
All pedestrian crashes
+50% to -27%
Other pedestrian refuge with curb
All pedestrian crashes
+27% to -81%
Central reserve - marked or with curb
Crashes with crossing pedestrians
-57% to -82%
Guard rails on central reserve or at sidewalk
All pedestrian crashes
-20% to -48%
Signalization of a zebra crossing on a road link
Crashes with crossing pedestrians
-20% to -35%
Roundabout
All pedestrian crashes
-46% to -89%
Signalization of junction
All pedestrian crashes
0% to -70%
Exclusive pedestrian signal phase, scramble
All pedestrian crashes
-7% to -63%
Road lighting
Pedestrian crashes in dark
-35% to -45%
Improved lighting at pedestrian crossing
Pedestrian crashes in dark
-30% to -62%
Reflector, reflective strip
Pedestrian crashes in dark
-89%
Another study, which reviewed speed humps and speed tables at 18 locations in Salt Lake City, found that they reduced speeding and improved speed limit compliance. The total number of collisions was reduced slightly, but there was a large reduction in the severity of those collisions and the corresponding injuries.
On the economic side, the report includes case studies of several complete streets renovations that resulted in increased retail sales and improvements in economic vibrancy.
The report also argues that a complete streets approach has construction costs that are similar and in some cases even cheaper than conventional cars-first road design.
Light Rail Transit
Significantly for Hamilton, the report argues, a complete streets approach supports and reinforces the goal of leveraging our light rail transit (LRT) line to maximize its overall benefits.
Complete Streets stand as an important element in implementing transit-oriented development within LRT station areas. With the project now funded, Complete Streets should be viewed as an important element for achieving the greatest possible return on investment for LRT.
The report also argues that there are benefits of moving ahead with complete streets in advance of the opening of the LRT line to make them more "Rapid Ready", i.e. "safer, more economically vibrant, and even better places to live."
One-Way and Two-Way Streets
Not surprisingly, the report gives considerable treatment to Hamilton's legacy of one-way arterial streets.
In the post-war period, many North American cities converted important arterials to travel in one direction, consistent with a traffic engineering mindset that the most important objective was maximization of vehicular traffic flow.
While conceding that one-way streets do, in fact, accommodate high volumes of fast vehicular traffic, the report argues that maximizing traffic flow is not the most important goal of a city street.
Rather, the goal in a city should be "to maximize overall accessibility, or the rate at which large numbers of people reach their destinations." Toward this end, one-way streets are a worse choice because they make it more difficult for people to reach local destinations.
Two-way traffic makes a street more accessible and well-connected, for obvious reasons: it becomes possible to reach a given destination from either direction, and the number of possible routes to a destination increases.
Since connectivity and accessibility are core advantages of a city, two-way traffic is better for local economic vitality. "Most observers link two-way travel, and its improved connectivity, to a more livable street environment."
Multi-lane one-way streets do the opposite:
In contrast, multiple lane one-way streets are in many ways associated with the traffic symptoms that road diets and other traffic calming measures explored above seek to address: excessive speeds, more potential for aggressive driving behaviour, greater risk of pedestrian injury, and an unwelcoming pedestrian environment.
That unwelcoming environment deters pedestrians, reduces the vitality of local street retail, depresses property values and weakens the essential economies under which urban environments create value.
Hamilton Case Studies
Every street is different and there is no single one-size-fits-all design that we can apply everywhere, but "complete streets concepts can apply most anywhere in Hamilton because they are sound concepts."
That said, different contexts call for different combinations of tools from the complete streets toolkit. The report looked at 15 specific streets in Hamilton to assess their potential for complete streets treatment, organized into a few groups: Neighbourhood Commercial Strips, Major Commercial Arterials, Major Arterial Thoroughfares, Central Arterials, and Suburban Arterials.
Neighbourhood Commercial Strips
This section looks at complete streets opportunities on Locke Street, James Street North and Concession Street, noting great potential for local economic vitality by increasing connectivity and reducing vehicle speeds.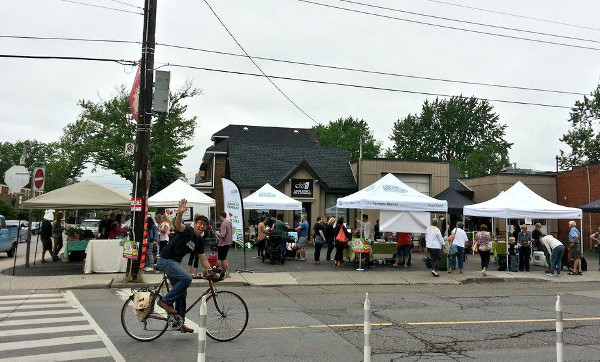 Local urban farmer Russ Ohrt waves from a bicycle in front of the Locke Street Farmers' Market (RTH file photo)
On Locke Street, the report recommends de-emphasizing through traffic and enhancing the pedestrian experience through wider sidewalks and possible defined bike lanes. It recommends a speed limit of 30 km/h instead of the current 50 km/h, which the report considers "excessive".
James North has an even greater potential to reduce the need to drive through a superior walking environment, noting that the inclusion of a north-south LRT spur "is quite likely to reduce the prominence of the automobile here".
On Concession, however, local movement has "more of an automobile orientation than the other two cases" and "pedestrian activity is typically not high." Complete streets alone will not be enough to overcome the broader automobile-oriented context that is hurting economic vibrancy on Concession.
Major Commercial Arterials
This section looks at Upper James and Centennial. Upper James, unlike its lower-city namesake, is "highly auto-oriented", though the section between Fennell and the Linc is more compact than the sprawling section between the Linc and Rymal Road, which carries over 40,000 cars a day.
North of Fennell, Upper James has a more compact, urban form but lacks vibrancy due in significant part to the high volume and speed of automobile traffic.
Sadly, the report concludes "there is not a great deal from a complete streets perspective hat can undo what has been done" on Upper James. I was hoping to see a dramatic recommendation for a grand boulevard that would accommodate fast through traffic on central lanes and slower, more inclusive travel on local 'collector lanes'.
Queenston Road is presented as a "more moderate" case of the same automobile-oriented planning that produced Upper James, right down to the demarcation between more compact development west of the Red Hill Valley Parkway (RHVP) and more sprawling development to the east.
The report is similarly despairing of potential to apply complete streets principles on Queenston, limiting its suggestions to lower speed limits, police enforcement and "design cues that might moderate speeds".
Longwood Road
Defined as a Major Arterial Thoroughfare, Longwood Road has been undergoing a redevelopment plan for the past several years, and despite the stated objectives of making the street more pedestrian-friendly, the plan calls for two wide travel lanes in each direction, plus a dedicated turn lane.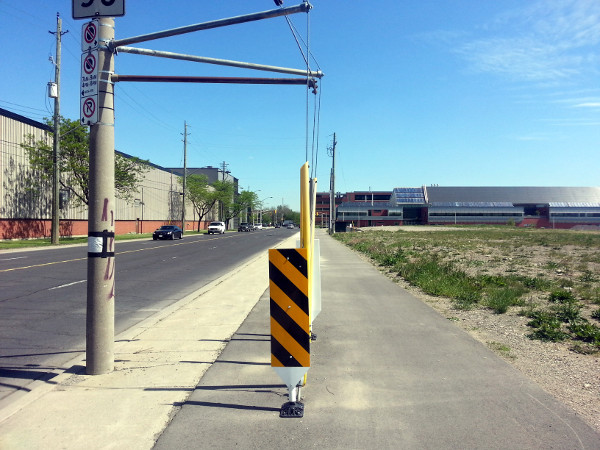 Half-assed off-street bike lane on Longwood between Aberdeen and Frid (RTH file photo)
According to the report, Longwood Road carries 22,000 cars a day south of Main based on 2012 counts, in addition to relatively high levels of walking and cycling, including 1,800 pedestrians a day crossing the intersection of Main and Longwood.
The City's current plan is to build a new pedestrian and cyclist bridge across Highway 403 adjacent to Longwood Road, but this is a very expensive undertaking.
The report makes a controversial counter-proposal: convert Longwood to one-way northbound between Main and King, turning the entire Main-Longwood-King-Paradise block into a de-facto roundabout.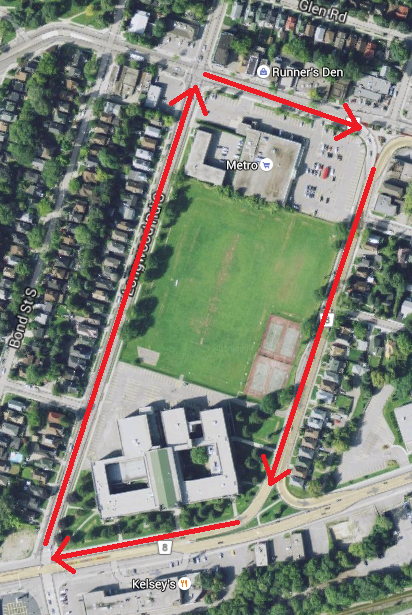 Proposed de-facto roundabout on Main, Longwood, King and Paradise (Image Credit: Google Maps)
This seems like a terrible idea. The one-way southbound Paradise Road is already off-putting and inhospitable to pedestrians, and turning Longwood into a one-way northbound street would do the same to that street.
It would likely increase overall traffic by making Longwood less accessible, forcing people to circle a large block instead of driving directly.
The report suggests that some of the southbound traffic on Longwood is drivers short-cutting down Marion Avenue instead of staying on King Street and that makind Longwood one-way northbound would eliminate this, but it seems to me that it would create more problems than it solves.
The report notes that the traffic volume of 22,000 cars a day makes Longwood a challenge to tame, but the report's own conclusion notes that "the worst fears with regard to traffic congestion rarely materialize" when roads are put on a diet.
This is because people's travel behaviour is actually a lot more flexible than most people might think.
In the short run, people shift modes, defer trips, take alternate routes or refrain from making a trip altogether. This phenomenon is known as "disappearing traffic" and it is the reverse of induced traffic that occurs in the presence of excess infrastructure for cars. In the long run, somewhat reducing the relative attractiveness of automobile travel in certain cases can literally "shape" the city by increasing population densities in desirable areas with extensive complete streets treatments.
It does note that this becomes more difficult in highly automobile-oriented streets with more than 30,000 cars a day, but that does not apply to Longwood.
Main, King and Cannon
In the section on Main, the report notes, "there is something unsettling about the five lane convoys of oncoming traffic that make their way east down Main Street in periodic bursts. It means that the road surface is used less efficiently and it means that left and right turns may well require a lot of lane changing manoeuvres."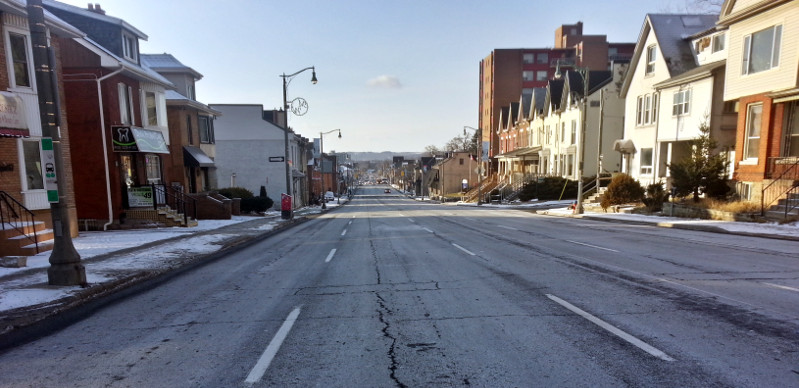 Main Street West (RTH file photo)
This is the "platooning" effect of Main Street's timed lights, in which cars are all lumped together in large bunches that roar down the street together, interspersed with stretches in which the street is desolate.
In what might be the understatement of the report, "Overall, the case is fairly convincing, and the literature suggests, that these walls of fast-moving traffic limit the vitality of the immediate surrounding areas."
While Main and Cannon Streets were converted into a "paired" one-way network, the pairing has weakened as traffic volumes went up on Main but went down on Cannon. "In retrospect, the conversions were likely a mistake but one that is easily explained by the trends of the time."
However, conversion back to two-way "might be cost-prohibitive" due to the challenge in converting the Highway 403 interchanges on Main and King. Nevertheless, due to the street's critical role as the gateway to downtown, "perhaps the very significant investment that would be required for a conversion to two-way travel could be worthwhile."
But even if two-way conversion turns out not to be feasible, the report still recommends applying a complete streets approach to making Main more accessible and inclusive.
High traffic levels are accommodated elsewhere in the city with many fewer than the five lanes of traffic we see on stretches of Main Street. There should be room to be more accommodative towards pedestrians, transit access and cyclists potentially while seeking out calming effects.
Queen and Bay
The report also considers the downtown areas's north-south arterials, particularly Queen and Bay Streets. It notes that traffic volumes are "fairly modest by the standards of urban arterials" with flexibility for allow two-way conversion.
A challenge on Queen, which has been the site of several serious pedestrian collisions in the past year, is that 10,000 cars a day turn from Main Street onto Queen, many of them bound for the Beckett Drive escarpment access. The report concludes, "Further study would be needed on this specific case."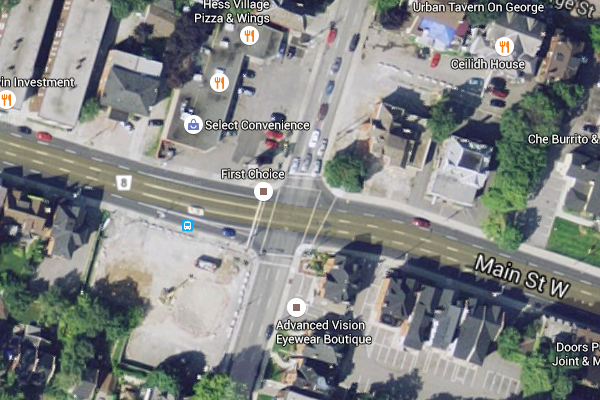 Main and Queen (Image Credit: Google Maps)
Elsewhere in the report, the authors note the 2013 study from Toronto which found that urban arterials with lots of non-local through traffic have higher rates of local child pedestrian injury, possibly due to non-local drivers "lack[ing] the same degree of moral and practical responsibility for their behaviour than someone who resides locally."
That study recommended traffic-calming measures to curtail the dangerous driving behaviours.
Post a Comment
You must be logged in to comment.