Scratching the Surface
A city's downtown core can have attractive destinations worth getting to or it can have abundant parking for people who want to drive to get there. It can't have both.
By Ryan McGreal
Published January 24, 2007
Raise the Hammer recently wrote about the Downtown Hamilton BIA's recommendation to add angled parking at Gore Park because they see a need for additional parking.
How can an organization of downtown businesses that need to attract people downtown to survive be so devastatingly ignorant about how cities work?
Downtown Hamilton has too much parking. Rates are among the lowest in Canada and many lots don't even fill up.
All those parking lots consume valuable land that might otherwise accommodate destinations that attract people to visit and live in the core.
By definition, land is at a premium downtown. The dense mix of people trying to exchange goods, services, amenities, and housing in a single place means the only way to fit everything is to maximize the available land.
This logic of density, of course, runs exactly counter to the logic of driving in personal cars, which requires plenty of space - for driving lanes, turn lanes, and above all else, parking.
A city's downtown core can have attractive destinations worth getting to or it can have abundant parking for people who want to drive to get there. It can't have both.
Parking Purgatory
I'm standing at the corner of John St. and Rebecca St. and all I can see in every direction is surface parking. It's 1:30 PM on a weekday, but the lot beside me is only about two-thirds full, despite its attactive pricing: maximum $3 per day.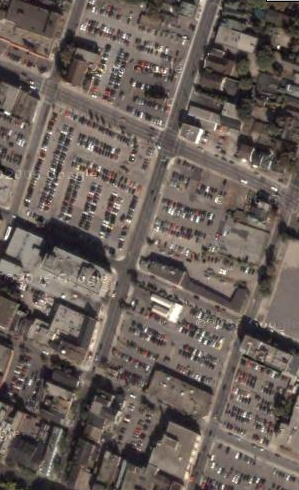 Surface parking in downtown Hamilton around John St. and Rebecca St. (Image Credit: Google Maps)
John St. N. runs down this satellite image from the top right to the bottom left. Crossing it are (from top) Wilson St., Rebecca St., and King William St. The block framed by John, Rebecca, Hughson, and Wilson has no buildings at all - nothing but parking.
Big chunks of the city are the same: flat blocks with maybe one dilapidated building amid expanses of cheap surface parking. Another such area, Framed by Main St. W., Bay St., King St. W., and Hess St., is finally slated for some new development in a sea of parking that consumes more than half the available land area.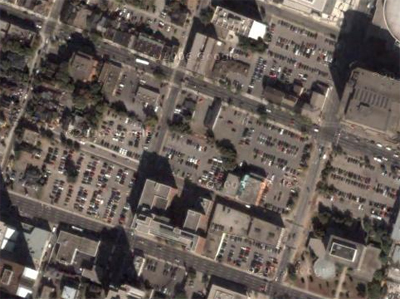 Surface parking in downtown Hamilton around Main St. W. and Bay St. (Image Credit: Google Maps)
Try walking around these cheap parking zones. It's deeply disconcerting as a pedestrian to try and navigate a landscape with no placeness, nothing to frame your surroundings and give you a sense of scale.
Framing the Street
Good downtown streets have streetwalls. A streetwall is what emerges when multi-storey buildings are continuous, porous, and have little or no setback from the sidewalk.
Coupled with strategically placed street trees providing a canopy 'roof', that line of buildings makes the street feel like a grand indoor hall. (Indoor malls took this concept and interpreted it literally.)
It also encourages pedestrians to feel safer, not only because a robust streetwall is likely to draw many pedestrians, people watchers, and lollygaggers - what Jane Jacobs called "eyes on the street" - but also because there are few places for an assailant to hide.
In parking lot purgatory, by contrast, the brave pedestrian has to confront the simultaneous challenges of a unsettling openness and a surfeit of places for people to lurk (behind all those cars, of course), all in an environment with few or no other people in sight.
Last year, Hamilton's Downtown Renewal Department announced a number of infill projects that will do much to fill in the gaps of our under-utilized downtown land, but we still have a long way to go.
Parked in a Parking Mentality
Unfortunately, the members of the Downtown BIA are still stuck in the mindset that the city needs more parking so it will be easier for people to come downtown.
We don't need to guess whether this strategy will work. Go downtown and walk around the half-empty, block-busting parking lots interspersed with boarded-up buildings and the folly of this strategy becomes clear.
The more the city tries to add parking, the more real destinations are destroyed to make room, and the less incentive people have to bother going downtown at all.
Vibrant downtowns attract people no matter how hard it is to drive there. No one argues that having to pay $20 a day to park in downtown Toronto is hurting the core. Instead, it is thronged with people: walking, taking streetcars and subways, and cycling as well as driving. (When I hear people complain about driving in Toronto, I smile.)
Hamilton needs to eliminate all that wasteful surface parking. Replace it with mixed-use buildings that open onto the street. Build those streetwalls. Create a sense of place.
People will come to visit and to live, and when they do, they will bring a higher demand for transit with them, which will further reduce the need to drive.
The logic of parking is a vicious cycle. Reversed, it becomes a virtuous cycle.
Post a Comment
You must be logged in to comment.