Killing Development Dead
Our building regulations produce a staggeringly perverse incentive: we subsidize and incentivize the neglect, demolition and destruction of value, while punishing and disincentivizing the creation of value through reinvestment and redevelopment.
By Ryan McGreal
Published June 02, 2011
Our Zoning By-Law is an autoimmune disease that turns the City's defences against its own urban tissue, mistaking healthy developments for pathogens, destroying valuable assets and debilitating the city as a whole.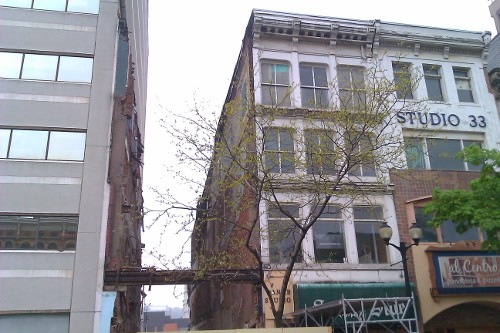 Recently demolished building at 30 King Street West
Innovation is Illegal
I was out of the country when City by-law enforcement shut down Hamilton's only backpackers' hostel.
That story has a number of ugly permutations, but one part really jumped out at me. This is from the OpenFile report on the incident:
It's true that when the Ritchies opened their hostel last September, they did so without a license. But, Tanya says, not without doing their homework. They spent years planning the venture while simultaneously working full-time jobs, managing a locksmithing business and raising their now three-year old daughter. They spoke with lawyers, insurance brokers and staff at City Hall about how to license a hostel in a city with no definition of a hostel in its bylaws. The answer was (unofficially) the same everywhere they went - Don't tell anyone I said this, but you should just open.
Here's the crux of the matter: any use of a given building that is not explicitly allowed under the Zoning By-Law is forbidden by default.
What that means is that innovation in building use is illegal in Hamilton. The best we can hope for is that maybe, years after other, more creative cities have invented and proven new ways of using buildings and arranging their affairs, maybe, just maybe, Hamilton might revise its Zoning By-Law to include the new use.
Possibly. Eventually.
And please note that a backpacker's hostel is emphatically not a rooming house. It is a place where backpacking tourists can stay overnight when visiting a city. You know, tourists, the very people the City's Tourism office is supposed to be trying to attract.
Ridiculous Fees
Of course, it's always possible to go to the city and apply for a variance in the Zoning By-Law, but that way lies madness.
If you're foolish enough to go to the City and go through the proper process to renovate your building, you unleash an absolute fustercluck of fees and regulations, many of which are utterly ridiculous.
I'm not even talking about architectural drawings and engineering studies, which are at least defensible on the grounds of ensuring the building is safe. I mean:
Site-specific zoning application and verifications fees may run in the tens of thousands of dollars.

You need to pay the city 1% of the value of any work done above $18,500.

Your building could be 150 years old, but it probably violates the setback requirement in the Zoning By-Law. That means you need to apply for permission and pay a fee for your building to be where it already is.

Intensification in the building's use may trigger a cash-in-lieu-of-parklands fee, which can be in the tens of thousands of dollars. Also, it cannot be used to improve a nearby existing park but will instead go entirely to subsidizing the cost of building new parks on suburban greenfields.

You have to apply for a variance for any use not explicitly allowed on your property under the Zoning By-Law.

You must pay tens of thousands of dollars in development charges, even though the infrastructure your building will use is already built and paid for.

You may have to file an encroachment application and pay an investigation fee for any part of your building that encroaches on public property - like, say, an awning that provides people on the sidewalk in front of your building with shade and cover from the elements.

You had better ensure you have space to provide the mandatory number of parking spots for your building's use and floor space, or else pay tens of thousands of dollars in fees.
It doesn't matter that the building you want to invest in is currently vacant and derelict, and that with new investment would come neighourhood revitalization, rising property values, job creation or any of the other things we claim to value.
The City is determined to raise the cost of doing the right thing so high that no sane person would ever subject themselves to it. Call it Liability Theatre.
Alternatives to Doing the Right Thing
The current state of affairs leaves just three alternatives:
Do nothing. Leave the building in its current marginal use and hope it ekes at least enough revenue to break even. If someone comes up to you and asks if they can buy or lease space in your building, say no. It's too much trouble and expense to try and get the building into a usable state.

Demolition by Neglect. Allow the building to deteriorate until it goes into structural collapse (don't worry, the City won't give you a hard time about violating the property standards by-law) then file for a demolition permit to pull it down. Chances are you won't have any trouble getting the permit.


Site of the former HMP building

Your property taxes go way down, and as a nice bonus you might be able to run an illegal parking lot on the site for years without much fear that the city will come after you.

Break the law. If you're determined to invest in your building, you might just decide to go ahead and do it without going through the proper channels in the hope that either: a) the City won't notice or b) you'll become a cause celebre and the City will be shamed into doing the right thing.
As the old saying goes: When urban revitalization is outlawed, only outlaws will undertake urban revitalization.
A nasty side-effect of the unreasonable cost of redeveloping a building is that it drives redevelopment underground. How many thousands of houses have been illegally converted into multi-unit dwellings?
Clearly there's a market demand for converted houses, and it's an easy way to raise a neighbourhood's population density, but if the cost of doing it properly is overloaded with too many nonsensical fees, the important stuff - like building permits - gets bypassed as well.
Perverse Incentive
Is the deplorable, ongoing state of the lower city starting to make some sense now? Our zoning rules make any other outcome impossible.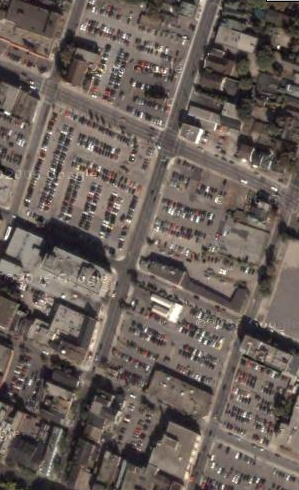 Block after block of surface parking in downtown Hamilton
Our regulations produce a staggeringly perverse incentive: we subsidize and incentivize neglect, demolition and destruction of value, while punishing and disincentivizing the creation of value through reinvestment and redevelopment.
Consider: a vacant, derelict building pays lower property tax than an occupied building, while demolishing a building lowers property taxes even more.
We generally fail to punish property owners who allow their properties to fall into neglect, and we also generally fail to punish property owners who illegally convert the sites of demolished buildings into parking lots.
Meanwhile, we punish each attempt at reinvestment and adaptive reuse to the tune of tens or even hundreds of thousands of dollars and hasten to shut down offenders who go ahead and reinvest in their community anyway.
The City drowns investors in red tape and throws procedural roadblocks in front of would-be entrepreneurs.
The predictable result is that most people just give up and move to cities that aren't as determined to strangle growth. It's easy to point to this or that group as the "bad guys", but the real problem is the game, not the players.
A Way Forward
Doubtless I will hear from Planning and Economic Development that things are changing. They're reaching out to business and helping investors navigate the bureaucracy. They've even got some success stories about which they should feel proud.
But as long as our buildings are still ruled by the Zoning By-Law and its assorted dysfunctional mandates, no amount of marketing and outreach will be able to kick this city into a real, self-sustaining revitalization trajectory.
What Hamilton ought to do instead is consign its Zoning By-Law to the recycle bin and replace it with a regulatory code that incentivizes the creation of value while discouraging the destruction of value.
Other jurisdictions have had great success moving away from zoning and toward form-based codes and performance codes.
Form-Based Codes
Form-based codes regulate not what you are allowed to do with your building, but how it fits into its surroundings. It establishes public space standards for streets and sidewalks that promote walkability and pedestrian-friendliness, and it sets a building form that frames the public space in a coherent streetwall and allows diverse, compatible uses to co-exist.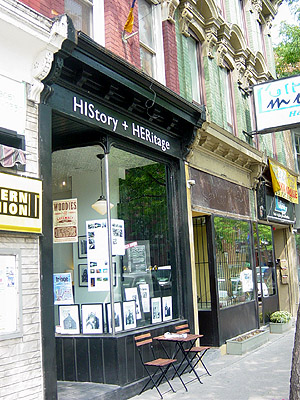 James North streetwall: street-level retail and residences upstairs
The simplest form-based code looks like the King-Spadina Secondary Plan in Toronto: build to the street, have an open use at street level, maintain a setback and height that is consistent with the streetwall, and put parking (if any - there is no requirement) behind or under the building.
Form-based codes work. They provide a combination of simple, clear rules for developers and the promise that those rules will be applied consistently.
Before zoning pushed destinations far apart, every city ended up looking roughly similar: dense, multi-storey buildings fronting onto the street with street-level retail and residential or office use upstairs. Form-based codes seek to re-establish this pattern of development after a century of single-use mandates, setbacks, and parking requirements.
Performance Codes
Of course, our zoning rules were originally put in place in response to complaints about incompatible building uses in close proximity. Since then, the logic of separation has taken on a lunatic life of its own, but the underlying problem still needs to be solved: how do you prevent your neighbour from using their building in a way that harms you?
In the same way that your kids can't fight if you send them to their respective rooms, zoning solves the problem through the heavy-handed approach of telling each use where it is allowed to go.
However, this approach makes it unnecessarily difficult to repurpose an existing building if its zoned use stops making sense. It also kills the potential for innovative uses that were not anticipated by the zoning planners.
The real problem is those performances that hurt neighbours: loud noises, offensive odours, heavy local truck traffic, ugly industrial facades, ungainly structures that block out sunlight, and so on.
Instead of banishing our various uses to their rooms for an extended time-out, we could instead establish rules that directly target the performances we don't want.
We scratch our heads when the City targets the Pearl Company or Hamilton Guest House or Rolly Rockets, because these places are clearly not harming their neighourhoods (indeed, they are all positive developments that improve their neighbourhoods).
That is what matters, and our rules should reflect what matters.
Post a Comment
You must be logged in to comment.