City Finally Notices that Traffic Volumes are Falling
For years, we at RTH have been arguing that Hamilton has too much lane capacity and that the excess roadway should be put to more productive use.
By Ryan McGreal
Published March 26, 2014
this article has been updated
According to an article just posted on CBC Hamilton, Public Works managers are now saying the City can save money by scaling down excess lane capacity on city streets.
The city is filled with five- and six-lane roads that were once packed with traffic, particularly in the north end where many were designed for an industrial economy that no longer exists. They've fallen into disuse over the years, and taking them out of commission would save taxpayers money, said Gerry Davis, general manager of public works.

Maintaining one traffic lane for one kilometre costs as much as $12,000, Davis said. If the city identifies lanes that don't get used much anymore and either puts in bicycle lanes or narrows the streets, it will save thousands in long-term maintenance costs.

The city is looking at extra traffic lanes as part of a city-wide transportation master plan staff will present this year, Davis said. While eliminating spare traffic lanes isn't the mandate, it will be included.
This is exciting news, and I hope City officials and Councillors will look at the following options to make our public rights of way more productive and neighbourhood streets safer and more accommodating for all road users: two-way conversion, protected bike lanes, wider sidewalks, street tree canopies, curbside parking and so on.
About Time
For years, we at RTH have been arguing that Hamilton has too much lane capacity and that the excess roadway should be put to more productive use.
Back in 2012, we managed to obtain some traffic volume counts from the City for various locations, but the data were from 1999, the most recent year for which the City would provide us with data.
Based on that 1999 data, it was clear that many of Hamilton's streets - and particularly the multi-lane one-way thoroughfares - were significantly overbuilt. Streets like Cannon west of Sherman only carried 11,000 cars a day on four lanes, for an average volume of 2,750 cars per lane.
For comparison, the City of Chicago's Complete Streets Guidelines specify that an arterial street with less than 25,000 vehicles a day should be one vehicle lane in each direction.
But we were aware that the traffic volume data were over a decade old and we kept trying to obtain more recent numbers. Some critics suggested that traffic volumes likely increased since 1999 and the assumption that we still had surplus lane capacity was unfounded.
The City wanted to charge us for access to the data, but after a helpful intervention by Councillor Brian McHattie and some very helpful staff, we managed to get our hands on traffic volume data from 2009-2010. We published them in December 2012.
Falling Traffic Volumes
It was immediately obvious that traffic volumes hadn't gone up between 1999 and 2009. In fact, they dropped significantly across the board. Unfortunately, the two data sets don't cover all the same locations, but for the locations that do match up, the declines range from 6.15 percent to nearly 38 percent!
Daily Traffic Volumes, 1999 and 2009-10

| Location | 1999 Volume | 2009-10 Volume | Change | % Change |
| --- | --- | --- | --- | --- |
| Queen S of Charlton | 13,000 | 12,200 | -800 | -6.15% |
| Cannon near James | 18,000 | 16,700 | -1,300 | -7.22% |
| Main E of Bay | 31,000 | 28,400 | -2,600 | -8.39% |
| Main at Dundurn | 41,100 | 37,300 | -3,800 | -9.25% |
| Cannon W of Sherman | 11,000 | 9,100 | -1,900 | -17.27% |
| Bay N of Main | 15,700 | 12,400 | -3,300 | -21.02% |
| Hunter W of John | 11,000 | 7,500 | -3,500 | -31.82% |
| Cannon E of Sherman | 16,000 | 10,800 | -5,200 | -32.50% |
| Main near Kenilworth | 32,000 | 20,300 | -11,700 | -36.56% |
| James S of Herkimer | 30,000 | 18,700 | -11,300 | -37.67% |
Pack Mentality
Of course, anyone who has been paying attention to Hamilton one-way timed thoroughfares - particularly anyone who gets out of a car and walks or bicycles on them - was already keenly aware of this.
If the only way you ever experience lower city streets is in the middle of a pack of cars riding the green wave, this might not be obvious to you. Outside the pack, what you observe is a cluster of high-speed automobiles racing together down the street, followed by an expanse of desolation.

Main Street west of Walnut (RTH file photo)

Main Street just east of James during AM rush hour (RTH file photo)

Main Street, view from John Sopinka Courthouse at 1:30 PM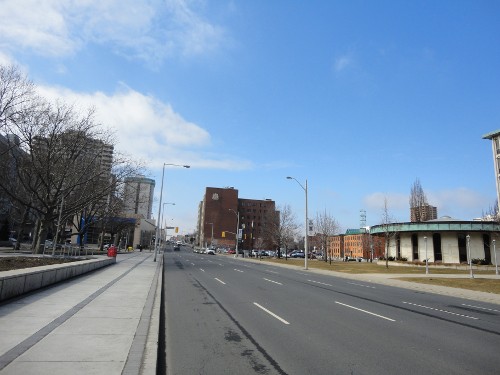 Main Street West in front of City Hall (RTH file photo)

Main Street west of Queen Street

Wellington Street North at rush hour (RTH file photo)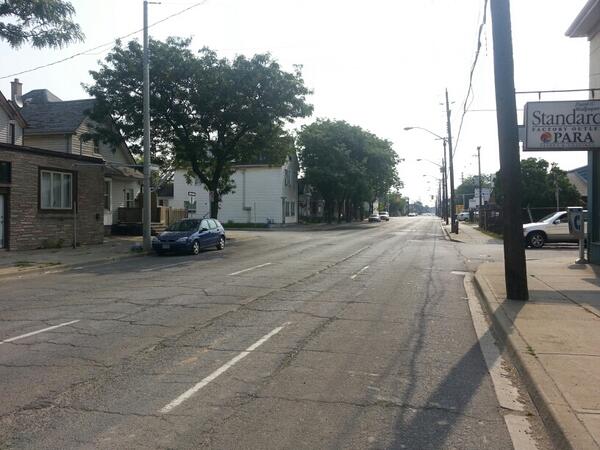 Cannon Street between traffic clumps (RTH file photo)

Queen Street at Herkimer

Wilson Street west of Wentworth (RTH file photo)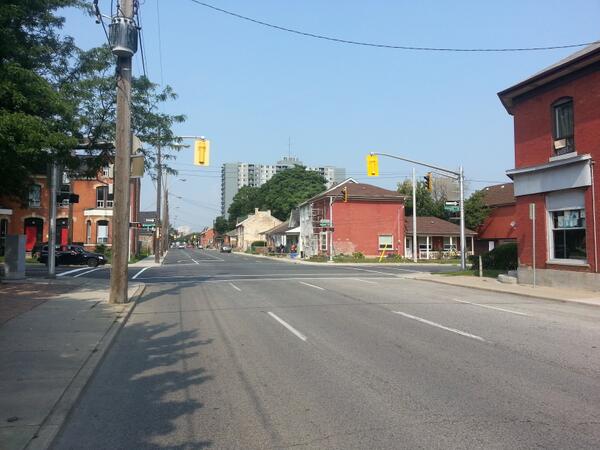 Wilson at Victoria where it turns two-way (RTH file photo)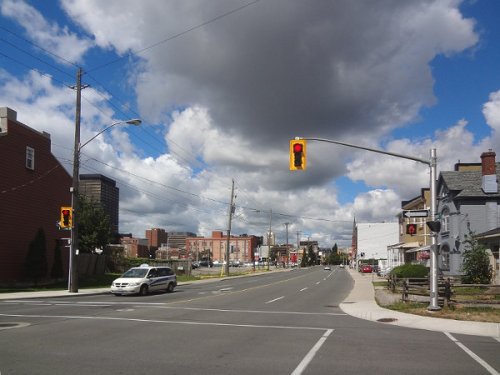 Wilson looking westbound from Catharine (RTH file photo)

Kenilworth Access
Lane Closures
Our excess lane capacity is also evident when we reduce lanes for road work, construction or collisions and the impacts on traffic are minimal-to-nonexistent.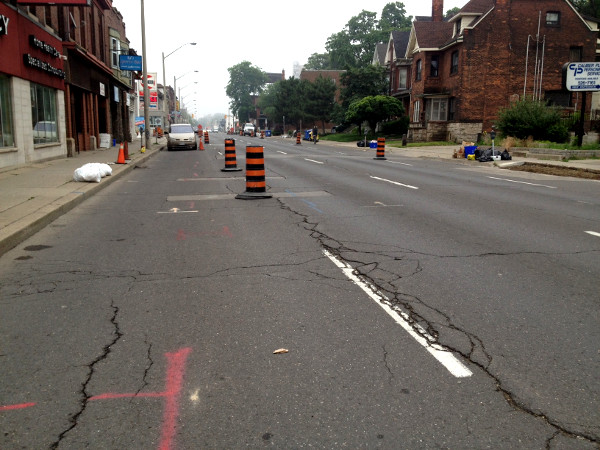 King Street East between Steven and Ashley, reduced to two lanes (Image Credit: Laura Farr)

Wilson Street facing west from Wentworth (Image Credit: Bob Berberick)

Main Street reduced to two lanes past Bay - slower traffic but no 'gridlock' (RTH file photo)

Queen Street reduced to one lane at Hunter - traffic flows smoothly (RTH file photo)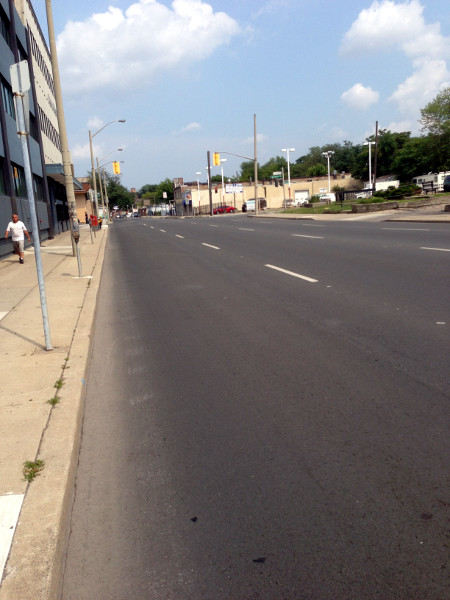 King Street between Sanford and Wentworth, looking east at rush hour (Image Credit: Bob Berberick)
Both Main and King had lanes closed across Hwy 403 for many months with no impact on traffic flow. A lane of King was closed for construction at 275 King Street West apartment building for many months with barely any impact on traffic flow.
We Still Assume Traffic Will Increase
Yet despite all this, the City still persists in planning and designing our streets on the assumption that traffic volumes are growing and will continue to grow.
The York Boulevard redesign is Two-Way In Name Only (TWINO) - three eastbound lanes and one westbound lane with no turning west onto York from James. Former traffic engineering manager Hart Solomon (since retired) nixed a proposed pedestrian scramble because he insisted that traffic volumes would continue to increase.

The planned redesign of Longwood Road will have five freaking lanes of traffic - four driving lanes and a dedicated centre turn lane - for just 18,000 cars a day. City staff are adamant that two driving lanes and a centre turn lane would cause unacceptable delays, even though the plan for a cycle track will now require the construction of a second bridge at a capital cost of millions of dollars.

Council spent more than four hours agonizing over whether to add a protected bike lane on Cannon - a street that barely has enough traffic to justify two lanes, let alone four. The design actually rejected all-day curbside parking west of Victoria, leaving narrower bike lanes and less room for physical separation, because the consultants were instructed not to do anything that would slow traffic, even during rush hour.
The assumption that traffic volume is like a background radiation that keeps increasing infuses all of the City's transportation plans. The only way, apparently, to overcome the tendency at all is for a project to come from a huge push by a group of engaged citizens - like Yes We Cannon - rather than from planning or transportation staff.
Ignoring Induced Demand
Even setting aside the false assumption that automobile traffic volumes will always go up, the city's traffic analysis persists in ignoring the effects of induced demand - the tendency for traffic to increase or decrease based on available lane capacity.
In short, when you reduce lane capacity, some of the traffic simply goes away. I love to quote from the summary of a major study by London Transport and the British Department of the Environment, which looked at the evidence frrm 60 cities in North America and Europe that decided to reduce lane capacity:
Many cities, either not provided with dissuasive modelling forecasts, or disbelieving them, have introduced measures to reallocate road space away from cars.

In general, they reported that there has often (but not always) been a fairly short period of traffic disruption, but that 'gridlock' or 'traffic chaos' are rare, and never last longer than a few days, as traffic adjusts relatively quickly to new conditions. Sometimes there has not even been a short-term problem.

Two characteristic comments from local transport planners are: 'it'll be all right by Friday', and the ubiquitous 'the traffic has disappeared and we simply don't know where it has gone to'.
Dear Hamilton traffic engineers and status quo politicians: your maps and models are leading you astray.
Update: Added even more photos of empty lower city streets.
Post a Comment
You must be logged in to comment.